Thu May 31, 2012 7:30pm
By the National Football Post

There has been significant talk and debate the past few years about the NFL going to an 18-game regular season.
But I would like to offer an alternative that can provide the opportunity for the NFL to increase its growth as well as allow its fans to see NFL games outside of the teams' home markets.
I propose a 17-game regular season – with the 17th games played in markets that are different from the NFL teams' existing sites.
Through the years, the league has dabbled in regular-season games outside of the continental United States. However, these games are extremely expensive to put on because the host team must be compensated for the lost revenues they incur for not playing a game at home. This easily can reach in excess of $10 million. In addition, many teams are prohibited by their stadium leases from forgoing a regular-season home game and almost all stadium leases specifically call for eight regular-season home games.
The concept of the 17th Week would be to play all 16 NFL games on the same weekend at neutral sites. At the core, there would be an option to play games at international destinations, such as Canada, Mexico, England, Germany, Spain, Italy, Australia, Japan and other countries. Meanwhile, the bulk of the 17th Week games would be played on college campuses, which would expand the regional outreach of the NFL teams. Cities such as Boise, Idaho; Salt Lake City, Utah; Norman, Oklahoma; Memphis, Tenn.; Birmingham, Ala.; Omaha, Neb.; Albuquerque, N.M.; Little Rock, Ark.; Austin, Tex.; and Honolulu, Hawaii, all could serve as hosts.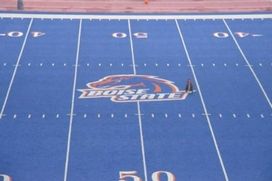 An NFL game on the blue turf at Boise State? Why not?

For instance, the Seattle Seahawks have avid followers in Boise; the New Orleans Saints in Birmingham; the Dallas Cowboys in Norman; the Denver Broncos in Albuquerque, etc.

All revenues and expenses of the teams would be shared equally among all thirty-two NFL franchises. Immediately, the cost savings occur for the international games. The only loss would be each team would lose a home preseason game every other year, which should be more than made up for in the other revenues.

From my personal experience, I grew up in Boston in the 1950s. My loyalty to the NFL was to the New York Giants each and every Sunday afternoon. But I traveled only once to New York to see them play. When they played anywhere near the Boston area, I was there. When the Patriots came into existence in 1960, fans wanted to see professional football, and their allegiances transferred; but I will bet that most New Englanders who are over 55 years old are Giants fans deep down at heart. I only wish as I grew up that I had had the chance to see the Giants play in person more often.

The benefit of playing the 17th Week games outside of the NFL franchise cities is that teams with strong regional followings can further develop their fan bases as well as create, mine, and ultimately, turn on, new fans. For NFL fans, every season is a series of 16 events with unique memories. Those fans can see a meaningful NFL game up close. This can provide fans in remote cities with a lasting memory.

The association with the college communities can be enhanced as the NFL teams can develop lease benefits or shared revenue paths for premium seating. The opportunity for a college campus to have a six figure financial benefit in hosting an NFL game would always be welcomed on those college campuses struggling to keep programs afloat.

The benefits…expanded international reach, reduced costs in playing international games, reaching fans who otherwise logistically cannot experience an NFL game in person, financial benefit to colleges and creating a special and unique weekend that everyone would remember for a lifetime.

Former NFL Head of Special Events Jim Steeg was responsible for changing the Super Bowl from a championship game into the event it is today. He also was the man who turned the NFL Draft from a behind-the-scenes meeting into a televised spectacle.

Follow @footballpost on Twitter for the latest news