Sat Jun 23, 2012 1:00pm
By the National Football Post

Let's take a look at what's happening across the nation on this Saturday morning...
• Count Nebraska chancellor Harvey Perlman as one who continues to not support a four-team playoff system. And he just so happens to be on the BCS Presidential Oversight Committee, the group that will meet in Washington D.C. on Tuesday to ultimately decide on the future of college football's postseason. Perlman has been the most vocal advocate for a Plus-One model, which would preserve the current format of the Rose Bowl. In this model, the national championship game would feature two teams that are picked after all of the bowl games are played. Here is what Perlman told Mark Giannotto of the Washington Post:
"I don't like the idea of a four-team playoff. I'm certainly open to hearing what [the commissioners] believe to be the best for the game. Personally, without that, I still think a Plus-One, properly structured, would be better for college football, for fan interest and for bowls."
He believes that a Plus-One model would open up more opportunities for teams to play in the title game. "I'd rather have five exciting games instead of two exciting games," he said.
Besides Perlman, the other members of the BCS Presidential Oversight Committee are: Scott Cowen (Tulane); John Jenkins (Notre Dame); Bernie Machen (Florida); Max Nikias (USC); Duane Nellis (Idaho); John G. Peters (Northern Illinois); Bill Powers (Texas); James Ramsey (Louisville); Gary Ransdell (Western Kentucky); Charles W. Steger (Virginia Tech); and John Welty (Fresno State). As you can see, each FBS conference as well as Notre Dame will factor into this decision.
Expect Machen and Perlman, leaders for the SEC and Big Ten, to be the loudest in the room. The SEC is a staunch proponent of a four-team playoff with the highest-ranked teams getting in, while the Big Ten has been a tad more ambiguous besides proposing a hybrid model (3 conference champs plus a wild card). We know now there will likely be a selection committee to take care of that matter.
So does the Plus-One actually have a chance? Not really. The Plus-One will be brought up and discussed next week, but it's really out of courtesy to Perlman and those within the Big Ten and Pac-12 who are old-school and more conservative in their thinking. We had a breakthrough this past week in Chicago at the latest BCS meetings, so it's safe to say that we will indeed have a four-team model and not a Plus-One once that final verdict is given by the presidents. However, never underestimate the power of the presidents to mess something up.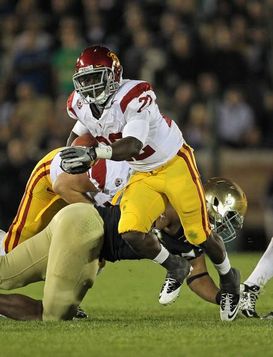 USC has some depth issues behind starting RB Curtis McNeal.

• Curtis McNeal is the unquestioned starter at running back for USC, but there is serious depth issues for the Trojans in the backfield. D.J. Morgan would be the No. 2 after rushing for 163 yards on 42 carries in 2011, but who would be next in line if either of the top two backs are injured? Keep an eye on true freshman Nelson Agholor, who possesses the explosiveness to make an instant impact. If he can impress coaches this fall in camp, he could see plenty of action. Even if he struggles with blitz pick-ups and blocking, the Trojans coaching staff will find ways to get him on the field to utilize his athleticism in their high-powered offense. The team also has redshirt freshman Buck Allen, but he has an injury history.

• The dismissal of senior Devon Smith could open up a prime spot for sophomore Alex Kenney at Penn State. First-year head coach Bill O'Brien is looking for playmakers anywhere he can get them for his spread attack, and Kenney may have the goods to step up with Smith gone. The slot receiver spot is vital in O'Brien's scheme. Perhaps a more intriguing option than Kenney, however, is true freshman Eugene Lewis. While Lewis may not be a traditional slot receiver, O'Brien will play whoever gives his offense the best opportunity for big plays. Look for Shawney Kersey to also get a chance in the slot as well because of his versatility.

• Auburn received some very good news on Friday when it was announced that transfer Jay Prosch had his waiver request granted by the NCAA so that he could be cleared to play in 2012. The former Illinois fullback transferred so he could be closer to his ailing mother. The 6-foot, 253-pound Prosch, who will be a junior this fall, played in 25 games and started 12 for the Fighting Illini. His arrival will free up tight end Phillip Lutzenkirchen to be more involved in the passing game. Without Prosch, the onus would have been on Lutzenkirchen to be a primary blocker. And when coordinator Scot Loeffler's pro-style offense needs to pick up a yard on fourth and short, the team could utilize both in the backfield. Good news for an Auburn team that is going under the radar in the SEC.

Email dave.miller@nationalfootballpost.com or follow me on Twitter at Miller_Dave

Follow @footballpost on Twitter for the latest news