Mon Apr 30, 2012 2:30pm
By the National Football Post

Marcus Mariota may not have won Oregon's starting quarterback job quite yet, but the redshirt freshman certainly looks like a veteran ready to lead one of the nation's most high-powered offenses.
The Ducks concluded spring drills with their annual spring game Saturday in front of 44,129 fans at Autzen Stadium in Eugene (shown on ESPN3.com), and fans were finally able to get a glimpse of the competition that has been the focus of the team's spring practice season — a duel that was kept under wraps by coy head coach Chip Kelly.
But when the curtain was lifted, the 6-4, 196-pound Mariota certainly outplayed sophomore Bryan Bennett, leading his squad to a 41-14 win over Bennett's team. While Kelly said the game wouldn't carry more weight than the 14 previous spring practices or the drills in the fall, Mariota played an exceptional scrimmage that will certainly make the QB decision even more difficult for Kelly and the offensive staff as the season draws closer.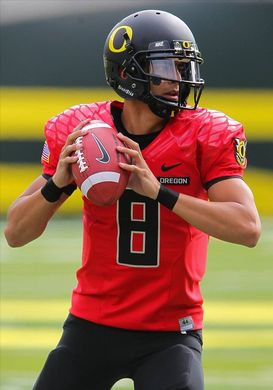 ICONQB Marcus Mariota had an impressive performance in Oregon's spring game this past weekend.

The athletic signal-caller and native Hawaiian completed 18 of 26 passes for 202 yards and one touchdown against one interception, and he rushed for 99 yards on five carries and a score. The most impressive play of the day may have been his 82-yard touchdown sprint, where he was able to show off his dynamic playmaking ability after finding his hole immediately. He was also sacked just once and looked very comfortable on rollout passes. He had good touch on his throws, which included a beautiful 35-yard touchdown toss to Daryle Hawkins down the middle of the field. He looked confident in the huddle and in control while running the Ducks' high-octane, up-tempo attack. He admitted that he forced the throw that was intercepted by cornerback Ifo Ekpre-Olomu, but he had ownership of this offense. And he exudes the confidence necessary to lead a Pac-12 power.

Meanwhile, Bennett didn't have a bad game, but he certainly wasn't at his best. The equally athletic signal-caller completed 19 of 32 passes for 209 yards and one touchdown against two interceptions. Troubling was the fact that he never seemed to get going on the ground, recording 57 yards on 18 carries. He was also sacked three times for 30 lost yards, so he only netted 27 yards on the ground. But he did display some nice moves on a few runs, and he could have had more yards but quarterbacks were not allowed to get tackled. He also had a nice command of Kelly's spread-option offense, although he became flustered a few times when his first option closed up, and he made bad reads on his two interceptions. Offensive coordinator Mark Helfrich said that Bennett "didn't have his best day" but is confident that improvement and adjustments will be made moving forward.

Certainly, this battle for the starting job won't be settled until deep into August, when the return to norm under Kelly will call for closed practices. While Mariota has the momentum heading into summer, perhaps Bennett let nerves affect him a little Saturday.

Of course, Bennett has game experience in his back pocket, filling in nicely for last year's starter, Darron Thomas, when Thomas was shelved. He threw six touchdown passes with no interceptions and rushed for 200 yards on just 23 carries last fall. His completion percentage of 54.3 won't be good enough for this offense, though, and he looked a little hesitant throwing the ball this weekend. He also was the victim of a few dropped passes by receivers. Mariota looked like the more polished passer, and that may ultimately help him win the job when coupled with his elite running skills.

The major plus for the Ducks is the fact that they can now be known for having very good talent and depth at the quarterback position. For all of the talk about the corps of running backs in the Kelly era, quarterback play has always been slightly overlooked.

That is now changing in Eugene with Mariota and Bennett locked in a tight battle for the right to start the opener against Arkansas State.

Email dave.miller@nationalfootballpost.com or follow me on Twitter at Miller_Dave

Follow @footballpost on Twitter for the latest news