Mon May 7, 2012 5:00pm
By the National Football Post

In between picking losers for the 138th running of the Kentucky Derby, I spent the better part of the last week working on the 2012 NFP Fantasy Draft Guide. And while the process is ongoing, I figured why not release our preliminary top five selections for each position in order to get you guys thinking about draft day?
While some of these rankings are sure to be adjusted over the next few months, here's where we're leaning towards as we approach the middle of May.
QUARTERBACKS
1. Aaron Rodgers, Green Bay Packers
2. Tom Brady, New England Patriots
3. Drew Brees, New Orleans Saints
4. Cam Newton, Carolina Panthers
5. Matthew Stafford, Detroit Lions
Value Pick: Jay Cutler, Chicago Bears
Analysis: The addition of free agent wide receiver Brandon Lloyd gives Brady what could very well be the NFL's scariest arsenal. Newton's ability to create with his legs coupled with another step forward during his second NFL campaign should have him right back in the top-five next December. Stafford brings a slight bit of risk due to injury concerns, while the addition of Brandon Marshall and rookie Alshon Jeffery gives Jay Cutler a legitimate 1-2 punch in Chicago.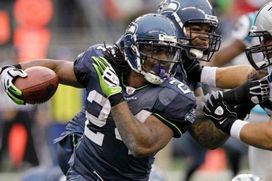 Will Marshawn Lynch be able to duplicate his production from a year ago?
RUNNING BACKS
1. Arian Foster, Houston Texans
2. Ray Rice, Baltimore Ravens
3. LeSean McCoy, Philadelphia Eagles
4. Maurice Jones-Drew, Jacksonville Jaguars
5. Marshawn Lynch, Seattle Seahawks
Value Pick: Trent Richardson, Cleveland Browns
Analysis: The loss of left tackle Jason Peters (Achilles) coupled with the inability of quarterback Michael Vick to stay healthy are two reasons why Rice gets the early edge over McCoy. Lynch just got paid this offseason, so there are some concerns about whether or not he is truly in his prime or was just going all-out during a contract year. The Browns invested heavily in Trent Richardson for a reason, so don't be surprised to see him handle a big load both on the ground and through the air in 2012. Keeper league owners will be all over this guy.
WIDE RECEIVERS
1. Calvin Johnson, Detroit Lions
2. Andre Johnson, Houston Texans
3. Larry Fitzgerald, Arizona Cardinals
4. Wes Welker, New England Patriots
5. Jordy Nelson, Green Bay Packers
Value Pick: Eric Decker, Denver Broncos
Analysis: Johnson appeared in only seven games last season while starting quarterback Matt Schaub played in just ten, so we expect a big rebound for the Houston duo in 2012. The addition of Brandon Lloyd gives Welker some competition for targets, but we still envision him eclipsing the 100-reception mark for the fifth time in six years. Nelson ranked second in touchdowns last season at the wide receiver position (15) and while he could take a step back, Aaron Rodgers and the Green Bay offense are just too powerful to overlook. Decker could finish the year as a top-ten wideout now that Peyton Manning is under center in Denver.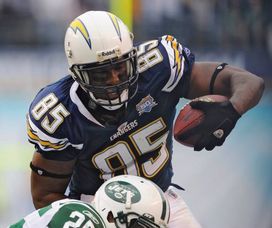 ICONWill Gates be able to stay healthy long enough to crack the top five this season?

TIGHT ENDS

1. Rob Gronkowski, New England Patriots
2. Jimmy Graham, New Orleans Saints
3. Aaron Hernandez, New England Patriots
4. Antonio Gates, San Diego Chargers
5. Jermichael Finley, Green Bay Packers

Value Pick: Jacob Tamme, Denver Broncos

Analysis: No surprises in the top-three as Gronk, Graham and Hernandez make up the elite tier of fantasy tight ends at the current moment. Injuries and age are red flags for potential Gates suitors, but the Pro Bowler found the end zone seven times in 13 games last season (fourth among TEs) and that was despite the fact that quarterback Philip Rivers had a surprisingly inconsistent season. You could make the case for Jason Witten over Finley at No. 5, but the Green Bay tight end ranked third among tight ends last season in touchdown receptions (8). Tamme has a history with Manning dating back to their days in Indianapolis together, so he could provide excellent value at a great price on draft day.

DEFENSE/SPECIAL TEAMS

1. Houston Texans
2. San Francisco 49ers
3. Philadelphia Eagles
4. Pittsburgh Steelers
5. Green Bay Packers

Value Pick: Seattle Seahawks

Analysis: Last season's second-ranked fantasy D/ST (Houston) acquired two more pass rushers via the draft in Whitney Mercilus and Jared Crick and has a comfortable divisional schedule that features six games against the Colts, Jaguars and Titans. The Eagles concluded the 2012 campaign on a high note, going 4-0 and surrendering just 11.5 points per game over their final four contests. The additions of DeMeco Ryans, Fletcher Cox and Mychal Kendricks will mean big things for the run defense in Philly this season. This may come as a surprise to many of you, but the Seahawks D/ST ranked fourth in the league in fantasy scoring last season and added DT Jason Jones, LB Barrett Ruud and DE Bruce Irvin this offseason. Home field advantage is another big plus for Pete Carroll's crew.

Hit me up on Twitter: @JoeFortenbaugh

Follow @footballpost on Twitter for the latest news