Tue May 8, 2012 7:30pm
By the National Football Post

There is no question that Falcons QB Matt Ryan is good­ — both as a player and team ambassador.
During his four years in the NFL, the soon-to-be 27-year-old has thrown more than twice as many touchdowns as interceptions (95 to 46). He has started all but two games, completing more than 60 percent of his passes (60.9) and exceeding 2,900 passing yards during each season.
Perhaps most importantly he became the face of a Falcons team that desperately needed a makeover, following Michael Vick's dogfighting issues and Bobby Petrino's abrupt exit.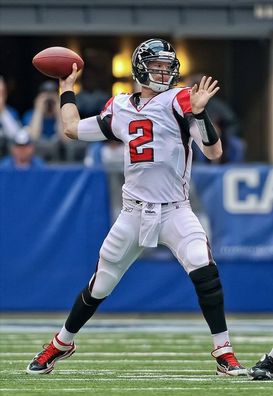 ICONCan Matt Ryan take his game to another level in Atlanta?

But Ryan is just 0-3 in the playoffs.

Surrounded with talented playmakers, Ryan has the supporting cast to perform better during the postseason — as well as during the regular season.

Though his offensive line could use improvement, he has played with one of the game's best running backs, Michael Turner, and wide receivers, Roddy White, since arriving in Atlanta.

He has had the opportunity to throw to Tony Gonzalez, arguably the best tight end of all time, for three years. And Atlanta traded up in the draft last year to add another skilled player, WR Julio Jones, to Ryan's arsenal.

With those weapons at his disposal, Ryan has posted very good numbers.

But so have many quarterbacks in the pass-friendly NFL. Twenty quarterbacks threw for more than 3,000 yards last year, and 18 completed at least 60 percent of their passes.

Is Ryan just another solid quarterback or can he take his game and team to another level?

The best opportunity to cement his reputation as an elite quarterback may have occurred two years ago.

The Falcons, 13-3, earned home-field advantage but lost to the Packers, 48-21, during their first playoff game that season.

Ryan had the chance to assert himself as the top, young gun in the league, but instead Aaron Rodgers assumed that role by completing 31-of-36 passes for 366 yards and three touchdowns.

Ryan — in contrast — threw for 186 yards and two interceptions, including the game's turning point when CB Tramon Williams converted his pick into a 70-yard touchdown for a 14-point turnaround.

The Falcons quarterback had another postseason opportunity last year, but he again proved to be the lesser quarterback. While Giants QB — and clutch postseason hero — Eli Manning threw three touchdowns en route to a 24-2 victory, Ryan neither threw a touchdown nor led his team on any scoring drives.

Ryan's most significant victory to date may have come when the Eagles visited the Falcons in Week 2 of last season.

It was a much-hyped contest. Not only did it feature Vick's first return to Atlanta as a starter, the game was also nationally televised on Sunday Night Football.

Ryan led the Falcons to the 35-31 win, throwing four touchdowns and leading his team to a come-from-behind victory.

The story of the game, though, was a hard hit on Vick as much as Ryan's triumph. The Eagles led when Vick was forced from the contest with a concussion.

When Vick was forced out of the league, Ryan seemed to be the ideal replacement for him in Atlanta.

Upon entering the NFL, Ryan was compared to Peyton Manning by many, including Sports Illustrated's Peter King.

The two 6-5 quarterbacks seemingly shared a similar clean-cut image, poise in front of the media and 24/7 dedication to football.

Like Manning, Ryan entered the NFL both seasoned and educated. The latter played for four years (five if you include a redshirt year) and started 34 games at Boston College.

Perhaps then, Falcons fans can take comfort in knowing that Manning also lost his first three playoff games, including a 41-0 drubbing versus the Jets, before winning four MVPs and reaching two Super Bowls.

Ryan's performance does not have to match that of Manning — one of the NFL's best ever. But with Ryan entering his fifth season and the prime of his career, it is time for him to step up.

Jeff Fedotin has written for Packers.com, Pro Football Weekly, ESPN The Magazine, the Lawrence (Kan.) Journal-World and Rivals.com. After graduating from Northwestern University, he interned for the Buffalo Bills.

Follow @footballpost on Twitter for the latest news