Thu Jul 5, 2012 5:00pm
By the National Football Post

With a current ADP of 3.5, it won't come as a shock to any of us when Packers quarterback Aaron Rodgers flies off the board in the first round of our fantasy drafts this summer. Let's face it, the guy threw for 4,643 yards and 45 touchdowns in 15 games last season. With a pumped-up stat line like that, there will be more than a few dudes who are willing to pull the trigger on the Green Bay signal-caller first overall.
But here's the thing: Rodgers is just the tip of the iceberg when it comes to the 2012 fantasy quarterback class. Drew Brees and Tom Brady have the potential to deliver a championship as well, but this year's crop of QB talent extends far past the consensus top-3 selections.
For those of you who would rather target running backs and wide receivers in the early rounds, here are some quality quarterbacks you can land for a great price on draft day.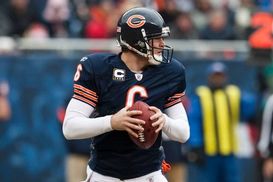 ICONBetween the price tag and the upside, Jay Cutler is one of Fortenbaugh's most attractive value picks for 2012.

Jay Cutler, Chicago Bears (ADP: 99.0): This one makes no sense to me. On average, Cutler has been the 14th quarterback selected in mock drafts over at fantasy football calculator.com, two spots behind rookie Robert Griffin III. Are owners overlooking the fact that Chicago signed Pro Bowl wide receiver Brandon Marshall this offseason? Think about it: If Cutler had stayed healthy and maintained his production through 16 games last year, he would have thrown for just over 3,700 yards with one of the least impressive receiving units in the NFL. I'm not sure there is any player in the league who comes at a better price at the current moment than Cutler.

Philip Rivers, San Diego Chargers (ADP: 69.2): Nobody will argue against the notion that 2011 was a disappointment for Rivers. But even in a down year, the eight-year veteran still threw for 4,624 yards (6th in NFL) and 27 touchdown passes. This guy is way too competitive to let underachievement become a trend. Yes, Vincent Jackson is gone, but Robert Meachem was added to the roster during the offseason and don't be surprised if second-year wideout Vincent Brown steps up big in 2012. Remember, prior to last season, Rivers had posted three consecutive top-7 fantasy campaigns.

Matt Schaub, Houston Texans (ADP: 106.1): The two problems with Schaub are injuries (only two full 16-game seasons in last five years) and the stellar Houston defense, which will limit the amount of passes the Virginia product needs to throw in the fourth quarter. But the 15th quarterback off the board? I'm not buying it. With Arian Foster to anchor the running game and Andre Johnson lining up on the outside, Schaub is without question the most appealing QB2 on the market this summer. If you can manage to land a consistent and productive QB1 before drafting Schaub in the later rounds, you'll have a fat piece on trade bait on your hands.

Hit me up on Twitter: @JoeFortenbaugh

Follow @footballpost on Twitter for the latest news