Tue May 8, 2012 2:30pm
By the National Football Post

By NFL quarterback standards, it shouldn't take seven years for a first round draft pick to demonstrate the necessary skill set required to lead a team to the Super Bowl. You either have it or you don't and in most cases, that evaluation can be made in five years or less.
Ask the front offices in Baltimore and Atlanta, who are eagerly hoping to see marked improvement from franchise signal-callers Joe Flacco and Matt Ryan this season as both former first round selections get set to enter their fifth NFL campaigns. A failure to take the next step forward in 2012 could have both organizations contemplating a change at the position next offseason.
Or, you can look at the interesting case study in San Francisco for an entirely different take on the matter.
Six years after the commencement of his NFL career, Alex Smith was a quarterback who had failed to meet the lofty expectations that come with being the draft's first overall selection. He had gone 19-31 as a starter with a career completion percentage of 56.8% and a QB rating of just 71.3. Worst of all, Smith had never appeared in a postseason game.
Then came the arrival of Jim Harbaugh.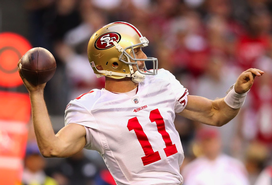 Smith torched the Saints for 299 yards and three scores in January's Divisional Round win, but completed only 46.2% of his passes against the Giants in the NFC Championship game.

Smith may not have been the long-term answer to the 49ers' quarterback question in the eyes of Harbaugh last offseason, but the former Stanford boss played the hand he was dealt and wound up taking down a monster pot. Under Harbaugh's guidance, Smith produced the finest season of his seven-year career, setting personal bests in wins (13), completion percentage (61.3%), passing yards (3,144) and QB rating (90.7).

He also led his team all the way to the NFC Championship game and in the process, Smith was rewarded with a new three-year deal worth $24 million.

So what should we expect in 2012?

There are two ways to evaluate Smith's potential moving forward: He's either a late bloomer who is finally ready to embark on a promising career, or he's a guy who peaked in 2011 and is capable of going no further.

Smith averaged 203.8 passing yards with only three interceptions and a QB rating of 95.0 in San Francisco's 13 wins last year. But in the team's three losses, their quarterback averaged just 164.6 passing yards with two interceptions and a QB rating of 72.4. These numbers serve to highlight the fact that often is the case where a poor performance from the quarterback position results in a loss.

Smith's consistency and game management skills were suburb in 2011. He took what was given, protected the football and allowed the 49ers' top-notch defense and punting team to give his offense favorable field position.

But with expectations in San Francisco set to reach their highest levels in over a decade this fall, will Alex Smith be able to move past the role of game manager and evolve into the position of star quarterback?

That's the question the 49ers are facing. And it's a big one, because it could be the difference between a trip to New Orleans for the Super Bowl or another February at home looking towards next season.

Hit me up on Twitter: @JoeFortenbaugh

Follow @footballpost on Twitter for the latest news