Sat Apr 28, 2012 1:45pm
By the National Football Post

Having lived and worked in Chicago the last 11 years, I know one thing: the media can be very tough.
What makes it hard for Phil Emery in conducting his first draft is that the local media didn't trust previous GM Jerry Angelo and because of that there is a carryover effect to Emery. They want to believe but aren't sure if they can.
Emery was on my staff while I was the scouting director for 3½ years, so I know him well. I know what kind of scout he is and I know how prepared he is and I can assure the Bears fans that he is very good at what he does. While saying that, I have had the opportunity to look at tape of each of the Bears first 3 selections in this draft. I saw 4 games from 2011 and 2 from 2010 on first round pick pick Shea McClellin. I watched 7 games from 2011 and 6 from 2010 on Alshon Jeffery and I saw 3 tapes from 2010 (Boise, TCU and Oregon) on third round pick Brandon Hardin. Hardin was injured and did not play in 2011 but he did play in the East-West game in January down in Florida. My opinion is that all 3 of these picks are very good selections and Emery has done quite well going into today's final rounds. Here is a brief synopsis of what I have seen of the three draft choices.
Shea McClellin – DE – Boise State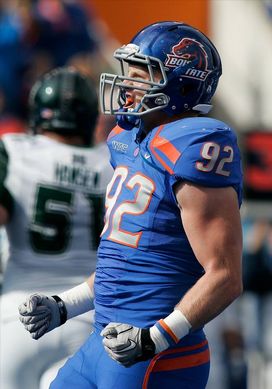 ICONShea McClellin will bring upfield pressure to the Bears defense.

The first thing that stands out while watching tape on McClellin is his motor. This guy is all out on every play. He was the leader of the Broncos defense and played in a variety of positions. He was used at DE, DT, OLB and ILB. He is very athletic with speed and a burst. He gets off the ball quickly, stays low, defeats blocks and gets to the ball. He has the speed to burn the edge as a pass rusher and the moves to counter back inside. He shows very good hand use and doesn't let blockers get into his body. He is one of the better pursuit players I have seen showing speed and taking excellent angles. If there is any drawback it's that his arm length is only 32.87. You would like a minimum of 33 but 1/8 of inch isn't anything to worry about especially because of his excellent hand use. Going into the draft I thought he would be a fit for most 3-4 teams as an OLB and teams like Chicago, Minnesota and Philly in 4-3 schemes. They want their DE's to be upfield pressure players and that is what McClellin is. He's a very good pick.

Alshon Jeffery – WR – South Carolina

Every scout agrees that Jeffery is a very talented receiver. He was a 3 year starter and one of the best receivers in the SEC. The worry was that he played at 235 in 2011 and that is too heavy for him to be effective in the NFL. Having talked to a person very close to Jeffery I have learned that he did not have the best eating habits and once he learned about proper nutrition he has controlled his weight. At the Combine he was 215 and was 212 at his pro day when he put up excellent numbers. He ran a 4.49 40, 36.5 VJ, 10'2 LJ, 4.09 20 shuttle and a 6.71 3-cone. Those numbers are on par with the most athletic receivers in this class. Yes, there is a worry that he could revert back to 230-plus, but I think his desire to be a top player won't allow it.
Jeffery is a big receiver at 6-3 but because of his length he plays like he is 6-5. He has great hands and excellent ability to adjust to the ball and is a strong runner after the catch. I see Jeffery starting opposite Brandon Marshall in Chicago. When you add either Devin Hester or Earl Bennett inside the Bears will create some big time matchup problems. Defenses will have to decide who they can double and that will free up the others. In my opinion this too was an excellent pick.

Brandon Hardin – DC/DS – Oregon State

Hardin is an interesting pick, as he missed the entire 2011 season because he broke his shoulder during training camp last summer. He made a full recovery and was able to play at the East-West Shrine game and played well. He has great size at 6027 and 217 and runs 4.43. I know some scouts had him in under 4.4 at his pro day. He also did 24 reps of 225, which is rare for a DB.

Hardin played corner at Oregon State and showed that he could play excellent press coverage. He has a strong jam and turns quickly showing very good mirror skills. In zone he is very alert and reacts well to the ball in the air. Where he can struggle a little at corner is when playing off. He just isn't quite as sudden in transition as you would want a corner to be.

One of the best parts of his game is run support and tackling. He is a fearless run support guy and can be a blowup tackler. You don't see many corners as aggressive as this guy. The Bears plan to use Hardin at safety where he can easily match up against the athletic tight ends in the league. Pairing him with Chris Conte, last year's third round pick, will give Chicago two of the tallest and athletic safeties in the league.
With Hardin not playing in 2011, could the Bears have gotten Hardin a little later? Maybe, but his workout numbers were so strong and combined with his good tape from 2010 it was no sure thing. To get a physical corner/safety at this point in the draft is a gift horse you have to take. I believe it was a very good pick.

Overall, the thing that stands out about Emery's first draft is he is drafting size-speed players. Emery was a strength coach before he got into scouting and that background gives him an appreciation of athletic skills. Look for more of the same the rest of the draft.

Follow @footballpost on Twitter for the latest news