Sat Jul 21, 2012 1:00pm
By the National Football Post

With SEC Media Days now in the books, it's time to turn our attention to the ACC, which kicks off its Media Days on Sunday and runs through Monday at the Grandover Resort in Greensboro, N.C. Live streaming of the event will take place at theACC.com.
Unfortunately, the list of 24 players who will participate in the event does not include Clemson star quarterback Tajh Boyd, N.C. State cornerback David Amerson or North Carolina running back Giovani Bernard.
While not much major news is likely to come out of Media Days, let's take a look at some of the biggest storylines that we should watch as ACC teams prepare for their impending preseason camps.
Commissioner John Swofford's address: Swofford will likely get asked a lot about conference expansion at his media session at 12:30 p.m. Sunday, especially now that it's been announced that Syracuse and Pittsburgh have settled with the Big East and will be allowed to join the ACC in 2013. Swofford will also be asked about other possible expansion opportunities as well as the rumors involving Florida State, Clemson and the Big 12. He will also likely field questions about the league's renewed partnership with the Orange Bowl and a possible postseason matchup against Notre Dame.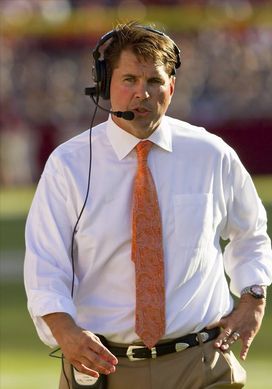 ICONAl Golden will have to get through the 2012 slate with a roster littered with underclassmen.

Looming sanctions at Miami?: Hurricanes head coach Al Golden will certainly get asked his thoughts on the NCAA's investigation into The U., but he won't have much to say because the sport's governing body has not finished its probe. As I talked about throughout the offseason, I don't expect the NCAA to inform Miami of possible sanctions until deep into the season. In terms of 2012, the 'Canes lost a lot of early entries to the NFL, and they just dismissed star safety Ray-Ray Armstrong from the young team. Golden should expect plenty of questions about the quarterback battle between Memphis transfer Ryan Williams and Stephen Morris. It will be interesting to see if Miami self-imposes another bowl ban if the season isn't going the way it hopes due to a tough schedule and if the program has yet to hear from the NCAA deep into the season. There are some intriguing sophomores, led by linebacker Denzel Perryman and defensive end Anthony Chickillo, but depth is an issue in Coral Gables.

Randy Edsall's news conference: The Maryland head coach had a disastrous first season in College Park, enduring a very trying 2-10 campaign that had Terrapin fans calling for his job after just a single season. But he brought in Mike Locksley to run the offense and improve the team's recruiting efforts, and true freshman Stefon Diggs will add a little bit of life to the program. How much improvement can the Terps make this fall? It's hard to see more than five wins on the schedule, but wins are almost secondary now for Edsall. Improved communication and rapport has taken center stage, and it's one of the reasons why Edsall and other athletic officials are working with a PR firm this season on a number of initiatives, including coaches' media training. We'll see if it will pay immediate dividends when Edsall speaks to reporters here in Greensboro. We'll also see if he gets asked about athletic director Kevin Anderson, who has been linked to the Stanford opening.

Florida State BCS title talk: The Seminoles dealt with very high expectations last year, and head coach Jimbo Fisher and Co. will have to deal with similar sentiments this time around. Coordinator Mark Stoops should have an even nastier defense in Tallahassee this fall, helped by a sterling recruiting class this past February. Offensively, though, the 'Noles will need to get better production from their backfield behind an offensive line that needs to grow up fast. Keep an eye on true freshman running back Mario Pender, who really impressed the coaching staff this spring. Fisher will get plenty of questions about a BCS title run, and we'll all be eager to see if FSU can cash in on the hype.

Also keep an eye on: New North Carolina head coach Larry Fedora's first time at ACC Media Days after coming over from Southern Miss. He will certainly get asked about the culture in Chapel Hill and how the program will move on now that it has met its NCAA fate. And Boston College head coach Frank Spaziani could very well be participating in his final ACC Media Days unless the Eagles make vast improvement under his leadership this fall.

Email dave.miller@nationalfootballpost.com or follow me on Twitter at Miller_Dave

Follow @footballpost on Twitter for the latest news
This story originally appeared on Nationalfootballpost.com