Fri May 11, 2012 11:15am
By the National Football Post

Check out my interview from Thursday night with David Nuno of Rivals Radio on Yahoo! Sports Radio. We discuss the turmoil in the Big East, conference realignment, spring notes and more.
Boise State had agreed to bolt the Mountain West for the Big East on July 1, 2013, but Brett McMurphy of CBSSports.com reports that the Broncos could remain in the MWC.
According to McMurphy, MWC representatives recently met with Boise State officials to persuade the Broncos to remain in the league. Technically, the Broncos haven't formally announced to the MWC that they plan to withdraw from the league.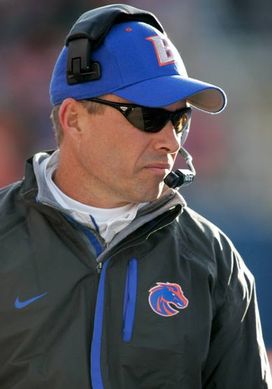 ICONCould Chris Petersen and the Broncos remain in the Mountain West after all?

When asked for comment, a Boise State spokesman maintained that the university continues to monitor the ever-changing "landscape in college athletics and remain committed to making the best long-term decisions for Boise State."

The situation in the Big East should be monitored by any program scheduled to make a jump to the league. Not only does the conference need to find a new commissioner, but an ESPN.com report stated that Louisville is actively trying to land in the Big 12 or ACC. Losing the Cardinals or any other school could cause a domino effect in the league and severely further weaken the new-look Big East.

Boise State has until June 30 to notify the MWC that it is departing. Because the Broncos signed a contract to join the Big East, they would have to pay a $5 million exit fee if they did not join before July 1, 2013. If they leave their new league on or after July 1, 2013, a 27-month notice must be provided and the school would have to pay a $10 million exit fee.

Besides the monetary bump that Boise State would receive by moving to the Big East, another reason the school planned to leave the MWC was to gain the AQ conference label in a BCS league. However, the BCS is reportedly removing AQ and non-AQ statuses after 2013. So moving to the Big East may not be too much of a step-up from the MWC anyway. There are also differing opinions on exactly how much the Big East's new media rights deal will be worth after the league already rejected a large contract with ESPN in the past.

There have also been rumblings that Boise State may reconsider leaving the MWC because the uncertain future of the Western Athletic Conference could affect its Olympic sports. Having a football team in an unstable Big East and its other sports in a depleted WAC would obviously be a less-than-ideal situation for the Broncos.

On Wednesday, the Idaho Statesman reported that Boise State is concerned about the WAC's future and has asked Big East officials for assistance in finding a home for its non-football programs.

Certainly, the situation between Boise State, the MWC and the Big East will be worth monitoring as the conference landscapes remain fluid across the country.

Email dave.miller@nationalfootballpost.com or follow me on Twitter at Miller_Dave

Follow @footballpost on Twitter for the latest news