Thu May 17, 2012 12:00pm
By the National Football Post

A four-team playoff is coming in college football starting in 2014, but there are still many unanswered questions about its format as we approach a final decision by BCS officials later this summer.
The biggest questions are how the teams will be selected for this playoff system and how the bowl games fit into the equation. In particular, how does the Rose Bowl fit into this new postseason model with Big Ten officials adamant about keeping its conference tie-ins to the "Granddaddy of Them All."
If outspoken Texas athletic director DeLoss Dodds had his way, no bowl game would be part of the four-team playoff.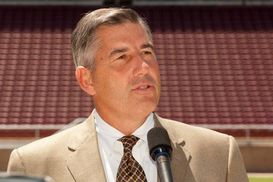 The Big 12's Bob Bowlsby and his fellow commissioners continue to work towards a four-team playoff system.

"It needs to be their own bowls, their own TV, their own sponsors," Dodds told the Austin American-Statesman. "Those four selected would not play in the bowls. And I'd have them bid it out to cities and stadiums for the three games, and I favor neutral sites for the games because using the campuses (as semifinal hosts) would be too much of an advantage."

In terms of how the teams would be selected for this four-team model, Dodds would have the top four squads in the nation (no matter if the team won its conference) chosen by a panel of unbiased experts who have football backgrounds. Thus, with bowls having no tie-ins to the playoffs, the Rose Bowl would be free every year to choose a Big Ten team and a Pac-12 squad even if a champion from either league was in the playoff. Problem solved, right?

Hardly, as Big Ten commissioner Jim Delany has gone on record saying he wants the Rose Bowl to be a part of the playoff equation.

At the Big Ten spring meetings this week, the conference's athletic directors maintained that the Big Ten's relationship with the Rose Bowl will exist, but it's unknown how the impending playoff will affect it. Ohio State athletic director Gene Smith wasn't sure if a Big Ten team that made the national semifinals would be locked into the Rose Bowl but believes that a team in the "system allows the Rose Bowl to be in the rotation for a hosting situation."

"Off the cuff, if the Big Ten or Pac-12 team is in the top four, then you have to have some form on who goes where," Smith said. "We haven't discussed that. We're not that far."

The Big Ten is no longer pursuing the idea of the national semifinals being played on campus sites, so perhaps the league is hoping that concession could lead to more progress on the Rose Bowl front. But with so many variables on the table, one concession just seems to lead to more unanswered questions.

And with the comments from Dodds regarding removal of the bowls from the playoff system, it would appear that the Big 12 and Big Ten are on opposite sides of the spectrum as to how this four-team model should be structured. Of course, Dodds is just one of 10 AD's in the Big 12. But he does have pull, so it'll be interesting to see how much of Bowlsby's ear he has in these discussions. Don't underestimate the power of ESPN and other television partners in this discussion either.

One interesting turn of events that took place this week came at the ACC spring meetings, where league commissioner John Swofford said on Wednesday that the conference prefers a conference champion model in the four-team playoff with bowl games being used for the semifinals instead of on-campus sites. He added that the conference champs involved should reach a certain standard to get in, such as being ranked among the top five or six. Sound familiar? It's essentially the plan that Delany has proposed. More importantly, it's not what the SEC has in mind, as its commissioner Mike Slive does not believe in a conference champ model only. After all, such a model would have prevented Alabama from making the championship game last season.

So, what is now being termed the Delany Plan could come down to if Bowlsby and the Big 12 get on board or if it sides more with the SEC in wanting the best four teams, conference champs be damned. If Bowlsby and the Big 12 get on board with the Delany Plan, there may not be much Slive and the SEC can do about it except maybe a slight tweak. Or if TV partners get involved. But no matter what, there will be controversy. After all, this is college football.

Where will the compromise come between the many sides discussing the four-team playoff? For now, we remain in wait and see mode.

Email dave.miller@nationalfootballpost.com or follow me on Twitter at Miller_Dave

Follow @footballpost on Twitter for the latest news