Wed Apr 11, 2012 12:00pm
By the National Football Post

Breaking down some of the top late round options…

QB G.J. Kinne: Tulsa (6-2, 234)
Kinne has a little Jeff Garcia/Bruce Gradkowski to his game. He will fall on draft day because of his size, but is your typical gritty QB prospect who is the son of a coach and in my view will find a way to make a roster and potentially fight for playing time down the line.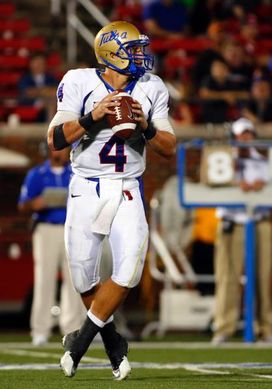 ICONKinne is a guy I would go to bat for.

QB B.J Coleman: Tennessee-Chattanooga (6-4, 220)
He needs to improve his footwork from the gun and from center before he's ready for the NFL game. However, Coleman has a good skill set, can make all the throws and is an intriguing developmental kid with a "plus" upside.

RB Bryce Brown: Kansas State (6-0, 220)
Watching him run in Lane Kiffin's zone scheme as a freshman, the guy was an impressive back with a lot of natural talent. He was the number one ranked recruit out of high school, ahead of Trent Richardson in 2009 and no doubt has the skill set to play in the league. The biggest question mark for him going forward is his overall character.

WR Jarrett Boykin: Virginia Tech (6-2, 218)
Isn't real explosive off the line but plays quick down the field, can get off press, separate and go get the football. Also, he will be able to make plays both inside and out at the next level and should be able to earn playing time at both spots in the NFL early in his NFL career.

TE George Bryan: North Carolina State (6-5, 265)
An NFL caliber "on the line Y", he isn't a dynamic pass catching option but has the ability to make plays underneath and at least threaten the seam and can develop into a plus caliber run blocker. Isn't quite dynamic enough to start in the NFL, but could end up being one of the better reserves at the position on the next level.

OG Kelvin Beachum: Southern Methodist (6-3, 306)
Possesses the size/power to win as an in-line guy and the athleticism to pull in power situations and get out into the second level as well. He's a coordinated pass protector on the edge and has the skill set to make the move to guard at the next level.

DE Scott Solomon: Rice (6-3, 270)
A better overall prospect in my mind than former Rice DL Cheta Ozougwu, who ended up being selected in the 7th round. He's a big kid who has some pass rush ability and the size to play the run. At worst looks like a guy who can come into camp and work his way into an NFL rotation.

DT Chigbo Anunoby: Morehouse (6-4, 324)
He's never going to be a "plus" pass rusher in the NFL. However, he's a strong, long kid with a really well proportioned frame who can anchor inside and certainly has the talent to get plenty of looks from both 34 and 43 teams as a developmental big body.

OLB Delano Johnson: Bowie State (6-4, 267)
A good-looking kid with an intriguing skill set. Is a developing pass rusher, but certainly has the upside to get a look in an NFL camp.

CB Coty Sensabaugh: Clemson (6-0, 185)
Possesses a solid NFL skill set with a "plus" feel in the pass game. Looks like a reserve only, but an NFL rosterable guy.

CB Mike Harris: Florida State (5-11, 195)
Looks like a physical slot guy to me who can play in both man and zone concepts, and will tackle the football.

Check out the NFP Draft page here...

Follow @footballpost on Twitter for the latest news