Thu May 3, 2012 5:00pm
By the National Football Post

Osi Umenyiora has nobody to blame but himself and former agent Brian Mackler for the predicament he's in with his contract.
Umenyiora's biggest mistake was signing a six-year extension near the end of the 2005 regular season while having a 14.5 sack-campaign when he was about to enter a contract year. The deal that's the source of his unhappiness averages $5.5 million per year (with $14 million guaranteed). It also contains $2.5 million in salary escalators in each of the last three seasons (2010-2012), but Umenyiora hasn't earned any of them yet. Players that can consistently get to the quarterback are usually highly coveted around the NFL, so they should never sign such a lengthy deal unless they are paid a premium.
Hindsight is 20/20 but there are several different options Umenyiora could have taken if he was confident that he was going to be one of the NFL's premier pass rushers for an extended period of time. For example, his agent could have negotiated a clause in his contract which would have voided the latter years of his extension if he reached certain statistical thresholds or received individual honors since the salaries for the top players always escalate.
Even though Umenyiora's guaranteed money was consistent with the marketplace and he didn't duplicate his 2005 success in 2006, the New York Giants probably would have franchised him in 2007 for $8.664 million if he had played out his prior contract. He could have reaped the benefit of Dwight Freeney's six-year, $72 million deal (with $30 million guaranteed) in 2007 with the Indianapolis Colts that made him the NFL's highest paid defensive player.
If Umenyiora had signed a deal of a more appropriate length in 2005, a four or five year extension, he could taken advantage of the changing marketplace conditions for players with a proven ability to generate sacks. On a four-year extension, Umenyiora could have been the defensive end consolation prize to Julius Peppers, who signed a six-year, $84 million deal ($42 million in guarantees, $40.5 million in the first three years, another $6 million in incentives) in 2010 with the Chicago Bears during free agency, provided that the Giants didn't franchise him at $12.398 million.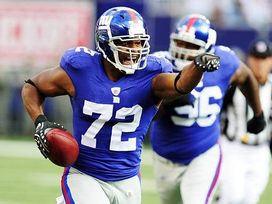 Osi Umenyiora has been looking for a new contract for years. Will he ever get one?

With a five year extension, Umenyiora could have been signing a new contract after an 11.5 sack 2010 season that earned him second team All-Pro honors. Charles Johnson, who tied for seventh in sacks with Umenyiora during that season, signed a six-year, $76 million contract (with $32 million in guarantees) with the Carolina Panthers in 2011. It's conceivable that Umenyiora could have gotten a deal in this neighborhood as a 29-year-old.

Knowing that Jason Pierre-Paul had a breakout year with 16.5 sacks in 2011 and that the Giants have refused to address his contract in any meaningful way, Umenyiora should have quietly approached Jerry Reese, their general manager, for a trade right after the Super Bowl and asked for permission to shop himself once the trading period started on March 13th. At this time, the Giants may have been able to get something similar to what the Miami Dolphins received when they traded Jason Taylor to the Washington Redskins in 2008, presumably from a playoff contender who felt that Umenyiora's passing rushing ability might have been able to get them over the hump.

The Dolphins got a 2009 second round pick and a 2010 sixth round pick for Taylor. Now that free agency is over for all practical purposes and teams have filled most of their remaining needs through the NFL Draft, there might not be much of trade market for Umenyiora if the Giants decide to deal him. Any team interested in trading for Umenyiora would likely insist upon him signing a contract extension given that he is finally in his contract year. That would be a difficult proposition if Umenyiora looked at Trent Cole's four-year contract extension averaging $12,131,250 per year (with $14.5 million guaranteed) that was signed once free agency started as his benchmark.

It is a waste of time and energy for Umenyiora to be worried about whether the public views him as a greedy pig. Rarely does the public have sympathy for any athlete making millions of dollars who is complaining about being underpaid. Savvy football fans might recognize that Reese is trying to win the court of public opinion—which isn't hard for him to do—by disclosing that he's made contract offers to Umenyiora and proclaiming that he wants him to retire as a Giant. They might also realize how disingenuous Reese is because he knows that those offers would never be accepted.

Umenyiora reportedly is considering all of his options and hasn't dismissed staging a holdout. His window of opportunity to potentially have a successful holdout has closed. He needed to take a significant stand last year when coming off an All-Pro season before Jason Pierre-Paul emerged as a Pro Bowl caliber player. Even if his holdout had failed last year, Umenyiora may have become such a distraction that the Giants would have felt compelled to trade him this offseason because they had grown weary from dealing with the antics of a disgruntled player.

Umenyiora should just accept that the Giants are never going to satisfy him contractually, especially since he's their third defensive end, albeit a highly productive one. He is now a lot closer to being a luxury than a necessity because of Pierre-Paul. Umenyiora should focus on staying healthy and trying to post another double-digit sack season, which is realistically attainable for him. He had nine sacks (and another 3.5 sacks in the postseason) while only playing 32.6% of the plays after missing seven games due to knee and ankle injuries. If he remains healthy and sustains his 2011 pace of production, he should have a 16-sack season on 58% playtime.

Although he would have competition from Freeney in the open market, some team would probably be willing to pay Umenyiora more than the four-year, $36 million deal (with $17 million guaranteed) that 31-year-old Robert Mathis received from the Colts before the start of free agency.

With a subpar year, he might have a difficult time exceeding the three-year, $17.5 million contract John Abraham, who turns 34-years-old next week, recently signed with the Atlanta Falcons.

Joel Corry is a former sports agent who helped found Premier Sports & Entertainment, a sports management firm that represents professional athletes and coaches. Prior to his tenure at Premier, Joel worked for Management Plus Enterprises, which represented Shaquille O'Neal, Hakeem Olajuwon and Ronnie Lott. You can email Joel at jccorry@gmail.com

Follow me on Twitter: @corryjoel

Follow @footballpost on Twitter for the latest news