Fri May 25, 2012 5:00pm
By the National Football Post

Every year when we get into OTA's people start wondering what rookies will have the biggest impact on their teams this season. While quarterbacks Andrew Luck and Robert Griffin III will start right away they still will go through the pains of being rookie quarterbacks in the NFL and I doubt we will see them have a huge impact until at least the second half of the season. The following will be some rookies that I feel will make big contributions right from the start of the season.
Trent Richardson – Cleveland
With Peyton Hillis injured much of last year the Browns rushing attack was poor. Richardson was the best back in the draft and is an every down player. No matter who is at quarterback, in order for the Browns to be successful Richardson has to produce and he will. Cleveland's offensive line is more than adequate enough to create opening for Richardson. I expect him to gain 1,000-plus yards.
Luke Kuechly – Carolina
Kuechly is one of the most instinctive linebackers I have seen in years. He is a natural playmaker and like Richardson an every down player. I think he will establish himself as a leader of the Panthers defense early much in the same way as Brian Urlacher did 12 years ago for the Bears. I see Kuechly is a future All Pro.
Fletcher Cox – Philadelphia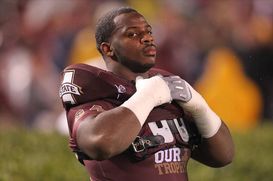 Fletcher Cox is a perfect fit for the Eagles and defensive line coach Jim Washburn.

While Richardson is the best running back and Kuechly is the best linebacker, Cox was the best defensive lineman in the draft. He is a perfect fit for what D-Line coach Jim Washburn wants to do with his line. Cox can play end or tackle but expect him to line up inside on passing downs and give the Eagles an inside pass rush presence they haven't had in a while.

Melvin Ingram – San Diego

Like Kuechly, Ingram is a playmaker. He went to a team that plays the perfect defense for him: an attacking 3-4 scheme. Ingram has top instincts and is a supreme pass rusher. He could become a difference maker early on.

David DeCastro – Pittsburgh

The Steelers biggest area of concern was the offensive line. DeCastro was the best inside offensive lineman in the draft and I expect him to have the same impact as center Maurkice Pouncey two years ago. DeCastro should start from day one and help improve the line.

Doug Martin – Tampa Bay

I really like Martin's talent but I don't see him having the same impact as Richardson. The reason is the Bucs have LaGarette Blount. The new coaching staff is down on Blount because he can be a fumbler but he is still one of the better power backs in the league. What Martin gives them is a more dangerous 3rd down threat. He is an excellent receiver and has the explosiveness to score any time he gets in the open field.

Coby Fleener – Indianapolis

Quarterback Andrew Luck already has a feel good for Fleener having played together at Stanford. Fleener will replace Dallas Clark as the move tight end and he may very well lead the Colts in receptions as a rookie.

Alshon Jeffery – Chicago

Jeffery has only been in Chicago a couple of weeks and he is already making people notice. The tall, sure-handed receiver will be an outstanding complement to Brandon Marshall as an outside receiver. With Marshall and Jeffery outside and Devin Hester and Earl Bennett inside the Bears have their best receiving corps in years. Defenses are going to have to choose who to double and that will leave a lot of opportunities for Jeffery.

Courtney Upshaw – Baltimore

Like Ingram in San Diego, Upshaw ended up in the perfect place for his talents. Shortly after the draft, All Pro linebacker Terrell Suggs went down with an injury. Upshaw will have to replace him and my feeling is he will have a chip on his shoulder after having to wait until the 2nd round to get drafted. Upshaw couldn't ask for a better opportunity.

Mychal Kendricks – Philadelphia

If Kendricks was 6-1 instead of 5-11 he would have easily gone in the first round. The Eagles had a need at linebacker and Kendricks fits the scheme. Like Kuechly, Kendricks is an instinctive playmaker and should make an early impact with the Philly D.

Follow @footballpost on Twitter for the latest news