Sat Apr 28, 2012 12:20am
By the National Football Post

Click here for my first round draft notes.
A breakdown of my notes from the 2nd and 3rd rounds of the NFL Draft….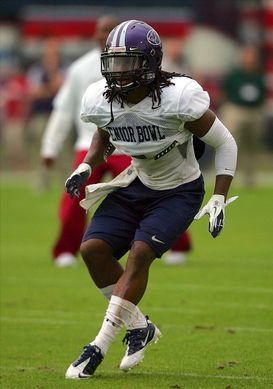 ICONThe Rams selected Jenkins early in the second round.
- We all know about the red flags surrounding Janoris Jenkins, but talent still sells in the NFL. The Rams draft the CB and get a prospect with man coverage skills and smooth feet. Best DB I saw down in Mobile at the Senior Bowl practices.
- I thought Alabama's Courtney Upshaw was a first round talent. The Ravens scoop up the LB and get a player that should compete for a starting job at a second round value. Can't question this pick from my perspective.
- The Packers aren't messing around with defensive talent in this draft. They selected OLB Nick Perry from USC in the first round. Tonight? They added DT Jerel Worthy of Michigan State and CB Casey Hayward from Vanderbilt. Upgrade the defensive side of the ball and create competition. That's how you build a unit.
- Stephen Hill is going to need some work at the pro level. But with his size and speed (6-4, 4.3 40), you will see the 9 (fade) route and the 8 (post) to test the top of opposing secondaries. The Jets get their vertical weapon.
- The Bears moved up to draft Alshon Jeffery after Hill came off the board. And while there are questions on the South Carolina WR, Phil Emery continues to overhaul the position in Chicago. I'm looking at inside breaking routes with Jeffery and the slant/fade combo in the red zone. Plenty of size for QB Jay Cutler to work with in Jeffery and Brandon Marshall.
- Brock Osweiler is a developmental player for the Broncos with Peyton Manning as the No.1. A big arm at the QB position that will sit and give Denver a true option for the future.
- Smart play from the Steelers in drafting Ohio State OT Mike Adams. After picking up OG David DeCastro last night, Pittsburgh continues to make an investment in an O-Line that needs to be upgraded.
- I can't tell you the reason for the slide of Rueben Randle, but the Giants get a vertical WR in the second round. Nice pickup after Mario Mannigham left via free agency.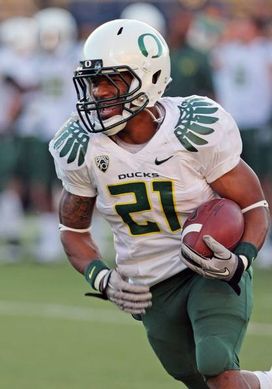 ICONLaMichael James heads to San Francisco.

- With Oregon RB LaMichael James going to the Niners, I'm curious to see what type of role he has. We are talking about a player that can contribute on special teams and is dynamic in the open field with the ball in his hands. But where does he fit in the backfield out in San Francisco?

- The Bucs drafted a true football player in LB Lavonte David. Watching him at the Senior Bowl, the Nebraska product can find the ball, has great lateral speed and brings his pads on contact.

- Coby Fleener to the Colts. A TE that can be used to create matchups in the passing game, plus he has red zone ability. I like the pick and it gives QB Andrew Luck a receiver that can work the middle of the field. Multiple alignments and the entire route tree from the TE position.

- Interesting to see Appalachian State's Brian Quick come off the board with the first pick of the second round to the Rams. The WR showed his athletic ability at the Senior Bowl and had excellent body control when the ball is in the air. The question I have is his overall grade at this point of the draft.

- I didn't expect Arizona QB Nick Foles to come off the board before Michigan State's Kirk Cousins. However, the Eagles add Foles to the roster tonight in the 3rd round. Another QB for Andy Reid to work with.

Follow me on Twitter: @MattBowen41

Follow @footballpost on Twitter for the latest news