Mon Apr 30, 2012 5:00pm
By the National Football Post

It's powerful to witness the raw emotion that takes hold in the moment a football player transforms from draft prospect into first round selection. Tears, smiles and bear hugs are unleashed upon anyone within striking distance, as what was once a dream has now become a reality.
At the other end of the spectrum lie the players who didn't hear their names called during the seven-round NFL draft. Their dreams have just been crushed, their respective worlds sent into a tailspin of doubt. The tears, smiles and bear hugs are still present, but the tears are ones of sadness and despair, not joy. The smiles are forced in an effort to exude confidence to those around them, even if none is actually present within. The bear hugs are received instead of given.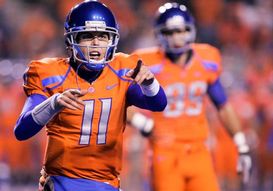 ICONJust because he went undrafted this weekend doesn't mean that Boise State quarterback Kellen Moore won't make it in the NFL.
Whether we want to believe it or not, a player's draft status is something that will stick with him for the duration of his NFL career. Never mind the fact that Matt Leinart is currently a man without a team. Everyone remembers that the former USC standout was a top-ten selection. And forget for a moment about the three Super Bowls that Tom Brady has won, because there are those who still look at the Patriots quarterback and see a guy who didn't hear his named called until the sixth round.
But amongst the dejection and heartbreak that comes with going undrafted also lies opportunity.
I'd venture to guess that, if given the choice, just about every NFL prospect would opt to be selected during the seventh round instead of going undrafted. That's the ego and the wallet talking. It may appear to be a better situation that offers a higher probability of catching on in the NFL, but often times that isn't the case.
Undrafted free agents have a very powerful weapon at their disposal that seventh round picks do not: choice. Once the draft reaches its conclusion, teams begin the process of burning up cell phone minutes in an effort to sign as many quality undrafted players as possible. Several players will hear from multiple teams, giving them the opportunity to sign with the organization that offers the best chance for success.
Seventh round picks do not have this choice. If they don't catch on with the team that drafted them, they'll be sent packing and in search of another place to sign. And that could very well mean landing in a city and walking into a competition with an undrafted free agent who choose to sign with the same organization four months prior and is already very familiar with the team's playbook.
Guess who has the leg up now?
I've told this story before, but it bears repeating now that we're just two days removed from the conclusion of the 2012 NFL draft.
In 2005 I was working as an agent for fellow NFP contributor Jack Bechta at JB Sports in San Diego. One of Bechta's rookie clients was a talented linebacker out of San Diego State named Heath Farwell.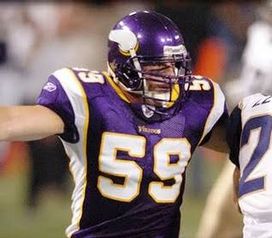 After going undrafted in 2005, Farwell earned a trip to the Pro Bowl in 2009.

Heath was prepared for the very real possibility that he would go undrafted, but like anyone in his situation, that didn't stop him from hoping for the best. And after watching fellow Aztec linebackers Matt McCoy (second round) and Kirk Morrison (third round) find new homes early in the draft process, Heath began to think that getting selected was more likely to happen than not.

Making matters worse was the fact that a team in need of a linebacker called us during the sixth round and gave the impression that Heath was their guy. Hopes were raised again, until the team pulled the trigger on a linebacker not named Farwell.

Shortly after that, the draft ended. Heath wasn't selected and subsequently stormed out of Bechta's house visibly upset. I felt terrible for the guy and I was just some dumb law student who needed to get home to study for final exams that I was in no way prepared to pass.

Heath returned a short while later to find out that at least four teams had called about signing him, but that didn't bring any happiness. Heath had gone undrafted. His ego and confidence were shot. His dreams had been crushed.

After a twenty-minute discussion, everyone involved in the process decided that the Minnesota Vikings gave Heath his best chance to succeed in the NFL. The depth chart at the linebacker position was far from imposing and if Heath could make a name for himself on special teams, he stood a very real chance of landing on the Week 1 roster.

Seven years have passes since that day and Heath no longer plays for the Vikings. That's because after five solid seasons in Minnesota, Farwell signed a free agent contract to play with the Seattle Seahawks. The former San Diego State linebacker—who was devastated after going undrafted in 2005—will enter his seventh NFL season this year and even boasts a resume that includes one trip to Hawaii for the Pro Bowl.

Going undrafted may be a tough pill to swallow, but it's not the end of the world. In some instances, it's just the beginning of a career that could far exceed the expectations of simply hearing your name called during the seventh round of the NFL draft.

Hit me up on Twitter: @JoeFortenbaugh

Follow @footballpost on Twitter for the latest news