Indians' 3B Ramirez out with broken hand for playoff push
Sun Aug 25 10:16am ET
By TOM WITHERS
AP Sports Writer
Players: Carlos Carrasco, Corey Kluber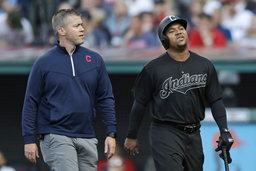 Cleveland Indians' Jose Ramirez, right, walks off the field with a trainer during the first inning of the team's baseball game against the Kansas City Royals, Saturday, Aug. 24, 2019, in Cleveland. (AP Photo/Tony Dejak)
CLEVELAND (AP) Indians third baseman Jose Ramirez has a broken right hand, an injury that could be a blow to the club's playoff hopes.
Cleveland placed Ramirez on the injured list Sunday, saying the two-time All-Star has a fractured hamate bone. He was removed from Saturday's game in the first inning after swinging at a pitch.
There is no immediate timetable on Ramirez's return, but the Indians can't afford to be without him for any time as they try to catch the first-place Minnesota Twins in the AL Central.
Ramirez started slowly this season, but he's been on a tear lately and has again been one of the Indians' best hitters.
Ramirez's injury is latest obstacle for the Indians. Two-time Cy Young winner Corey Kluber has been out since May 1 with a broken arm, and starter Carlos Carrasco is being treated following a leukemia diagnosis.