Pitching Primer: Week 2
Fri Apr 2 9:05am ET
By MIKE BARNER
Contributing Writer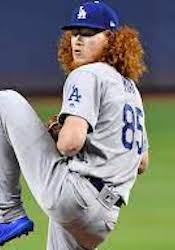 May starts twice for the Dodgers
Welcome to our first Pitching Primer article of the 2021 season. Each week, we'll discuss a few two-start pitchers and what their matchups mean for fantasy baseball. Let's dive into five such players for Week 2 and discuss whether they might be worth starting, or if they should be anchored for your bench.
Frankie Montas, Oakland Athletics: vs. LAD, at HOU
Montas couldn't follow his strong 2019 campaign, posting a 5.60 ERA in 2020. His FIP was a little better at 4.74 and his strikeout rate remained largely the same compared to 2019, but he struggled in two key areas. First, his walk rate jumped from 5.8 percent to 9.7 percent. Second, he allowed just 0.8 HR/9 in 2019, but that number increased to 1.7 in 2020.
This is a tough first two outings for Montas to try and get back on track. The Dodgers' lineup is loaded and it will be even more potent with the use of the DH in Oakland. The Astros lost George Springer during the offseason, but their lineup is still plenty dangerous with the likes of Alex Bregman, Yordan Alvarez and Carlos Correa in the fold. If you drafted him with the hopes that he rebounds this season, it might be best to at least sit him out this first week.
Dustin May, Los Angeles Dodgers: at OAK, vs. WAS
The Dodgers are loaded with starting pitching options. May is one of their most promising young pitchers, finishing 2020 with a 2.57 ERA and a 1.09 WHIP. With that in mind, he was somewhat lucky to be that successful. His FIP finished at 4.62 and he also benefited from a .234 BABIP allowed. He hasn't shown a ton of strikeout upside, either, posting a 20.8 percent strikeout rate in the early stages of his career.
Something to keep in mind this week is that with the teams throwing their best starters to begin the season, most of the pitchers who will start twice are those at the back end of team's rotations. That includes underwhelming options like Jorge Lopez, Nick Pivetta and Matt Moore. May is leaps and bounds ahead of them, talent wise, so if you want to deploy a two-start option, May is at least worst considering.
Jordan Montgomery, New York Yankees: vs. BAL, at TB
The Yankees starting rotation will look very different this season. They brought in Corey Kluber and Jameson Taillon during the offseason and Domingo German is set to return from his suspension. Outside of Cole, Montgomery is the only hold over from last year's rotation. While his 5.11 ERA looks concerning, his FIP was much better at 3.87. Pitching deep into games was certainly a problem, though, since he pitched at least six innings in only one of his 10 outings.
Starting Montgomery in fantasy this week comes with plenty of risk. His career 1.27 WHIP isn't great and his 24.4 percent strikeout rate last season wasn't all that appealing, either. A matchup against the Orioles might seem appealing on the surface, but their lineup is more dangerous this season with Trey Mancini and Maikel Franco in the fold. Also, the Rays had the sixth-highest OPS versus lefties (.794) in all of baseball last year. Taking a wait-and-see approach with Montgomery for his first two starts could end up being a wise move.
Carlos Rodon, Chicago White Sox: at SEA, vs. KC
Simply put, Rodon just can't stay healthy. He's never thrown more than 165 innings during his career and he's thrown a combined 42 1/3 innings the last two seasons. The results haven't been good, either, since he finished with an ERA of at least 5.19 in both campaigns.
As bad as he's been, he still might be worth streaming this week. The Mariners had the third-worst OPS (.678) in baseball last year and their highly-regarded prospect Jarred Kelenic will begin the season in the minors. The Royals have seen their lineup already take a hit with Adalberto Mondesi (oblique) landing on the IL. If there was ever a time to take a chance on streaming Rodon, this might be it.
Matt Shoemaker, Minnesota Twins: at DET, vs. SEA
Like Rodon, Shoemaker has had a difficult time staying healthy. He hasn't pitched more than 77 2/3 innings in any of the last four seasons. In fact, he's thrown fewer than 35 innings in each of the last three seasons. His six starts in 2020 didn't go well, finishing with a 4.71 ERA and a 5.95 FIP. If not for his 1.08 WHIP, his numbers could have been even worse considering that he allowed 2.5 HR/9.
The good thing about Shoemaker is that he's generally had success limiting base runners, posting a 1.18 WHIP for his career. Despite his limited strikeout upside, he might actually be a viable streaming option based on these two matchups. Not only do the Mariners project to be a favorable opponent, but so do the Tigers, who had the sixth-worst OPS (.700) last season. They've brought back mostly the same cast of characters with Robbie Grossman and Nomar Mazara being the two most notable additions to their lineup. That's not going to instill any fear in the hearts of their opponents.
Mike Barner has been covering fantasy sports since 2007. His work has appeared in Sports Illustrated, Yahoo, SportsLine and RotoWire. Mike was also a finalist for the 2018 FSWA Basketball Writer of the Year award. Follow Mike on Twitter @rotomikebarner.