Overvalued Players
Mon Mar 29 9:24am ET
By MIKE BARNER
Contributing Writer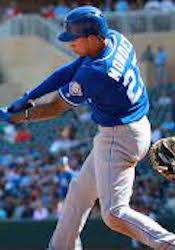 Mondesi carries some risk
We are about to enter the final fantasy baseball draft weekend before the start of the regular season. Sometimes the key to winning your league is not just the players that you draft, but the players that you avoid drafting too early. Let's discuss four players that could be potential landmines at their current ADP.
Adalberto Mondesi, SS, Kansas City Royals (ADP: 22.96)
Mondesi's overall numbers from 2020 don't look bad. He hit a respectable .256 to go along with six home runs and 24 steals across 59 games. However, he was batting .207 heading into the final week of the season. He was able to boost his numbers by hitting 16-for-26 (.615) with two home runs and five steals across his final seven games.
The reason that Mondesi goes this high in drafts is because of his ability to dominate the steals category, while also providing the potential to slug 20 home runs. However, injuries have been a problem for him during the early part of his career, and he's shown very little control at the plate. He's never had a walk rate above 5.0 percent and he's finished with a strikeout rate of at least 29.8 percent in back-to-back seasons. If you're playing in an overall tournament in which you're shooting to win the top prize, then taking a risk on a player like Mondesi might make sense. However, if you're looking to win your individual league, taking the volatile Mondesi over the likes of DJ LeMahieu (ADP 23.19), Aaron Nola (23.79) or Bo Bichette (27.82) could prove to be dangerous. There's certainly a chance that, even if he stays healthy, he finishes the season batting closer to .235 than .275. Also, he's a major liability in OBP leagues given his career .284 mark in that category.
Will Smith, C, Los Angeles Dodgers (ADP: 89.67)
It's clear why Smith is such an appealing option in fantasy. The catching position is extremely thin, so anyone that is a positive in the hitting department at that position stands out. Smith is far more than just a positive at the position, posting a 144 wRC+ and a .306 ISO during the early stages of his career. He slugged eight home runs across just 137 plate appearances last season, and his walk rate (14.6 percent) nearly matched his strikeout rate (16.1 percent).
The problem for Smith is not his talent, it's his potential lack of playing time. The removal of the DH from the National League should steal some at bats from him and reports have surfaced in Spring Training that the plan is for him to start around 90 games this season, splitting time with superior defensive catcher Austin Barnes. Regardless of position scarcity, selecting a player inside the top-90 who might play barely more than half the season is not advisable.
James Karinchak, RP, Cleveland Indians (ADP: 93.88)
Simply put, Karinchak has nasty stuff. Across 27 innings in a setup role last season, he recorded 53 strikeouts while allowing only 14 hits. He showed similar stuff in the minors, posting a 53.9 percent strikeout rate during his brief stint at Triple-A in 2019. With Brad Hand no longer in town, it initially seemed like Karinchak could be primed to take over as Cleveland's closer.
The concern with Karinchak is his control. He was wild in the minors and he had a 14.7 percent walk rate last season. That's not ideal for a closer. There have been reports that Nick Wittgren and/or Emmanuel Clase could also see save opportunities, especially if Karinchak struggles early. Taking a closer this early would mean that you're looking to get one of the safer options, which Karinchak is not. He's still intriguing but, only if he falls another couple of rounds compared to his ADP, at least.
Joey Gallo, OF, Texas Rangers (ADP: 164.21)
The appeal with Gallo is his massive power upside. He has a career .290 ISO and he already has two seasons with at least 40 home runs. An injury might have ruined his best season in 2019 considering he had 22 home runs and a 144 wRC+ across just 70 games. He came crashing back down to Earth in 2020 with an 86 wRC+, although he did still slug 10 home runs across 226 plate appearances.
The concern with Gallo is that he is batting just .208 for his career and he has never had a strikeout rate below 35 percent. His .253 batting average and .389 OBP in 2019 seems to be a fluke, but it could be the reason why Gallo is being selected this early in drafts. Yes, he can provide power. However, so can Kyle Schwarber, who has an ADP of 220.72. Even Joc Pederson could be a power option to target late with an ADP of 230.80. I'd much rather take a player like Eric Hosmer (ADP 167.18) in Gallo's range, then search for added power four or five rounds later.
Mike Barner has been covering fantasy sports since 2007. His work has appeared in Sports Illustrated, Yahoo, SportsLine and RotoWire. Mike was also a finalist for the 2018 FSWA Basketball Writer of the Year award. Follow Mike on Twitter @rotomikebarner.