Pitching Primer: Week 12
Sun Jun 13 10:28am ET
By MIKE BARNER
Contributing Writer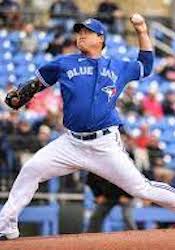 Ryu has good value this week
There are some big-name pitchers projected to make two starts each in Week 12, as well as a few two-start pitchers who could be in line for a rough stretch. Let's highlight five such players and project what to expect from them for fantasy baseball.
Freddy Peralta, Milwaukee Brewers: vs. CIN, at COL
The Brewers have some of the most appealing young starting pitchers in baseball, with Peralta being one of them. He's allowed two or fewer runs in 11 of his 13 appearances this season, leaving him with a 2.25 ERA and a 3.02 FIP. He has been somewhat aided by a .188 BABIP allowed, but he's also missing plenty of bats with his 37.0 percent strikeout rate.
These aren't exactly two easy matchups for Peralta. The Reds have become a more dangerous offensive team, posting the fourth-highest OPS in baseball. Following that will be a start at hitter-friendly Coors Field. Still, with how well Peralta has pitched and his strikeout upside, be sure that he's locked into your starting lineup if you're lucky enough to have him on your squad.
Hyun Jin Ryu, Toronto Blue Jays: vs. NYY, at BAL
Ryu hasn't been as sharp as last season and has most notably seen his strikeout rate decease by just over four percentage points. He hasn't exactly struggled, though, given his 3.56 FIP and 1.10 WHIP. One of the keys to his success has been excellent control, which has left him with a career 5.4 percent walk rate. He's also one of the few pitchers on the Blue Jays that has been able to give them any length, logging at least six innings in six of his 12 starts.
A matchup against the Yankees might seem daunting, but Ryu has already faced them twice this season, allowing three runs (two earned) across 12 innings. They also haven't been the same mashing team this season, posting a .704 OPS that ranks just 15th in baseball. Add in a start against an Orioles team that is tied for the 10th-fewest runs scored and Ryu could provide a couple of valuable outings.
Case Mize, Detroit Tigers: at KC, at LAA
Mize has shown plenty of improvement after he struggled with a 6.99 ERA and 6.47 FIP in 2020. His ERA has dropped all the way down to 3.44, although his FIP isn't as impressive at 4.78. Not only has he cut down on the rate at which he's allowed home runs, but he's also dropped his walk rate by more than two percentage points, down to 7.7 percent
Mize's first start of the week against the Royals could work in his favor since they have the 10th-worst OPS. He's faced them three times this season, the first of which didn't go well when he allowed six runs over 4 2/3 innings. However, he allowed a total of three runs across 12 1/3 innings in the following two outings. The Angels are still sporting a depleted lineup with Mike Trout (calf) out, so it might be a wise move to start Mize in most leagues.
Austin Gomber, Colorado Rockies: vs. SD, vs. MIL
It's not often that you can find a viable fantasy starting pitching option on the Rockies, but Gomber has been just that. He enters the week with a 3.95 ERA and 3.84 FIP, although he's generally pitched even better than that considering one outing in which he allowed nine runs over 1 2/3 innings did a number on his ratios. He's helped his cause by producing a 25.2 percent strikeout rate and only allowing 1.2 HR/9.
A deeper dive into Gomber's stats indicate he's been pretty lucky, schedule wise. Of his 13 starts, nine of them have been on the road. Can he continue to have success with both of his starts this week coming at Coors Field? Given the Padres' dangerous lineup, it wouldn't be a surprise to at least see him struggle in that start. Keeping him out of your lineup in most standard-sized leagues could be the right move.
Dylan Bundy, Los Angeles Angels: at OAK, vs. DET
It looked like Bundy getting out of Baltimore was going to be a boon for his career. He couldn't have pitched much better for the Angels last season, posting a 3.29 ERA and 2.95 FIP. He allowed just 0.7 HR/9, which had been a problem area for him throughout his career. With that being said, he's regressed to his old ways this season, allowing 2.1 HR/9 on his way to a 6.16 ERA and 5.13 FIP.
As ugly as his numbers look, this could actually be a good week to stream him. The A's play in a very pitcher-friendly park, which is part of the reason why they only have a .674 OPS there, compared to a .771 OPS on the road. Combine that matchup with a start against a Tigers' team that has the fourth-worst OPS in baseball and Bundy could string together a couple of quality performances.
Mike Barner has been covering fantasy sports since 2007. His work has appeared in Sports Illustrated, Yahoo, SportsLine and RotoWire. Mike was also a finalist for the 2018 FSWA Basketball Writer of the Year award. Follow Mike on Twitter @rotomikebarner.