From The Godfather: Week 2
Mon Apr 5 9:48am ET
By CHARLIE WIEGERT
Contributing Writer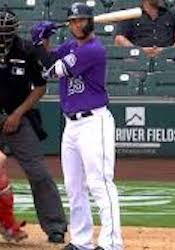 Cron can produce big as starter
HERE WE GO!
The season has begun! And if you expected some of the problems from last year, mainly with the bat virus to be gone, think again. It never ceases to amaze me, when things are going in the right direction, how quickly it changes. Four players from the Nationals tested positive for the bat virus, cancelling their home opener and perhaps their entire first series with the Mets. To add to the frustration, they will not announce the players that are in quarantine. So if they do play soon, we don't know which players they'll be without for a week to ten days. Hopefully, they'll play again soon, and we'll see who was put on the Covid list or be able to decipher from who is gone from their 26-man roster. One for sure that will not be on the list is Max Scherzer, who traveled separately from the team. So whenever they play, expect him to be their starter.
Also in question will be their series at home against Atlanta starting Monday. Keep an eye out in case it's cancelled and you'll want to move Braves players out of your starting lineup.
The schedule makers have Cleveland and Kansas City playing only five games next week, and Toronto and Oakland playing seven games. Everyone else is scheduled for six.
Taking a look at some possible two starts pitchers. There are two from Los Angeles I like. The Dodgers Dustin May, who won the starting nod over David Price, gets a road start at Oakland and a home start against the Nationals (assuming they are playing). Across the valley in Anaheim, Jose Quintana makes his Angel debut at home against Houston and a road start in Toronto.
Among the closers to keep an eye on, look for Jake Diekmann to get the first chance in Oakland until Trevor Rosenthal returns. It looks like Alex Reyes might man the closer role in St. Louis until Jordan Hicks is up to speed again. James Karinchak was a little shaky in his first Indians outing. Watch for Nick Wittgren to get some chances.
In Tampa, Pete Fairbanks was presumed to get the most chances, but as usually happens in Tampa, he was used early to get out of a tough lineup situation in the eighth, giving Diego Castillo the save in the ninth. In Kansas City, Greg Holland got the Royals out of an eighth inning jam, but needed Wade Davis to bail him out in the ninth. And in Toronto, presumed closer Jordan Romano was used in the ninth in a tie game, and after the Blue Jays scored in the tenth, Julian Merryweather was brought in for the save against the Yankees. He struck out all the hitters and touched 99 with his fastball, so he's someone to watch.
Some waiver wire additions you might be interested in…
Starting pitchers to consider are Dylan Cease, Logan Webb and Dominigo German.
Closers, other than those mentioned above, are Ian Kennedy, Gregory Soto, Amir Garrett and Daniel Bard
First Base: Did C.J. Cron get undrafted in your league. If so, get him and his 30 home runs. The Yankees will have Jay Bruce playing first while Luke Voit is out.
Second Base: Jazz Chisholm won the job in Miami, as did Jonathan India in Cincinnati.
Third Base: Josh Fuentes will man the hot corner in Colorado while Brendan Rogers hamstring keeps him out.
Shortstop: With Alaberto Mondesi out, the Royals have turned to light hitting Nicky Lopez. Where's Bobby Witt Jr?
Outfield: Taylor Trammell will start while Kyle Lewis is out in Seattle. And Kyle Isbel won the right field job in Kansas City.
Have a great first week!
Charlie Wiegert was the sixth person to be inducted in the Fantasy Sports Hall Of Fame in 2001. He is a founder of CDM Fantasy Sports and Fantasy Sports Trade Association. He has been playing and winning fantasy baseball leagues since 1984. If you have any questions for Charlie, email them to cwiegert@cdmsports.com. Follow him on Twitter @GFFantasySports.