Pitching Primer: Week 8
Fri May 14 11:07am ET
By MIKE BARNER
Contributing Writer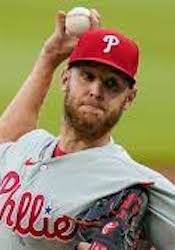 Wheeler continues to produce
Believe it or not, we've already made it through roughly a quarter of the MLB season. As we turn our attention towards Week 8, it's time to dive into the two-start pitching options. Here are five pitchers that are projected to get two outings each, and what that could mean for their fantasy production.
Max Fried, Atlanta Braves: vs. NYM, vs. PIT
On the surface, it looks like Fried is off to a disastrous start with a 6.55 ERA and a 1.73 WHIP. However, he has allowed two runs or fewer in three of his five starts. The problem was two outings against the Nationals and Marlins in which he combined to allow 13 runs (12 earned) over six innings. He allowed a whopping 17 hits in those two games, which really stands out when you consider that he allowed a total of 42 hits across 56 innings last season.
As bad as Fried was in those two starts, he's still someone to deploy in fantasy this week. While the Mets are on a seven-game winning streak, they scored four or fewer runs four times during that stretch. The Pirates have been dreadful on the hitting side of things, posting the third-worst OPS in baseball.
Zach Wheeler, Philadelphia Phillies: vs. MIA, vs. BOS
Wheeler began his tenure with the Phillies in 2020, recording a 2.92 ERA and a 3.22 FIP. He's on a similar path this season with a 2.85 ERA and a 2.82 FIP across his first eight starts. Not only has he done a good job of limiting base runners, but he's excelled at keeping hitters inside the ball park. Since the start of last season, he's allowed a total of seven home runs across 124 2/3 innings. If there is a downside to his game, it's his career 22.7 percent strikeout rate.
Wheeler starts off the week with an excellent matchup against the Marlins, who have the ninth-worst OPS in baseball. His second start against the Red Sox could be a daunting task, but at least he won't have to face the DH with the game being played in Philadelphia. As concerning as that second matchup might be, Wheeler is worth starting in most leagues.
Eduardo Rodriguez, Boston Red Sox: at TOR, at PHI
A bout with COVID-19 left Rodriguez with a heart issue that caused him to miss the entire 2020 season. The good news is that with a full offseason to recover, he's back in action for the Red Sox, a team that desperately needed him in their starting rotation. Normally a pitcher that can be wild, Rodriguez has shown significant improvement in that area with a 4.4 percent walk rate through seven starts. That's helped him record a 4.15 ERA and an even better 3.48 FIP.
Rodriguez's first start of the week will come against the Blue jays, who he's already faced one time this season. He was sharp in that outing, allowing two runs and recording six strikeouts over six innings. The Phillies have some big names in their lineup, but they've also been prone to striking out, posting the fifth-most strikeouts in baseball. Rodriguez could be in line for two valuable performances.
Dallas Keuchel, Chicago White Sox: at MIN, at NYY
It seemed unlikely that Keuchel was going to replicate the 1.99 ERA that he recorded last season. His FIP was 3.08, which, while still good, was significantly higher than his ERA. Also, he was coming off back-to-back seasons with an ERA of at least 3.74. He's regressed significantly through his first eight starts this season, recording a 4.53 ERA and a 4.63 FIP.
The problem with Keuchel is that, even with his great ERA last season, he only had a 16.3 percent strikeout rate. His career strikeout rate is 18.7 percent, which puts a significant damper on his fantasy upside. Add in two starts against tough lineups in the Twins and Yankees and this might be a good week to have Keuchel anchored to your bench.
Taijuan Walker, New York Mets: at ATL, at MIA
Walker's 2.70 ERA last season was a bit deceiving when you factor in his 4.56 FIP. He's off to a great start in the ERA department this season at 2.20, but this time it's strengthened by a 2.90 FIP. The main reason for his success has been allowing only one home run across 41 innings. As the season wears on, it would be nice to see him improve on his 11.0 percent walk rate, though. He very well could given that his career mark is 7.7 percent.
These two contrasting matchups make Walker a bit of a tricky option in fantasy. As previously mentioned, the Marlins' lineup has been a disappointment. However, the Braves have stormed out of the gate with the eighth-highest OPS. If you're in a shallow league, avoiding Walker might make sense. However, for those who play in 12-team or deeper leagues, he's still someone to consider starting.
Mike Barner has been covering fantasy sports since 2007. His work has appeared in Sports Illustrated, Yahoo, SportsLine and RotoWire. Mike was also a finalist for the 2018 FSWA Basketball Writer of the Year award. Follow Mike on Twitter @rotomikebarner.