Pitching Primer: Week 26
Fri Sep 17 1:02pm ET
By MIKE BARNER
Contributing Writer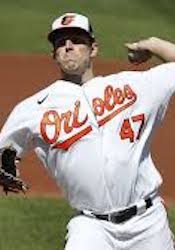 John Means can finish strong
Playoff races are heating up as we approach the final two weeks of the regular season. Some teams that are out of the hunt have gone with six-man rotations or are calling up younger pitchers to make starts, which can make projecting two-start pitchers a little tricky. Keeping that in mind, here are five pitchers who are projected to take the mound two times each in Week 26 and what their matchups could mean for their production.
Jose Berrios, Toronto Blue Jays: at TB, at MIN
Normally, fantasy managers would be jumping with excitement at the prospects of a two-start week for Berrios. He's having arguably the best season of his career, recording a 3.43 ERA that is supported by a 3.55 FIP. He's also used a 5.9 percent walk rate to record a 1.08 WHIP. Finally, his 25.6 percent strikeout rate is nearly two percentage points higher than his career mark.
The only reason for concern with Berrios is that he left Tuesday's start with left abdominal tightness. The good news is that initial reports indicate the issue is minor and that the team is hopeful he will be able to take the mound Monday for his first start of the week. The risk of starting him could be well worth the potential reward if he's not limited by his injury.
John Means, Baltimore Orioles: at PHI, vs. TEX
Means is basically the only bright spot in the Orioles starting rotation. He's allowed exactly two runs in each of his last four starts, one of which came against a Rays team that has scored the most runs in baseball. Means has had home runs issues, giving up 26 of them over 132 innings. However, he's still managed a 3.41 ERA thanks in large part to his 1.00 WHIP.
With his home run issues in mind, these might be two matchups in which Means could provide valuable production. The Phillies are middle-of-the-pack in the league in homers and the Rangers have hit the fifth-fewest. Also, the Rangers have the worst OPS (.651) against left-handed pitchers in the league. If Means can navigate Bryce Harper and Andrew McCutchen in his first start, his second start against the Rangers could be a gem.
Huascar Ynoa, Atlanta Braves: at ARI, at SD
Ynoa could be an important part of the Braves rotation for years to come. Given his first taste of significant action in the majors this year, he's recorded a 3.26 ERA that is backed by a 3.55 FIP. He's missed plenty of bats along the way, recording a 27.7 percent strikeout rate. His WHIP checks in at 1.02, but he has been somewhat aided in that area by a .253 BABIP allowed.
Starting off the week is a great matchup against the Diamondbacks, who have the fifth-worst OPS in baseball. They've also struck out the ninth-most times, so Ynoa could thrive in that department for their matchup. The Padres are certainly more dangerous with Fernando Tatis Jr. at the helm, but if you need volume, the Diamondbacks matchup alone makes Ynoa a viable starting option in most formats.
Vladimir Gutierrez, Cincinnati Reds: vs. PIT, vs. WAS
From July into August, Gutierrez had a six-start stretch in which he had a 1.86 ERA and a 1.06 WHIP. Following that span was four favorable matchups against the Marlins, Tigers, Cubs and Pirates. Gutierrez kept rolling, correct? Wrong! He was torched by those underwhelming lineups, allowing 14 runs (13 earned) across 15 innings. That makes it tough for fantasy managers to have a ton of faith in Gutierrez, even with another matchup against the Pirates on the horizon. The Nationals are especially dangerous with Juan Soto and his 159 wRC+ at the helm. If you're in a deep league, Gutierrez should still probably be started. However, for those in shallower formats, it might be best to look elsewhere.
Ranger Suarez, Philadelphia Phillies: vs. BAL, vs. PIT
It's been a strange season for Suarez, who was closing games at one point for the Phillies. He's shifted into the starting rotation down the stretch and should remain in that role with the Phillies lacking quality starting options. Suarez has also taken to the role, allowing five runs and recording 33 strikeouts across 29 innings in his last five starts.
Add Suarez's recent production to these two stellar matchups and he is arguably the top streaming option of the week. The Orioles are dangerous at home, with a .767 OPS. However, they only have a .654 OPS on the road and they won't have the benefit of the DH with the game being played in Philadelphia. If Suarez is still available in your league, the time to add him is now.
Mike Barner has been covering fantasy sports since 2007. His work has appeared in Sports Illustrated, Yahoo, SportsLine and RotoWire. Mike was also a finalist for the 2018 FSWA Basketball Writer of the Year award. Follow Mike on Twitter @rotomikebarner.