Pitching Primer: Week 3
Fri Apr 9 10:07am ET
By MIKE BARNER
Contributing Writer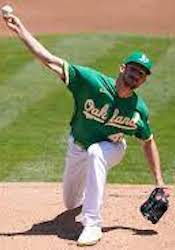 Bassitt is a top play in Week 3
Week 3 brings a packed schedule across baseball, which means a bevy of two-start pitchers to examine for fantasy baseball. Let's discuss the matchups on the horizon for five of them, and what it potentially means for their fantasy production.
Shane Bieber, Cleveland Indians: at CWS, at CIN
Bieber dominated baseball last season with a 1.63 ERA, 0.87 WHIP and a 41.1 percent strikeout rate. He appears to have picked up right where he left off, allowing five runs and recording a whopping 24 strikeouts across 12 1/3 innings in his first two starts. They were favorable matchups against the Tigers and Royals and Bieber didn't come away with a win in either contest, but it's hard to argue with his results.
This will be a tougher stretch for him. The White Sox have lost Eloy Jimenez (pectoral) for at least four months, but their lineup is still loaded with the likes of Jose Abreu, Luis Robert and Yoan Moncada. The Reds have also hit the ball wall, led by Nicholas Castellanos, who has four home runs across six games. Still, with Bieber's insane strikeout upside, he's someone to lock into your lineup, regardless of who his opponents are. He could be a league-winner this week.
Zack Greinke, Houston Astros: vs. DET, at SEA
Greinke finished with a 4.03 ERA last season, which was the first time that he finished with an ERA over for 4.00 since 2016. His numbers could have been better, though, given his 2.80 FIP. He's stormed out of the gate with two excellent starts on the road, the first of which was when he pitched six shutout innings against the A's. He followed that by holding the potent Angels' lineup to two runs across seven innings.
Unlike Bieber, Greinke isn't likely to provide much in the way of strikeouts. For his career, his strikeout rate stands at just 22.4 percent. However, these are two excellent matchups. Last season, the Mariners and the Tigers had the third-worst and the sixth-worst OPS, respectively, in baseball. Start Greinke with confidence.
Madison Bumgarner, Arizona Diamondbacks: vs. OAK, at WAS
Bumgarner's first season with the Diamondbacks was nothing short of a disaster. He finished with a 6.48 ERA that was supported by a 7.18 FIP and he allowed 2.8 HR/9. His strikeout rate plummeted to 15.8 percent and his WHIP ballooned to a career-high 1.44.
Early indications are that Bumgarner could be in for another rough campaign. The Padres lit him up for six runs across four innings in his first start, then the Rockies tagged him for five runs across five innings in his second start, which came at Coors Field. While these are significantly more favorable matchups, it's difficult to justify taking a chance on Bumgarner until he at least starts to show some promising signs of turning things around.
Ryan Yarbrough, Tampa Bay Rays: vs. TEX, at NYY
Talk about two contrasting starts to begin a season. Yarbrough's first outing went off without a hitch, holding the Marlins scoreless across 5 2/3 innings. However, he was lit up for nine runs (six earned) over five innings in his second start against the Red Sox. On the bright side, he only issued one total walk. His career 5.6 percent walk rate is a big reason why he's been able to record a career WHIP of 1.16.
Yarbrough has potentially one easy and one tough matchup for Week 2. The Rangers had the second-worst OPS in baseball least season and enter 2021 with plenty of holes in their lineup. Facing the Yankees will be a tall order, especially with their right-handed heavy lineup and having to pitch at Yankee Stadium. Based on that Yankees start alone, it might be wise to keep him on your bench.
Chris Bassitt, Oakland Athletics: at ARI, vs. DET
Bassitt is one of the more underrated starting pitchers in baseball. He has a 3.65 ERA for his career and was excellent in 2020, finishing with a 2.29 ERA and a 1.16 WHIP across 11 starts. He's not a big strikeout pitcher, never finishing a season with a strikeout rate over 23 percent. However, he's still recorded a WHIP below 1.20 in both of the last two seasons.
As far as favorable schedules go, it doesn't get much better than this. The Diamondbacks don't have a great lineup, to begin with, and could be without both Kole Calhoun (knee) and Ketel Marte (hamstring) for their matchup with Bassitt. The Tigers also don't have many potent bats, and facing Bassitt at the A's pitcher-friendly stadium could make scoring runs even more difficult. This is the week to get Bassitt into your starting lineup.
Mike Barner has been covering fantasy sports since 2007. His work has appeared in Sports Illustrated, Yahoo, SportsLine and RotoWire. Mike was also a finalist for the 2018 FSWA Basketball Writer of the Year award. Follow Mike on Twitter @rotomikebarner.