Hey folks, Taysom Hill has been a QB in our system all season. He has never been listed at TE. We will not be changing him to TE now that he is a starting QB. Do not plan for him to be changed to TE.
---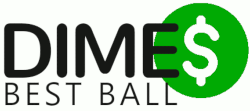 $10 best ball leagues! Simple and easy fantasy baseball and basketball best ball leagues.
10-team, 4-hour clock casual draft. Get email and SMS alerts when you are on the clock.
---
Please let us know if you have any questions or comments via email or phone at 636-447-1170.