1-Day. 3-Games. $5k in Prizes.
98% Sold Out - 100% Payback
Super Shootout this Sunday-only, $1,000 grand prize, first 500 people, 100% payback!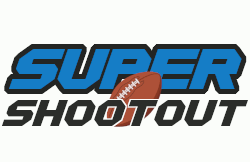 ---
Elias Sports Bureau and the NFL have made the following official stat changes for NFL Week 14:
Titans at Raiders
Pass from Derek Carr to Darren Waller one yard shorter. Carr now 262 yds passing. Waller now 72 yds receiving.
Titans from 356 yds allowed to 355 yds allowed.
Jayon Brown from 46 to 47 fumble return yards.
Dolphins at Jets
Change in ball spot reduces Jamison Crowder's receiving yards from 30 ys to 29 yds and increases Robby Anderson's from 116 yds to 117 yds.
Colts at Buccaneers
Sack originally split between William Ghoston and Shaquil Barrett is now awarded only to Barrett.
League-wide there were more than 25 tackles and assists changes.