Training Camp Preview: NFC South
Mon Jul 16 9:41 am
By JEFF PAUR
Sr Fantasy Writer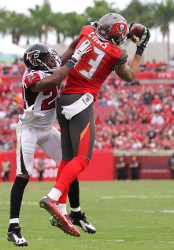 Evans a huge key to offense
This is the seventh preview in a series of training camp previews. We will continue to release the previews throughout the week. The previews give you a quick look at each team, going over position battles and injuries to watch in camp. The season is right around the corner.
Falcons
The Falcons window might be closing some, so this could be a make or break year for the team. The talents is still there now, but some of their key veterans are close to moving out of the prime years of their careers. So much of this camp will be focused on managing the health of those older players and fixing the flaws from last year to get them over the hump. Atlanta is very talented, but not getting any younger.
Position battle: Julio Jones is the clear No. 1 receiver for the Falcons but the addition of rookie Calvin Ridley clouds things a little at receiver after Jones. Ridley could compete for the starter's job opposite Jones. Mohamed Sanu has been a decent starter for the Falcons but not off the charts in recent years, meaning if Ridley shows well, he could emerge as a starter for the team. This is something to watch this training camp.
Injury watch: Receiver Julio Jones did not miss a game last season but was banged up from time to time once again. Jones always seems to have some nagging injury slowing him at times. A healthy Jones is vital for the Falcons to have big-time success offensively. They can't afford for Jones to get nicked in training camp and preseason action. He needs to start the season 100 percent healthy.
Saints
The Saints had a great rebound season last year, returning to the playoffs behind a top rushing attack and much improved defense. New Orleans will look for more of the same this year and try to take their game to an even higher level. Much of camp might be focused on Drew Brees, who is getting up there in age but still playing at a high level. The Saints can't afford for him to slip if they hope to make a Super Bowl run. How much does Brees have left in the tank for the coming year?
Position battle: The Saints have some spots available at receiver after No. 1 receiver Michael Thomas. Ted Ginn, Cameron Meredith and Brandon Coleman are the top options to start opposite Thomas. It really is a wide open competition for the job. The Saints do like to rotate receivers, though, so if a player doesn't emerge as the clear starter, the team could just continue to rotate players. It is a situation to watch, though, because a player like Meredith could be a big fantasy factor if he is starting and getting a lot of targets.
Injury watch: Receiver Cameron Meredith is recovering from a torn ACL he suffered last year. The Saints say he is way ahead of schedule in his recovery. He shouldn't be slowed by the injury in training camp, but it is something to watch because he has a chance to play a big role offensively. Meredith is a talented player but hasn't played in a top offensive system to showcase his talents.
Panthers
The Panthers are another talented team in a stacked division. Carolina will compete for the division title, having a lot of talent on both sides of the ball. Quarterback Cam Newton might be the key to the team, though. When he is playing at a high level, this is a different team. Newton was a little up and down last year, so he will try to smooth out the bumps. Some new weapons in the passing game should be a positive for Newton. He will try to get on the same page with these players, starting in training camp.
Position battle: Torrey Smith and rookie D.J. Moore should compete for the starter's job at receiver opposite Devin Funchess. Moore is the favorite to start, but he will have to show he knows the offense and is ready to play before given the job. Smith is a veteran with plenty of starting experience and some 1,000-yard seasons under his belt, so don't discount him to start. This should be a fierce competition in training camp.
Injury watch: Tight end Greg Olsen had injury issues for really the first time in his career, playing just seven games because of a foot ailment. He is apparently completely healed now, but his injury situation is something to watch going forward after last year. Olsen is 33 years old with a lot of game action under his belt. Recurring injuries could be more of a norm going forward for the veteran tight end.
Bucs
The Bucs were a big bust last year. Many thought Tampa was going to have a breakout season but that wasn't the case. The team really struggled on both sides of the ball, especially defensively. Tampa will need to shore up the defensive side of the ball in a hurry if they hope to compete for a playoff spot. The offense also has some questions marks, especially at running back. Tampa hopes rookie Ronald Jones is the answer at running back, but nothing is certain with Jones. This should be an interesting team to watch progress in training camp.
Position battle: The Bucs should have a battle on their hands at receiver with veteran DeSean Jackson and second-year receiver Chris Godwin looking to start opposite Mike Evans. Godwin didn't have a big rookie season but showed well at times when given the chance. Jackson was a bit of a disappointment last year, so he will need turn it around if he hopes to hold off Godwin to start. Both players are similar talents, so the younger option might be given the edge. We'll see.
Injury watch: Receiver Mike Evans is not injured but missed a game and didn't live up to expectations last year. He has played a full season just once in four seasons. Evans will play injured but is a much better player when healthy and near 100 percent. Hopefully, injuries aren't an issue this year. Keep an eye on his health in training camp to make sure Evans doesn't have any setbacks for the coming year.