Training Camp Preview - NFC East
1531315988
By JEFF PAUR
Sr Fantasy Writer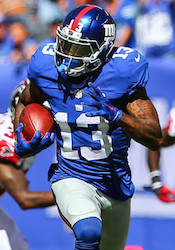 Giants need a healthy Beckham
This is the fifth preview in a series of training camp previews. We will continue to release the previews throughout the week. The previews give you a quick look at each team, going over position battles and injuries to watch in camp. The season is right around the corner.
Eagles
The Eagles won the Super Bowl last year, so expectations will be very high for the coming year. And much of this camp will focus on the return of quarterback Carson Wentz from injury. Wentz was playing at an MVP-level before getting hurt. He will have a lot of pressure on him to play at a high level once again, especially with the backup leading the Eagles to a Super Bowl victory.
x
Position battle: The Eagles signed Mike Wallace this offseason with the hopes he still had something left in the tank. Wallace will have to earn a starting spot but could be the starter opposite Alshon Jeffery if all goes well for him this camp. Nelson Agholor had his best season as a pro last year, though, and won't go away quietly for Wallace. Those two should compete for the right to start opposite Jeffery. Both will have a role this year, but the starter carries a little more value for fantasy teams in a pass-first offense.
Injury watch: Quarterback Carson Wentz was on his way to a breakout season before tearing his ACL. He had to watch backup Nick Foles lead the Eagles all the way to a Super Bowl victory. There was some concern with Wentz being ready for the start of this season but all signs are very positive for him right now. He has progressed very well and might not even have any limitation for training camp. All expectations are he will be ready for Week 1 and his usual self for the start of the year.
Giants
The Giants were a mess last year because of injury and coaching shenanigans. Much has changes this offseason, so this camp will be focused on getting all the players and coaches on the same page. The talent is there for this team to do well, but might depend on the play of Eli Manning, which wasn't good last year. How much does Manning have left in the tank? We will have a better idea about Manning when training camp gets going.
Position battle: The Giants moved on from Brandon Marshall this offseason, making Sterling Shepard the starter opposite Odell Beckham. This leaves the No. 3 receiver job wide open for the Giants. Roger Lewis, Cody Latimer and Travis Rudolph are the top candidates to man the slot for the Giants. The winner of this job doesn't carry a ton of fantasy value but might be worth a spot start or two in a pinch.
Injury watch: Star receiver Odell Beckham suffered a broken ankle last season and needed surgery on the injury. He still hasn't done a ton this offseason but reports are he should be near 100 percent for the start of training camp. This injury shouldn't be much of an issue moving forward. It is still worth watching, though, to make sure Beckham is back to his normal self. He might be the best receiver in the game at 100 percent health.
Cowboys
Dallas had a disappointing season last year but will look to get it turned around, starting in training camp. As always, expectations will be high for the Cowboys, especially with Dak Prescott and Ezekiel Elliott healthy and ready to lead the offense. Dallas has the talent to win some games, but needs some receivers to step up and emerge, and the defense to play more consistently.
Position battle: The Cowboys released Dez Bryant this offseason, leaving some openings at the receiver spot. There really isn't a No. 1 receiver on the roster right now. Terrance Williams, Allen Hurns, rookie Michael Gallup, Cole Beasley and Deonte Thompson are the top candidates to start for the Cowboys this year. There really isn't anything too certain with this position for the Cowboys. We could see any of these guys starting. Keep an eye on this situation in training camp to see how this all shakes out.
Injury watch: He wasn't hurt last year but missed time because of suspension. Running back Ezekiel Elliott probably is the key to the entire offense, so the Cowboys need him on the field for all 16 games. Dallas can't afford for Elliott to get suspended once again or go down with an injury. Hopefully, Elliott stays out of trouble and can stay healthy. He is the most important cog in the offense.
Redskins
The big thing to watch this camp is the quarterback change in Washington. The Redskins lost Kirk Cousins but traded for Alex Smith to take over as their starter. It will be interesting to see how the offense functions with Smith now at the helm. These two quarterbacks have different styles, so don't be surprised if the offense functions differently now with Smith running the show. You can get a better idea of how Smith operates, starting in camp and seeing him in preseason action.
Position battle: The Redskins took Derrius Guice in the second round of this year's draft with the hopes he can fill the void at running back for the team. Guice is not going to be handed the starting job, though. He will have to earn it from Chris Thompson, Samaje Perine and Rob Kelley. It isn't a slam dunk that Guice will start for the Redskins, especially with how the team has rotated backs in recent years.
Injury watch: Tight end Jordan Reed missed most of last year with various injuries and needed offseason surgery on his toes. Reed has never played a full season and is a big injury risk going forward. Reed is a difference maker in the offense, though, so getting him back to full strength is essential for the Redskins to have big success offensively. Reed also can be a huge fantasy factor when on the field. It would be great to see him play a full season.