Lineup Prep: Championship Games
Wed Jan 26 10:40am ET
By JEFF PAUR
Sr Fantasy Writer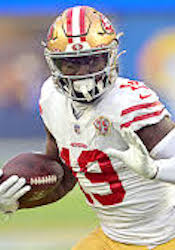 Samuel should get plenty of work
Wow, wow, wow. That is about all you can say about last week's game. That might have been the greatest playoff weekend ever. Needless to say, this week has a lot to live up to. Hopefully, we can at least near those games. We'll see. Now for my random thoughts for the week. . . . .
Josh Allen is so special. He had a game for the ages last week and lost. He had nine touchdowns without a turnover in the Bills two playoff games, showing he can come up big in the big game. Allen is a special, special player. At this point, I'm raking him first overall in my quarterback rankings for 2022. One thing that gets overlooked with Allen is his ability to make plays with his legs, rushing for 763 yard this season. This guy is as consistent it gets at the quarterback spot and is going to be a superstar for lots of years to come.
One player that is going to be intriguing next year is Gabriel Davis. He had one of the best games ever for a receiver in the playoffs, catching eight passes for 201 yards and four touchdowns. His stock is rising in a hurry, especially with Emmanuel Sanders and Cole Beasley possibly gone next year. Davis should start opposite Stefon Diggs in the Bills explosive passing game. I'm not sure he is going to be a consistent play but expect plenty of big games. Plus, he is a great red-zone target because of his size and strength.
I think Tom Brady returns for one more season. He had a fantastic year once again and showed few signs of slowing down - if any. The Bucs were depleted at receiver by season's end, so I think they reload there and give Brady one more shot to win it all. A healthy Chris Godwin and a new No. 3 to replace Antonio Brown would give Brady a big-time boost.
How do the Bucs let Cooper Kupp get behind him in the waning seconds of a tie game? I could not believe that one. I know Kupp is one of the best, so you can't ignore that. But if I'm the Bucs, I do everything in my power to keep him in front of me to prevent a big play. I could not believe the end to that game. As for Kupp, he has 100-yard games six of his last eight games. He had one of the all-time great seasons for a receiver, so it was kind of a fitting end to this game for him.
And speaking of crazy finishes. You could second guess a lot with the end to that Bills/Chiefs, seeing a ton of points scored in a short time to send that game to overtime. The big one for me is seeing the Bills kick the ball into the end zone after they gook the lead with just 13 seconds left. I make the Chiefs run it back to run some time off the clock. I think they did them a favor by kicking it deep, giving Patrick Mahomes more time to do his thing. That was my big beef with how that played out. But even with that said, it was sure exciting to watch. Wow. That was probably the best football game I ever watched.
I had a hard time picking the games last week and am feeling the same way this week. These aren't easy decisions. I have a hard time picking against the Chiefs right now, though. I never thought they would make three straight Super Bowls, but just can't see the Bengals going on the road and winning that one. The Chiefs are playing their best football at the right time. And over in the NFC, I am going with the 49ers. They beat the Rams twice during the regular season and think they will make it a third time. San Francisco just seems a team of destiny. Their defense is playing great and I expect the offense, mainly the running game, to play much better this week. The Rams impressed last week, but I still don't have total faith in Matthew Stafford. Maybe he showed me last week, but I don't think the Rams run the ball well this week and Stafford will be forced to carry the offense against a very good 49ers defense.
HOT PLAYS
Travis Kelce, TE, Chiefs. Kelce is red hot right now, having touchdowns five straight games. He also has 100-yard games two of those weeks. Kelce has 23-plus fantasy points two straight and three of five. He is setup to find the end zone again this week against the Bengals. Cincinnati struggles to stop the tight end, allowing the sixth most fantasy points to tight ends during the regular season.
Deebo Samuel, WR, 49ers. Samuel just keeps getting it done on a weekly basis. He has touchdowns three of four games. He has 20-plus fantasy points nine times this season. His rushing numbers make him a force at the receiver spot, producing as a dual threat for all his fantasy owners. Samuel had huge success in two games against the Rams this season. Samuel had 300 total yards and three touchdowns, catching nine passes. He should be heavily involved in the 49ers game plan.
COLD PLAYS
Cam Akers, RB, Rams. Akers is back and looks to be the clear lead back for the Rams. He ran the ball 24 times last week and has 41 carries in the Rams two playoff games. Unfortunately, the Rams running game isn't opening many holes for him right now. Akers has 41 carries for just 103 yards in those two games. And things won't get much easier for him this week against the 49ers. The 49ers held the Rams to 116-rushing yards in two games this year. Ie might be more of the same for Akers.
Elijah Mitchell, RB, 49ers. Mitchell had a breakout season, emerging as the lead back for the 49ers and having much success in that role. His lack of work in the passing game holds him back little, though, especially in games against a team that does well in holding down the run. He faces one of those teams this week, the Rams. Los Angeles held Mitchell to fewer than double-digit fantasy points in each of their games this year. Mitchell got 20-plus carries in each game but couldn't crack double-digit points despite the work. He might be tough sledding for him again this week.
SLEEPERS
Byron Pringle, WR, Chiefs. Pringle has really emerged as a consistent threat in the Chiefs passing game. He has five receptions three straight games. And he has at least five catches four of five games. He also has three touchdowns in two playoff games this year. Patrick Mahomes has more trust in him and is looking his way a lot more often. He could be a good play again this week in a game that could be very high scoring once again.
Tyler Boyd, WR, Bengals. Boyd can disappear at times in this offense with two top weapons to compete with for targets this year. But he has still produced some big games this year. He is more than capable. He has touchdowns four of five games. He also has three games with 20-plus fantasy points. The Chiefs allowed Cole Beasley to have six receptions for 60 yards last week. Beasley plays a similar position to Boyd, so that bodes well for Boyd to have some success in this matchup.
High/Low Scoring Games
Each week we will take a look at some of the high and low scoring games for the coming week. In high scoring affairs, get your marginal players on those teams in your lineup to take advantage of the possible points barrage. And in the low scoring games, keep those marginal players on the bench and make sure to have your defenses involved in those contests.
High Scoring Games: Bengals/Chiefs, 49ers/Rams.
Low Scoring Games: None.
Jeff Paur is a two-time finalist for FSWA Fantasy Football Writer of the Year and won the FSWA award for Best Fantasy Football Article on the Web in 2011. He also was the most accurate expert in 2012, winning the FSTA Fantasy Football Accuracy Award. If you have any questions for Jeff, email him at jeff@rtsports.com. Follow Jeff on Twitter @jeffpaur.