Post-Draft Risers
Tue May 10 12:28pm ET
By JEFF PAUR
Sr Fantasy Writer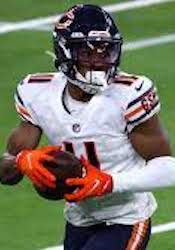 Mooney should get a lot of targets
With the NFL Draft completed, there are several impacts of what took place. But some can be because of what didn't take place. Some players see their value increase because of what the team didn't do during the draft. Others see their value increase because of what teams did do, like surrounding them with better talent. Either way, fantasy rankings were adjusted after the draft. Here are some players moving up our rankings because of what took place.
Cordarralle Patterson, RB, Falcons. The Falcons did draft Tyler Allgeier in the fifth round of this year's draft, but he is a bit of a project that might not make a huge impact his rookie season. Atlanta also released Mike Davis recently, a guy that started much of last year. Patterson is the clear No. 1 back for Atlanta right now. He did stumble towards the end last year, but he is setup for plenty of touches once again. Patterson could be a big help to fantasy teams once again.
James Conner, RB, Cardinals. The Cardinals did use a late-round pick on a running back, but Conner has little competition for carries right now. Chase Edmonds really cut into his workload last year, but that shouldn't be the case this season. Conner could even catch more passes in this explosive offense. Conner was a surprise last year, but that won't be the case this season. He is setup for a ton of playing time in one of the best offenses in football.
Marquise Brown, WR, Cardinals. Brown was traded to Arizona right before the draft. He moves from one of the least productive passing offenses to one of the best. The Cardinals will be without No. 1 receiver DeAndre Hopkins for six games after he failed a drug test. This leaves Brown as the likely top option at receiver for Kyler Murray during that stretch. Brown is going to have the best numbers of his career and be a huge help to fantasy teams.
Drew Lock, QB, Seahawks. It was a bit of a surprise to see the Seahawks pass on quarterback in the draft. This leaves Lock and Geno Smith to compete for the starting job this year. Lock is a much more talented player, and the Seahawks seem to think he can play the part. He should be given first shot to start in an offense with DK Metcalf and Tyler Lockett. If Lock can finally put it together, he could surprise. Maybe a new coaching staff and team will be just the thing to get Lock going. He certainly has the talent to produce in this league.
Darnell Mooney, WR, Bears. The Bears need playmakers at receiver for second-year quarterback Justin Fields, but didn't really do much to help in that area this offseason and during the draft. Mooney is really the only top option. Mooney was targeted 140 times year and should exceed that number this season. He can take his game to an even higher level. The lack of weapons in the passing game is bad for Fields, but good for Mooney. He is going to get a huge workload.
Jared Goff, QB, Lions. The Lions added Jameson Williams in the draft. Many considered Williams the top receiver in the draft, but he fell a little because of his injury in college last year. Either way, the Lions added an elite receiver to go with Amon-Ra St. Brown and recently signed D.J. Chark. Add in a healthy D'Andre Swift and T.J. Hockenson. Goff might not be an elite quarterback but proved with the Rams that he can help fantasy teams when given the weapons. He could be worth some spot starts for fantasy teams this year in an offense that is on the rise.
Daniel Jones, QB, Giants. The Giants added offensive line and receiver help for Jones during the draft. They didn't pick up his fifth-year option but did a lot to help him have success this year. Plus, new coach Brian Daboll should be a huge plus for the development of Jones. If he is ever going put it all together, this is the year for Jones. He has playmakers at receiver and new offensive line blocking for him. At this point, we like taking a chance on him as a No. 2 for fantasy teams, especially if you have a solid starter ahead of him on your roster.
Zach Wilson, QB, Jets. The Jets just keep getting more and more help for Wilson. The team drafted both Garrett Wilson and Breece Hall. Some considered both these players the top players at their positions in this year's draft. Wilson was wildly inconsistent last year, but is a year older with a lot more weapons to work with this year. He can take a bit step forward this year. Things are looking up for the second-year signal caller.
Jalen Hurts, QB, Eagles. The Eagles made a big splash. It wasn't in the draft but in a trade, acquiring A.J. Brown. He immediately becomes the No. 1 receiver for the Eagles and Hurts. He should help elevate Hurts' game. Plus, Hurts has DeVonta Smith in year two at receiver and Dallas Goedert as the starting tight end. Hurts has a lot more weapons to work with this year and an elite receiver finally on his side. He could be a top-five fantasy quarterback in 2022.
Miles Sanders, RB, Eagles. It was a little bit of a surprise but the Eagles did nothing during the draft at the running back spot. This leaves Sanders as the clear No. 1 back. Kenneth Gainwell showed potential last year, but looks the part of a third-down back more than anything. Sanders should get the early-down work and likely the goal-line carries in an offense that could be very good. Sanders hasn't had that huge season just yet, but this could be the year. And for his current price tag (79.6 ADP), he is worth the risk to find out.
Jeff Paur is a two-time finalist for FSWA Fantasy Football Writer of the Year and won the FSWA award for Best Fantasy Football Article on the Web in 2011. He also was the most accurate expert in 2012, winning the FSTA Fantasy Football Accuracy Award. If you have any questions for Jeff, email him at jeff@rtsports.com. Follow Jeff on Twitter @jeffpaur.