Waivering: Week 3
Tue Sep 18 8:00 am
By JEFF PAUR
Sr Fantasy Writer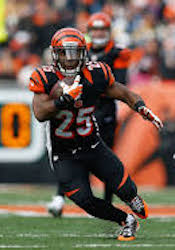 Bernard gets chance to start
The waiver wire should be a hot place this week, especially after a few starters were injured last week. Plus, some other options are out there that could help fantasy teams going forward. Now is the time to act on players that weren't drafted in your league. Here are some options to consider for your team. . . . .
QUARTERBACKS
Ryan Fitzpatrick, Bucs. His track record doesn't suggest he'll keep his current pace but you can't ignore his huge performances these first two weeks of the season. And his second big game came against the defending Super Bowl champs. Fitzpatrick has two straight 400-yard games and four touchdown passes each of those games. As long as he is starting, Fitzpatrick is about a must play for fantasy teams, especially this week against the Steelers.
Joe Flacco, Ravens. Flacco is producing with his new weapons offensively. He had a 300-yard game last week and multiple scores each of the first two games. He is looking like a player that can be used in the right matchup. The potential is there for Flacco produce, especially since the team is struggling to run the ball.
Sam Darnold, Jets. Darnold had his first 300-yard game as a pro last week, throwing for 334 yards and a score against the Dolphins. He is quickly making progress as a starter in the NFL. He isn't a guy you can play every week but a spot play in the right matchup. He can make big plays in the passing game.
RUNNING BACKS
Gio Bernard, Bengals. Joe Mixon hurt his knee and needed minor surgery. He is going to miss a few weeks of action, making Bernard the starter for the Bengals. He has good total yardage potential in a starting role. He can do decent between the tackles and is a very good pass catcher. He can be a good No. 2 fantasy back while in a starting role. Bernard is available in 42 percent of leagues.
Phillip Lindsay, Broncos. Lindsay is available in just 11 percent of leagues but if you are in one of those leagues, go grab him. He has been the best back for the Broncos to date and hit the 100-yard mark rushing last week, running 14 times for 107 yards. He is making plays and will continue to get chances in this offense.
Javorius Allen, Ravens. Allen has just 76 total yards in two games but touchdowns in each of those games. He also has five receptions in each game. Allen has value in PPR formats. He is the pass-catching back in this offense and also stealing goal-line work from Alex Collins. Allen's stock is rising. He is available in 43 percent of leagues.
Jordan Wilkins, Colts. Marlon Mack returned to the lineup last week but Wilkins was still the top rusher in the game. He ran 10 times for 61 yards, averaging an impressive 6.1 yards per carry. Wilkins is going to have a role in this offense even with Mack back healthy. Wilkins could even be the starter if he keeps running well. Wilkins is available in 34 percent of leagues.
Malcolm Brown, Rams. Toddy Gurley had some cramping issues last week and left the game. The Rams don't believe this is anything to worry about long term, but fantasy owners might want to grab Brown to be safe. You never know if this is anything worse. Brown is the top backup for the Rams and can produce with his chances in this offense. He ran 12 times for 46 yards in an expanded role last week.
Bilal Powell, Jets. Powell caught just a pass Week 1 but had five receptions for 74 yards and a score last week, playing his usual pass-catching back role for the Jets. He has at least 65 total yards each of the first two games. He is getting double-digit touches per week and should get plenty of work in the passing game, giving him solid value in PPR formats.
WIDE RECEIVERS
Keelan Cole, Jaguars. Cole hit the 100-yard mark last week, catching seven passes for 116 yards and a touchdown. He made a spectacular one-handed catch in the game, showing his big-time ability. He is the top receiver to own in this offense, an offense that is making big strides throwing the ball. Cole remains available in 22 percent of leagues.
John Brown, Ravens. Brown found the end zone for a second straight game in Week 2. He had four receptions for 92 yards and a score. He was targeting a whooping 10 times in the game. He is quickly becoming a top target in this passing game. The former 1,000-yard receiver is available in 30 percent of leagues.
Quincy Enunwa, Jets. This will be the last week you can grab Enunwa most likely. He is available in just 16 percent of leagues. He caught seven passes for 92 yards last week and has at least six catches each of the first two games. He also has been targeted double-digit times each game. He is the top receiver in this offense.
Calvin Ridley, Falcons. Ridley didn't catch a pass in the first week of the season and had just two targets. He was more involved last week, having four receptions for 64 yards and a score. Mohamed Sanu seems to be fading in the offense, giving Ridley more work. This is likely a trend going forward. Ridley is worth a look in a reserve role for fantasy teams.
Antonio Callaway, Browns. Callaway moves into the starting lineup for the Browns with Josh Gordon gone. Callaway made his presence known last week, catching three passes for 81 yards and a touchdown. He made some big plays and should continue to get weekly chances to stretch the field. He might not be consistent for fantasy teams but certainly can produce the big game any given week.
Christian Kirk, Cardinals. Kirk was a little more involved in the offense last week, catching four passes for 27 yards. An injury to Larry Fitzgerald could open the door to even more targets for Kirk going forward, though. Fitzgerald is supposed to have a minor hamstring injury, but nothing is certain with his status right now. Kirk could lead this team in targets if Fitzgerald is out of the lineup.
TIGHT ENDS
Jesse James, Steelers. Vance McDonald returned to the lineup last week for the Steelers but James was still the top target at tight end for the Steelers. James had a monster game, catching five passes for 138 yards and a touchdown. He has at least 60 yards each of his first two games. James has a track record of disappearing from time to time but he is hot right now and worth a look for fantasy teams.
Austin Hooper, Falcons. Hooper had a good showing last week, catching five passes for 59 yards and a touchdown. He has eight receptions in two games and been getting pretty consistent work as the starting tight end for the Falcons. If you need a tight end, give Hooper a look. He is available in 65 percent of leagues.
Jeff Paur is a two-time finalist for FSWA Fantasy Football Writer of the Year and won the FSWA award for Best Fantasy Football Article on the Web in 2011. He also was the most accurate expert in 2012, winning the FSTA Fantasy Football Accuracy Award. If you have any questions for Jeff, email him at jeff@rtsports.com. Follow Jeff on Twitter @jeffpaur.