Waivering: Week 4
Tue Sep 25 8:04 am
By JEFF PAUR
Sr Fantasy Writer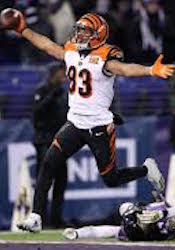 Boyd getting more chances
A couple of rookie quarterbacks were named starters for this week. It is always exciting to see what a rookie quarterback can do, but please don't overvalue these guys when it comes to fantasy. There will be some rookie quarterbacks that hit every once in a while, but for the most part, it takes a season or two and the right situation for a quarterback to be really fantasy relevant. Remember, most teams that go to a rookie quarterback are doing so for a reason, mainly the team isn't very good. So just keep that in mind when figuring out your waiver acquisitions for the week.
QUARTERBACKS
Ryan Tannehill, Dolphins. Tannehill is off to a great start to his season. He has multiple touchdowns every game and topped 225 yards two of three. He has seven touchdowns to just two interceptions in three games. He isn't an every-week play but certainly a solid spot starter in a pass-first offense. Tannehill is still available in 80 percent of leagues.
Andy Dalton, Bengals. Dalton is another quarterback off to a fast start. He has thrown for at least 243 yards all three games and has multiple touchdowns in every game. Dalton was intercepted four times his last time out but all the scores and yards help make up for those miscues. Dalton is a solid backup for fantasy teams and still available in 35 percent of leagues.
Baker Mayfield, Browns. Mayfield got his chance because of injury last week and led his team to victory for the first time in a long time. The Baker Mayfield era has officially began in Cleveland. He will start going forward. He didn't score a touchdown in his first action last week but was 17-of-23 for 201 yards. He has some potential for the big game and could be worth some spot plays in the right matchup.
RUNNING BACKS
Wendell Smallwood, Eagles. Most thought Corey Clement would lead the way at rushing last week with the Eagles banged up at running back. That didn't happen, though, as Smallwood was the best back for the Eagles. He ran 10 times for 56 yards and a score. He also caught three passes for 35 yards, giving him 91 total yards and a touchdown. Smallwood won't have much of a role when the Eagles get healthy at running back but as long as they are banged up, Smallwood will get some chances to make plays in this offense.
Aaron Jones, Packers. Jones returned from suspension last week and was the leading rusher for the Packers. He rushed six times for 42 yards and caught a pass for five yards. He has a shot to overtake Jamaal Williams as the starter, so he is worth grabbing for fantasy teams if available. He is available on just 11 percent of leagues, though.
WIDE RECEIVERS
Jordy Nelson, Raiders. Nelson turned back the clock last week, having a huge performance after doing little the first two weeks. He had six receptions for 173 yards and a touchdown after having five receptions for 53 yards the first two games. Nelson is available in 31 percent of leagues and is worth grabbing if you need the receiver help.
Tyler Boyd, Bengals. Boyd is quickly gaining fantasy value. He had a 100-yard game last week and has touchdowns two straight. He also has six receptions and at least 90 yard each of the last two games. He has become the season best option in the Bengals passing attack and is making plays with his chances. Boyd is available in 41 percent of leagues.
John Brown, Ravens. Brown keeps making plays and is getting owned in more and more leagues every week. This might be the last week you can grab him as he is available in just 14 percent of leagues. Brown had a season-high five receptions last week and has 85-plus yards two straight.
Calvin Ridley, Falcons. Ridley probable will be the hottest item on waivers last week after his breakout game in Week 3. He caught seven passes for 146 yards and three touchdowns. He has scores two straight and is quickly becoming the second best option in the Falcons pass attack. He is available in 22 percent of leagues but likely not for long in those leagues..
Christian Kirk, Cardinals. Kirk led the Cardinals in receiving last week with Larry Fitzgerald at less than 100 percent. Kirk had seven receptions for 90 yards and has 11 receptions his last two games. He is gaining steam in the offense and becoming fantasy relevant. Kirk is available in 82 percent of leagues.
Jakeem Grant, Dolphins. Grant found the end zone for the first time of the season last week, scoring twice. He made the most of both his catches, finishing with two receptions for 70 yards and two scores. He has multiple catches every game and is a big-play threat in the Dolphins passing attack. He'll be hit or miss for fantasy teams but could be worth using in the right matchup.
TIGHT ENDS
Dallas Goedert, Eagles. The return of Carson Wentz was just the thing to get Goedert going. He had just a catch before the Week 3 game but had seven receptions for 73 yards and a touchdown last week. He was a big part of the passing game with Wentz at the helm. This could be a trend for the talented, rookie tight end. He could be a boom or bust play as the No. 2 tight end for the Eagles, but he certainly has the potential for the big game.
Mark Andrews, Ravens. The Ravens use a trio of tight ends but Andrews looks to have the most fantasy value of the bunch. He caught a touchdown pass in Week 2 and had a season-high 59 yards last week. He has multiple receptions every game this season. If you are in a deeper league and need the tight end, give Andrews a look.
Geoff Swaim, Cowboys. Swaim is quickly turning into the top option at tight end for the Cowboys. He had five receptions for 47 yards last week and was targeted seven times in the game. He has eight receptions in three games and his role could increase going forward. He is a bit of a stretch for fantasy teams, but should garner some consideration in deeper leagues. There is some potential there for Swaim in an offense desperate for playmakers.
Vance McDonald, Steelers. McDonald showed his big time playmaking ability last week, hitting the 100-yard mark. Many had him pegged for a sleeper heading into the season, but early season injury and doing nothing his first game soured him for many. Well, he showed what he can do when involved last week. He can be a solid spot starter and platoon player.
Jeff Paur is a two-time finalist for FSWA Fantasy Football Writer of the Year and won the FSWA award for Best Fantasy Football Article on the Web in 2011. He also was the most accurate expert in 2012, winning the FSTA Fantasy Football Accuracy Award. If you have any questions for Jeff, email him at jeff@rtsports.com. Follow Jeff on Twitter @jeffpaur.