Lineup Prep: Week 3
Wed Sep 19 8:28 am
By JEFF PAUR
Sr Fantasy Writer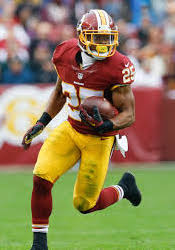 Thompson is getting targets
If you haven't noticed, all the penalties called on the defense is leading to more points for offenses. This a trend that likely will continue all season as long as referees continues to call it very tight in the secondary and quarterbacks are nearly off limits for defenders. This is going to have fantasy scoring up, especially when it comes to passing games. We have been trending that way the last few years, but the way things have been called this year is ramping up offenses even more. Prepare for plenty of high scoring fantasy games.
Now for my random thoughts for the week. . . . .
I am tempering my expectations for Josh Gordon in New England. The upside is big if he keeps his act clean and finds his way into the starting lineup, but that is a pretty big "if." So if you want to trade for him, don't trade away the bank to get him. I think he is a huge risk. But with that said, I think it will be fun to see what he can do in this offense. He kind of has similar skill set to Randy Moss, a player that excelled with the Patriots.
The Bucs are going to have a hard decision to make when Jameis Winston comes off the suspended list after this week. Ryan Fitzpatrick is posting astronomical numbers as the starter and the team is winning, so it will be tough to get him out of the lineup, especially if the team wins again this week. It will be interesting to see how it plays out going forward. I don't think the job is going to automatically go to Winston when he comes off the suspended list.
I know it is early but the top five fantasy quarterbacks right now are Ryan Fitzpatrick, Patrick Mahomes, Ben Roethlisberger, Kirk Cousins and Philip Rivers. This is the reason myself and many other experts were saying to wait on a quarterback this year. The position is crazy deep right now and many guys are capable of being a top-10 fantasy quarterback at season's end. You were much better off using an early-round pick on another running back or receiver than going quarterback early in drafts. Keep this in mind next season, which is likely to bring a similar scenario.
I would not feel too good if I had Ezekiel Elliott or David Johnson on my fantasy team. Both these guys are playing for bad teams in not ideal situations. The Cowboys are in a little better place overall but they have no passing game, which is causing team to just stack the box on Elliott. Johnson is just getting shut down all over the place as that offense is a disaster. Johnson is a bigger concern for me but at least the Cardinals are talking about finding different ways to get him the ball (using him the slot). Either way, both these players are trending towards failing to live up to expectations. Not good.
I think the teams that stashed Mark Ingram should be feeling pretty good. Alvin Kamara has not had a lot of success running the ball, failing to hit the 50-yard mark in either game this year. Ingram can provide a spark to the running game and produce well in this offense. Remember, he was a top-10 fantasy back last year. I expect him to play a similar role once he is back playing.
Kenny Golladay is the real deal. He has 21 targets the first two games. He has emerged as a top threat in this offense and will be getting plenty of work all season in the pass-first offense. He is a top red-zone threat and big-play option for the Lions. It would not surprise to see him ending the season as the top fantasy receiver out of a very good trio of Lion receivers. Kudos to all of you that nabbed Golladay in your drafts.
The Giants are a mess. The offensive line has some new faces this year but is producing the same. This was a concern for me heading into the season and remains a big concern after the first two games. New York is giving Saquon Barkley little room to run, and Eli Manning is running for his life. Barkley is still producing for fantasy teams because of all his work in the passing game but you have to worry about his rushing numbers. He has done next to nothing besides one long run against the Jaguars in Week 1.
The Vikings offense is looking very good after two games. I know Dalvin Cook hasn't gotten going just yet but I think his time will come because the passing game is having so much success. Kirk Cousins has been great as the new quarterback. And receivers Adam Thielen and Stefon Diggs have legit shots at both being top-10 fantasy receivers, which is hard to do when on the same team. This passing game is that good, though. And Cousins is looking like a guy that could be a top-five fantasy quarterback.
The kicker position had some turnover last week because of a lot of missed chances. This could be good news if you are looking for a new kicker, though. Dan Bailey has huge potential in a starting role for the Vikings. He can be a top-five kicker from here on out. Sam Ficken can do well as the starter for the Rams, an offense that produces a lot of chances. And Greg Joseph isn't a guy to pickup just yet but he has some upside if he kicks well. The Browns have produced some chances for their kicker the first two games of the season.
As always, don't forget to check out our weekly rankings: Week 3 Rankings.
News and Notes: The Cowboys signed receiver Brice Butler on Tuesday. Butler has played with the Cowboys, so he should pickup the offense quickly and could find his way into the mix at receiver in a hurry. . . . . The Cardinals have not announced a starting quarterback for this week. Head coach Steve Wilks has been non-committal as to who will start. An announcement should be made later in the week. . . . . .The Vikings are making a change at kicker, releasing rookie Daniel Carlson after his struggles last week. Minnesota signed veteran Dan Bailey to take his place. . . . .Cleveland also made a switch at kicker, releasing Zane Gonzalez. He was replaced by rookie free agent Greg Joseph. . . . . .The Rams made a change at kicker because of injury. Greg Zuerlein has an injured groin and is expected to miss a few weeks of action. Los Angeles signed kicker Sam Ficken on Monday to handle the kicking duties while Zuerlein is out of action. . . . . The Eagles signed receiver Jordan Matthews on Wednesday. Matthews gives the Eagles some much needed depth at receiver and could play immediately because of his familiarity with the team.
HOT PLAYS
Ryan Fitzpatrick, QB, Bucs. Fitzpatrick is off to some kind of start to his season. He is first overall in fantasy quarterback scoring. He has 400-plus passing yards and four touchdown passes each of his first two games this year. And last week he had his huge game against a very good Eagles pass defense. This week, he gets the Steelers, a team that allows the second most fantasy points to quarterbacks. Fitzpatrick is about a must start in this matchup. He might not hit the 400-yard mark again but the chances of him having another strong game are high.
JuJu Smith-Schuster, WR, Steelers. Smith-Schuster is on his way to that breakout season many predicted. He has back-to-back 100-yard games to start his season and was targeted a whopping 19 times last week. He is seventh overall in fantasy receiver scoring. Things should go well for him again this week against the Bucs. Tampa is 31st against the pass and allow the seventh most fantasy points to receivers.
Jordan Howard, RB, Bears. Howard didn't do much last week but had 17 touches for 68 total yards, so his day wasn't a complete bust. He is getting a workout on a weekly basis as the led back for the Bears. He gets around 20 touches per game and can top that mark in the right matchup. And this week against the Cardinals could be a week he gets even more work. Arizona has been dreadful against the run, allowing the most fantasy points to running backs. The Cardinals rank 28th overall against the rush, allowing 136-rushing yards per game.
Chris Thompson, RB, Redskins. Thompson is fifth in running back scoring after two games and has the third most targets for a running back. He had 13 receptions last week after having six in Week 1. He is getting a ton of targets with Alex Smith as his quarterback and this trend should continue. Look for another good game this week against the Packers. This should be a high scoring game with the Redskins having to throw often, leading to a lot of target for Thompson.
Matthew Stafford, QB, Lions. Stafford had a terrible first week but looked more like the Stafford of old last week. He was 34-of-53 for 347 yards and three touchdowns without an interception. The Lions having little success running the ball, so Stafford is going to get plenty of chances to air it out on a weekly basis. Expect more of the same this week against the Patriots, a team that was just torched by Blake Bortles. The Patriots allow the seventh most fantasy points to quarterbacks.
COLD PLAYS
Royce Freeman, RB, Broncos. Freeman remains the starter in Denver but he is getting outplayed by rookie free agent Phillip Lindsay. It has not been a good start to the season for Freeman. We are not giving up on him by any means but he is a hard play right now with his current production. Things will be very tough for him this week against the Ravens, a team that allows the second fewest fantasy points to receivers. You might want to live Freeman on your bench for Week 3.
Philip Rivers, QB, Chargers. Rivers is off to a great start to his season, having two straight three-touchdown games. He played the Chiefs and Bills to star the year, though. These are two bad defensive teams. Things get much tougher for him this week against the Rams. Los Angeles has arguably the best pass defense in football this year with all their high-priced talent at cornerback. Rivers is going to have a hard time repeating his first two weeks in Week 3. Los Angeles allows the fewest fantasy points to quarterbacks after two games.
Randall Cobb, WR, Packers. Cobb had a big Week 1, topping 100 yards while catching nine passes. He came back down to earth last week, catching four passes for just 30 yards. This could be a trend for Cobb, posting erratic numbers in the Packers pass-first offense. Cobb could have one of his down games this week against the Redskins. Washington has been solid against the pass to tart the year. The Redskins allows the third fewest fantasy points to receivers and are first overall against the pass, allowing just 161-passing yards per game.
Marlon Mack, RB, Colts. Mack returned to the lineup last week and had 10 carries for 34 yards. He got some chances but was outplayed by rookie Jordan Wilkins. Mack should continue to split work with the rookie, making him a tough play for fantasy teams unless he is in a great matchup. And this week against the Eagles is not a good matchup for Mack. Philadelphia allows the fifth fewest fantasy points to running backs and rank first overall against the pass, allowing just 58.5-rushing yards per game.
Corey Davis, WR, Titans. Davis isn't off to a terrible start but not a great start. He has at least five receptions each of the first two games but not topped 65 yards in either game. It has been pretty mediocre for him. Marcus Mariota is still hurting and could miss the game again this week, which is not good for Davis. Plus, the Titans plays the Jaguars. Jacksonville allows the fourth fewest fantasy points to receivers and are ninth overall against the pass. Expect another mediocre game from Davis in this one.
SLEEPERS
Matt Breida, RB, 49ers. Breida had a 100-yard game last week and 11 carries each of the first two games. He is getting double-digit touches per week in the 49ers offense, giving him good fantasy potential because of his big-play ability. Breida could do some damage this week if he gets double-digit touches against the Chiefs. Kansas City is a mess defensively, allowing the fourth most fantasy points to quarterbacks. Breida is worth a flex play in this matchup.
Blake Bortles, QB, Jaguars. Bortles had a monster game last week, throwing for 377 yards and four touchdowns against the Patriots. Bortles is seventh overall in fantasy quarterback scoring after two games. He is looking more like the fantasy quarterback from early in his career than the guy from the last few years that didn't help many teams. He should do well again this week against the Titans. Tennessee is 20th against the pass to start the year.
Calvin Ridley, WR, Falcons. Ridley didn't catch a pass in the opener but was a bigger part of the offense last week, catching four passes for 64 yards and a touchdown. The Falcons made it a point to get Ridley involved and he produced. This should be a trend going forward. He has a chance to play a big role in this offense. Ridley is worth a look as a No. 3 or 4 receiver this week with a matchup against the Saints. New Orleans allows the most fantasy points to receivers and rank 29th against the pass.
Theo Riddick, RB, Lions. Riddick doesn't have many yards to start the year but his reception totals make him an intriguing fantasy option. He caught nine passes last week and has 14 catches in two games. He is fifth in targets for running backs after two games. He gets a workout in the Lions passing game, a passing attack that gets a lot of chances. Riddick should be on the field a lot this week against the Patriots. The Lions could have to score a lot of points to keep up with the Patriots. Riddick is a solid flex play in this matchup.
David Njoku, TE, Browns. Njoku is off to a bad start for all his fantasy owners. He has just seven receptions for 33 yards in two games. The good news is he has been targeted 14 times, which is the fifth most for a tight end. So he is getting the looks. It is just a matter of time before he has that breakout game. The Browns get a so-so Jets pass defense this week, so this could be the week that Njoku puts it together.
High/Low Scoring Games
Each week we will take a look at some of the high and low scoring games for the coming week. In high scoring affairs, get your marginal players on those teams in your lineup to take advantage of the possible points barrage. And in the low scoring games, keep those marginal players on the bench and make sure to have your defenses involved in those contests.
High Scoring Games: Saints/Falcons, 49ers/Chiefs, Packers/Redskins, Patriots/Lions, Steelers/Bucs.
Low Scoring Games: Broncos/Ravens, Cowboys/Seahawks.
Jeff Paur is a two-time finalist for FSWA Fantasy Football Writer of the Year and won the FSWA award for Best Fantasy Football Article on the Web in 2011. He also was the most accurate expert in 2012, winning the FSTA Fantasy Football Accuracy Award. If you have any questions for Jeff, email him at jeff@rtsports.com. Follow Jeff on Twitter @jeffpaur.