Waivering: Week 7
Tue Oct 16 8:04 am
By JEFF PAUR
Sr Fantasy Writer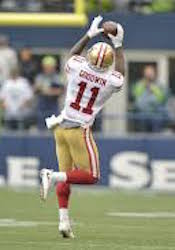 Goodwin finally has big game
This week has a couple players that many wrote off after poor starts to the season. It happens, though. Sometimes a fantasy owner can take advantage of another owner dropping a player. Some players on this list were expected for breakout years but got sidetracked for whatever reason. The potential remains for these guys to get going again, so keep an eye on them going forward.
QUARTERBACKS
Jameis Winston, Bucs. Winston returned to the starting lineup last week and threw for 395 yards and four touchdowns. He proved he has a good chance to post big numbers in this explosive Bucs offense. Winston isn't available in a ton of leagues but still out there in 21 percent of leagues. He is worth owning in all formats. The potential is there for huge things.
Sam Darnold, Jets. Darnold is starting to emerge in the Jets offense. He missed on just six passes last week, going 24-of-30 for 280 yards and two touchdowns. He has multiple touchdown games two straight and seems to be getting more comfortable in the offense every week. Darnold is worth using as a spot starter in the right matchup.
Dak Prescott, Cowboys. Prescott was dropped by many owners the last few weeks because of his mediocre play to start the year. He plays arguably the best defense in football last week and produces his best game. Prescott scored three total touchdowns and ran for a season-high 82 yards. Prescott showed he might still be able to help fantasy teams, producing like he has in past years. Prescott is available in 58 percent of leagues.
RUNNING BACKS
Jalen Richard, Raiders. Richard might have just 11 carries for 32 yards this season, but all his work in the passing game makes him a legit target in PPR formats. He has at least six receptions three of the last four game sand 31 total catches on the season. He has flex value in his role as a pass-catching back.
Raheem Mostert, 49ers. Surprisingly, Alfred Morris didn't get a carry last week for the 49ers. It was Matt Breida and Mostert that split the carries at running back for the 49ers. Mostert had a solid game, rushing 12 times for 87 yards. He averaged an impressive 7.3 yards per carry and could continue to split work going forward.
Frank Gore, Dolphins. Gore had his first 100-yard game of the season last week and has double-digit rush attempts three straight games. He gets the early down work with Kenyan Drake serving as the pass-catching back. Gore isn't a top fantasy play by any means but can add depth to fantasy benches. He can help in a pine. Gore remains available in 68 percent of leagues.
Marlon Mack, Colts. Mack finally returned to the lineup last week and led the team in rushing, running 12 times for 89 yards. He is the starter for the Colts as long as he is healthy. His injury led many fantasy teams to drop him, so Mack is available in 41 percent of leagues.
Nick Chubb, Browns. Chubb continues to get little work, rushing three times for 25 yard last week. He has not had more than three rush attempts in any game. But despite that, Chubb has run 16 times for 173 yards. Meanwhile, starter Carlos Hyde has averaged fewer than three yards per carry three of six games and just 3.4 yards per carry for the season. Chubb deserves more chances to jumpstart the running game, making him a good speculative add for fantasy teams.
WIDE RECEIVERS
Albert Wilson, Dolphins. Wilson is becoming the top target in the Dolphins passing attack. He had his first 100-yard game of the season last week and has 11 receptions his last two games. He also has at least four receptions three straight. He is getting his weekly chances and is available in 78 percent of leagues.
Marquise Goodwin, 49ers. Goodwin was a bust until his last game, showing why so many people thought he was going to have a breakout season. He hit the 100-yard mark for the first time this year and scored two touchdowns. He displayed his great speed and big-play potential against the Packers. Maybe this game will get him going. Goodwin is available in 48 percent of leagues.
Chester Rogers, Colts. Rogers has at least four receptions three straight games and 22 total catches during that stretch. He has become a reliable target in the Colts pass-first offense, especially with T.Y. Hilton out of the lineup. His reception totals give him real value to fantasy teams right now.
Tyrell Williams, Chargers. Williams had just three catches last week but finished with 118 yards and two scores. He made the most of his chances. Williams has three receptions three straight games and at least 66 yards two straight. He is getting some weekly chances to stretch the field and make the big play. Williams is a boom or bust play but the potential is always there for him to have the big game.
Taylor Gabriel, Bears. It is time to start believing in Gabriel. He has two straight 100-yard games and at least four receptions every game. He has been a consistent fantasy producer in a much better Bears offense. He can help as a low-end No. 3 or 4 receiver. Gabriel remains available in 43 percent of leagues.
Cole Beasley, Cowboys. Beasley found the end zone last week for the first time this season. He also hit the 100-yard mark for the first time, catching nine passes for 101 yards and two scores. He is the best fantasy receiver in this offense. Beasley can help fantasy teams in the right matchup. He'll get his catches.
Christian Kirk, Cardinals. Kirk led the Cardinals in receiving once again last week, catching six passes for 77 yards. He has at least 77 yards three of four games. Kirk has become a reliable No. 3 fantasy receiver as the top target for the Cardinals passing game. He remains available in 58 percent of leagues.
TIGHT ENDS
Ricky Seals-Jones, Cardinals. Seals-Jones isn't having quite the breakout season as expected, but showing some signs of life. He had five receptions for 69 yards last week. He has 50-plus yards two of three games. He also has been targeted six times four of six games. His stock is rising.
Vance McDonald, Steelers. It is a little hard to believe but McDonald remains available in 27 percent of leagues. He had a season-high seven receptions last week. McDonald has 60-plus yards three of four games. He gets his weekly chances in this pass-first offense.
Jeff Paur is a two-time finalist for FSWA Fantasy Football Writer of the Year and won the FSWA award for Best Fantasy Football Article on the Web in 2011. He also was the most accurate expert in 2012, winning the FSTA Fantasy Football Accuracy Award. If you have any questions for Jeff, email him at jeff@rtsports.com. Follow Jeff on Twitter @jeffpaur.