Bengals LB Vontaze Burfict facing another suspension
Fri Mar 16 5:10pm ET
By JOE KAY
AP Sports Writer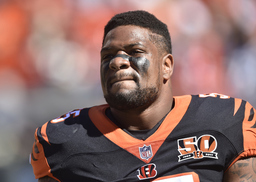 In this Oct. 1, 2017, file photo, Cincinnati Bengals outside linebacker Vontaze Burfict walks on the field before an NFL football game against the Cleveland Browns in Cleveland. Burfict is appealing a four-game suspension from the NFL for violating its policy on performance-enhancing substances, the third straight season that hes facing punishment from the league. (AP Photo/David Richard, File)
CINCINNATI (AP) Cincinnati Bengals linebacker Vontaze Burfict is appealing a four-game suspension from the NFL for violating its policy on performance-enhancing substances, the third straight season that he's facing punishment from the league.
The suspension was first reported by ESPN. The Bengals had no comment.
Burfict was suspended for the first three games of the 2016 season in response to his hit on Pittsburgh's Antonio Brown during the playoffs and his history of egregious conduct. He got another three-game suspension to start last season after his egregious hit on Kansas City running back Anthony Sherman during a preseason game.
The Bengals signed free agent linebacker Preston Brown to a one-year contract on Friday. Brown had started 58 straight games for Buffalo.