NFL Today, Divisional Round
Sun Jan 17 12:24am ET
By The Associated Press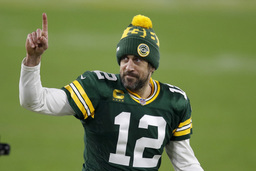 Green Bay Packers quarterback Aaron Rodgers gestures to fans after an NFL divisional playoff football game against the Los Angeles Rams Saturday, Jan. 16, 2021, in Green Bay, Wis. The Packers defeated the Rams 32-18 to advance to the NFC championship game. (AP Photo/Matt Ludtke)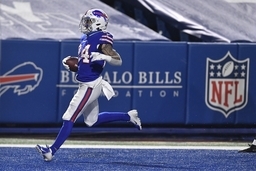 Buffalo Bills' Taron Johnson (24) returns an interception for a touchdown during the second half of an NFL divisional round football game against the Baltimore Ravens Saturday, Jan. 16, 2021, in Orchard Park, N.Y. (AP Photo/Adrian Kraus)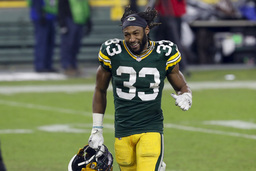 Green Bay Packers' Aaron Jones runs off the field after an NFL divisional playoff football game against the Los Angeles Rams Saturday, Jan. 16, 2021, in Green Bay, Wis. The Packers defeated the Rams 32-18 to advance to the NFC championship game. (AP Photo/Mike Roemer)
SCOREBOARD
Sunday, Jan. 17
Cleveland at Kansas City, 3:05 p.m. ET, CBS. The Browns (12-5) are coming off their first playoff win since the 1994 season and take on the defending Super Bowl champion Chiefs (14-2) for the first time in the postseason. Cleveland coach Kevin Stefanski will make his playoff head coaching debut after missing last week's wild-card game due to COVID-19. Left guard Joel Bitonio and cornerback Denzel Ward also missed the game because of coronavirus protocols, but are expected to play Sunday. Patrick Mahomes and the Chiefs are trying to become the first AFC team to host three consecutive conference championship games with a victory. Kansas City coach Andy Reid would tie the Steelers' Chuck Noll for the fifth-most postseason wins with his 16th on Sunday.
Tampa Bay at New Orleans, 6:40 p.m. ET, Fox. It's a matchup of quarterbacks whose combined ages on game day (85) will be the highest in NFL history with the Buccaneers' Tom Brady (43) and Saints' Drew Brees (42). Last week's win for the Buccaneers (12-5) was their first since winning the Super Bowl at the end of the 2002 season. Brady, who has won a record 31 postseason games, is slated to make his NFL-record 43rd playoff start. The Saints (13-4) won both regular-season meetings between the NFC South rivals. Brees will make his 18th career playoff start and has won nine postseason games, all with New Orleans after going 0-1 in the playoffs with the Chargers.
--
STARS
Passing
- All-Pro Aaron Rodgers, Packers, threw two touchdown passes and also ran for a score as top-seeded Green Bay defeated the Los Angeles Rams 32-18 in an NFC divisional playoff game Saturday.
- Josh Allen, Bills, went 23 of 37 for 206 yards and a touchdown in Buffalo's 17-3 victory over Baltimore in an AFC divisional playoff game Saturday night.