Waivering: Week 7
Tue Oct 15 8:43am ET
By JEFF PAUR
Sr Fantasy Writer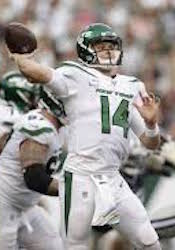 Sam Darnold is making strides
This seems to be a theme with this column, but as the season progresses, it really does get harder to find quality options on waivers. Teams have byes and injuries, so the pickups become a lot more frequent. And the players breaking out are harder to find as well because a lot of roles are established with less uncertainty in the game. These factors make it tougher on a weekly basis as the season progresses. So don't get too frustrated with the waivers going forward. Just remember that all the owners are facing the same issues as you.
QUARTERBACKS
Kirk Cousins, Vikings. It is time to believe in Cousins again. He has two straight huge games, throwing for 300-plus yards in each of his last two games while totaling six touchdowns to just one interception. He is playing with much more confidence and finally taking advantage of his great receiver duo. Cousins was dropped in many leagues after his slow start but his recent play should cause him to be grabbed in all those leagues once again. He is available in 30 percent of leagues.
Sam Darnold, Jets. Darnold returned from his bout with mono and had his best game of the season, beating a pretty good Cowboys teams. Darnold was 23-of-32 for 338 yards and two touchdowns with an interception las week. He has the tools to produce in this league and could be a good spot starter the rest of the way. He was impressive last week.
Case Keenum, Redskins. Keenum might not be the best NFL quarterback but he has produced for fantasy teams this year when in the starting lineup. He has multiple touchdown passes every game he has started and finished this year. He has at least 17 fantasy points all those games, too. He is another player worth consideration as a spot play for fantasy teams in the right matchup. He is producing.
RUNNING BACKS
Chase Edmonds, Cardinals. David Johnson was able to play last week, but Edmonds got his chances once again. He scored a touchdown for the second straight game. He also has at least 14 fantasy point two straight games. The Cardinals might need to manage Johnson's workload a little better gong forward, giving more weekly touches to Edmonds. And Edmonds is making plays with his work, which is encouraging.
Mark Walton, Dolphins. With the Dolphins struggling to run the ball, Walton got his most chances of the season last week. He played pretty well, rushing six times for 32 yards while catching five passes for 43 yards. He had 11 touches for 75 total yards. He might be playing his way into a bigger role going forward, making him worth a speculative look if you are desperate for running back help.
Benny Snell, Steelers. Snell had a season high 17 carries last week for 75 yards. It was the first time al year he had more than three carries in a game, so this performance was unexpected. The Steelers were run heavy with a third-string quarterback starting, though. Snell was impressive with his work and could be getting a few more weekly chances the rest of the way. James Conner hasn't exactly excelled with his chances this year, so the Steelers could start given their rookie back more looks.
Darrell Henderson, Rams. Henderson got his most work of the season with Todd Gurley out. Henderson played pretty well, rushing six times for 39 yards. He outplayed starter Malcolm Brown in the game, which is encouraging. Gurley is an injury waiting to happen, so Henderson is worth adding if you have the roster space. His role could continue to increase in this offense.
WIDE RECEIVERS
Jaron Brown, Seahawks. Brown found the end zone twice last week, scoring for the first time all year. He has multiple receptions four straight games and is getting some consistent work in the Seahawks passing game. He isn't a sure thing but has some red-zone potential and is getting weekly catches, making him a player to consider streaming if you need receiver help because of injury or bye weeks.
DeVante Parker, Dolphins. Parker had just three catches for 28 yards last week but one of those catches was a touchdown reception. This gives him scores two straight games and at least three receptions all but a game. The Dolphins are a mess, but Parker has the highest ceiling of any of their receivers, making him another player to consider if you need someone for a spot play.
Jamison Crowder, Jets. The return of Sam Darnold was a huge positive for Crowder. He had a great game in Week 6, catching six passes for 98 yards. Remember, he had 14 receptions for 99 yards in Week 1 when Darnold was playing. He might not score many touchdowns but he has big reception potential as long as Darnold is in the lineup. Crowder is available in 41 percent of fantasy leagues.
TIGHT ENDS
Darren Fells, Texans. The Texans are incorporating the tight end into the offense a lot more these days. And Fells is the top target at tight end for them right now. He had a season high in receptions (six) and yards (69) last week. And he had a two-touchdown game the previous week. His value is going up in this very good Texans offense.
Hunter Henry, Chargers. Henry was dropped in many leagues after his early-season knee injury. But for all the owners that held onto him, he paid off in a big way in Week 6. Henry had eight receptions for 100 yards and two touchdowns. In two games this year, Henry has 12 receptions for 160 yards. He is a huge part of this offense and a legit No. 1 fantasy tight end. He is available in 25 percent of leagues. This will be the last week you can grab him if you are in one of those leagues.
Jeff Paur is a two-time finalist for FSWA Fantasy Football Writer of the Year and won the FSWA award for Best Fantasy Football Article on the Web in 2011. He also was the most accurate expert in 2012, winning the FSTA Fantasy Football Accuracy Award. If you have any questions for Jeff, email him at jeff@rtsports.com. Follow Jeff on Twitter @jeffpaur.