Raiders T Trent Brown sued for domestic violence
Wed Oct 16 4:14pm ET
By JOSH DUBOW
AP Pro Football Writer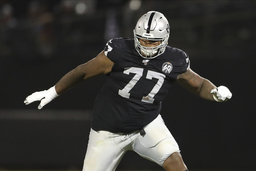 In this Sept. 9, 2019, file photo, Oakland Raiders offensive tackle Trent Brown (77) protects a gap in the offensive line during an NFL football game against the Denver Broncos, in Oakland, Calif. Raiders tackle Trent Brown has been sued by his ex-girlfriend and mother of his son for multiple acts of domestic violence over the past year. Diorra Marzette-Sanders filed a civil suit in Alameda County Superior Court on Tuesday, Oct.15, 2019, detailing several attacks that left her bloodied, bruised and fearing for her safety. (AP Photo/Peter Joneleit, File)
ALAMEDA, Calif. (AP) Oakland Raiders tackle Trent Brown has been sued by his ex-girlfriend for what she says were multiple acts of domestic violence over the past year.
Diorra Marzette-Sanders filed a civil suit in Alameda County Superior Court on Tuesday accusing him of several attacks that left her bloodied, bruised and fearing for her safety.
According to the lawsuit, Marzette-Sanders accused the 6-foot-8, 380-pound Brown of slapping her, hitting her and choking her at different times and threatening to shoot her in the ''head before you walk out that door with my son.''
The Raiders were not immediately available for comment.
An NFL spokesman said the league would take the matter under review.
Pro Football Talk first reported the lawsuit.