Lineup Prep: Divisional Round
Wed Jan 8 8:54am ET
By JEFF PAUR
Sr Fantasy Writer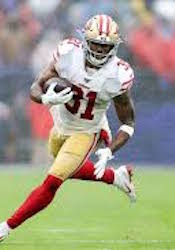 Mostert has scores six straight
Well, that was a fun start to the playoffs. All the games were close and entertaining. Unfortunately, the fantasy performances were not off the charts. It was a pretty mediocre showing from most. The good news is the games were fun to watch. Let's hope we can get a mix of both good games and big-time fantasy performances this week.
Now for my random thoughts for the week. . . . .
The big question after last week is will Tom Brady return next season? It is a great question. I really have no idea what he will do. It would be really strange to see Brady play for another team, so I have a hard time believing he would return for a team other than the Patriots. For me, if he returns, it will be as the starter for New England. I also think that a likely return is a little stronger after his finish to this season. I can't see him ending his illustrious career with a pick six. Either way, his fantasy value is way down. Brady was 13th in fantasy quarterback scoring each of his last two seasons.
Derrick Henry is a tough fantasy back to value. He has been amazing the second half of the season and produced the best numbers of any fantasy back on the ground during that stretch. The issue is he doesn't catch passes. So he really is dependent on rushing yards and touchdowns, which were career highs this year. Can he repeat that in 2020? I think there is a good possibility of that but I have a hard time making him a top-five fantasy back because of his lack of receptions. If he got his receptions up just a little, he would be a surefire top-five fantasy back and pick. Let's hope the Titans involve him a little more in the passing game next season to take his fantasy numbers to an even higher level.
I was shocked the Saints lost last week. I really thought they had a legit chance to win it all. This team was very talented on both sides of the ball and playing great football late in the year. The offense could not find it's rhythm against the Vikings, though. You have to give Minnesota a ton of credit for containing the red hot Saints. The Vikings have a very talented team, so don't discount them to go on the road and win again this week in San Francisco. Minnesota already shocked us one week, so why not do it again.
Josh Allen showed he still has a little ways to go to be an elite quarterback in the NFL. He really looked shaky in the Bills playoff game last week. He made some really poor decisions late in that game, showing he might not be quite ready for the big stage. Allen still has a ton of talent and can learn from last week, though, so don't count him out to be a big-time star in this league. He made big strides this year.
I was really saddened to see Carson Wentz suffer a concussion early in his playoff game. He really carried that offense late in the year and willed this team to a playoff spot. He was the main reason the Eagles made the playoffs but suffered an injury once again. He has really been snake bitten by injuries throughout his career. It would be great to see him play a full season and get a chance to lead his team in the playoffs. I thought Wentz showed a lot this past year with his play.
I'm really intrigued by several playoff games this weekend. I know the lines are kind of high for several of them, but I think we are in store for a lot of close, well-fought games similar to this past week. Remember, Houston went into Kansas City earlier this year and won. The Vikings just upset the Saints on the road, so don't overlook them to give San Francisco a real fight. And while Baltimore is rolling, Tennessee has been as hot as any team in the NFL the second half of the season. Lastly, I think the Seahawks and Packers game is the biggest game up for grabs. I could see this one going either way, depending on which offense shows for Green Bay this week.
As always, don't forget to check out my weekly rankings here: Divisional Round Rankings.
HOT PLAYS
Raheem Mostert, RB, 49ers. Mostert is as hot as any back in the game right now. He has touchdowns six straight games. He has double-digit fantasy points all of those games and three games with 20-plus fantasy points. He keeps getting it done as the lead back for the 49ers. Mostert is the back to use in this offense. Expect more of the same this week against the Vikings, a team middle of the pack against the run. Minnesota has allowed 150-plus rushing yards two of their past three games.
Patrick Mahomes, QB, Chiefs. Mahomes has been a little quiet down the stretch, having fewer than 20 fantasy points three of his last six games. He has been a little more inconsistent than fantasy owners have become accustomed. Expect him to return to his big ways this week against the Texans, though. He threw for 273 yards and three touchdowns against this same Texans team in Week 6. Houston allowed the third most fantasy points to quarterbacks during the regular season.
Davante Adams, WR, Packers. Adams had another big season as the lead receiver for the Packers. He played his best football late in the year. He had at least seven receptions three straight to end his season and scores four of his last six games. Adams had double-digit targets seven of his last eight games. Adams should get his usual workout this week against the Seahawks. Seattle was 27th against the pass during the regular season, allowing 264-passing yards per game.
COLD PLAYS
Marshawn Lynch, RB, Seahawks. Lynch has touchdowns each of his two games this year but you can't ignore his production on the ground. He has 18 carries for 41 yards, averaging 2.3 yards per carry. He is clearly a touchdown dependent player, making him a hard player to trust for fantasy teams. He isn't worth the risk because his ceiling is not very high right now.
Ryan Tannehill, QB, Titans. Tannehill led his team to a win last week but wasn't much of a fantasy factor against a good Patriots defense. He didn't even throw for 100 yards and failed to reach doubt-digit fantasy points. He had been red hot, having multiple touchdowns all 10 of his starts before last week. He has a similar tough matchup this week on the road against the Ravens. Baltimore allowed the third fewest fantasy points to quarterbacks during the regular season and ranked seventh overall against the pass. It could be another down showing for Tannehill this week.
Kyle Rudolph, TE, Vikings. Rudolph scored a touchdown last week but had just four catches for 31 yards. He has fewer than 50 yards four yards four straight games. He is really a touchdown dependent player because his reception and yardage totals won't be great. We aren't sure he finds the end zone this week against the 49ers, a team that has limited the tight end this season. The 49ers allowed the sixth fewest fantasy points to tight ends during the regular season.
SLEEPERS
Sammy Watkins, WR, Chiefs. Watkins has really been a disappointment much of the year. He has 50 or fewer yards seven straight games. He also hasn't scored a touchdown since the first week of the season. But even with that said, he is capable of the big game in this explosive offense. And with the Texans likely doing all they can to limit Tyreek Hill, Watkins could get a few more targets than usual this week. Houston was just 30th overall against the pass during the regular season. And in last week's game, secondary option Duke Williams had a solid showing for the Bills. This bodes well for Watkins to have some success in this one.
Darren Fells, TE, Texans. Fells has emerged as the top target at tight end for the Texans. He had four receptions for 37 yards on five targets last week. It wasn't a great showing but decent enough. He is capable of the big game in this offense. Fells actually had his best reception and yardage game of the season against the Chiefs in Week 6. He had six receptions for 69 yards in that game against the Chiefs. It could be more of the same for Fells this week, making him an option to consider using if you don't have one of the big tight ends in your lineup.
David Moore, WR, Seahawks. Moore had a solid game in the Seahawks playoff opener last week, catching two passes for 57 yards. He is a big-play threat in this offense, averaging nearly 18 yards per reception. The Seahawks are likely going to need some big plays in this game if they hope to win, so look for Moore to get some chances to stretch the field. He could have a similar showing to last week and might even find the end zone. The Packers were just 18th against the pas during the regular season.
Duke Johnson, RB, Texans. Johnson has not been off the charts this year but pretty consistent as the pass-catching back for the Texans. He had a decent showing last week, finishing with 68 total yards on six touches. He has at least three receptions four of six games. He plays a Chiefs team this week that he had 54 total yards and a touchdown against in Week 6. This could be a high scoring game with a lot of fantasy points to be had, so getting some secondary options in your lineup like Johnson could be a good move for fantasy teams.
High/Low Scoring Games
Each week we will take a look at some of the high and low scoring games for the coming week. In high scoring affairs, get your marginal players on those teams in your lineup to take advantage of the possible points barrage. And in the low scoring games, keep those marginal players on the bench and make sure to have your defenses involved in those contests.
High Scoring Games: Texans/Chiefs, Seahawks/Packers.
Low Scoring Games: None.
Jeff Paur is a two-time finalist for FSWA Fantasy Football Writer of the Year and won the FSWA award for Best Fantasy Football Article on the Web in 2011. He also was the most accurate expert in 2012, winning the FSTA Fantasy Football Accuracy Award. If you have any questions for Jeff, email him at jeff@rtsports.com. Follow Jeff on Twitter @jeffpaur.