Lineup Prep: Week 3
Wed Sep 18 9:50am ET
By JEFF PAUR
Sr Fantasy Writer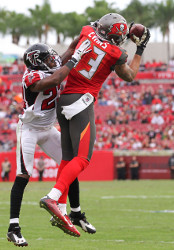 Mike Evans set to get it going
It was quite the interesting week in fantasy land. Several top quarterbacks went down with injury, guys that rarely have missed games throughout their career. This is going to cause some headaches for fantasy owners. Hopefully, you have a good backup option to replace these guys. And don't hesitate to work the waiver wire for a replacement. There are some capable options out there on a lot of waiver wires. Here is to hoping you can survive these injuries.
Here are my random thoughts for the week. . . .
The Daniel Jones era is finally here. You knew it was coming. I'm happy to see Jones getting his chance, especially with Eli Manning doing little with his chances. Jones could breathe some life into the offense and help players like Saquon Barkley and Evan Engram have more success. I don't see Jones being much of a fantasy option, but his move to starter should be a positive for those around him.
A couple good buy-low candidates in my view are Mike Evans and Leonard Fournette. Both are off to slow starts and their stock is low. If you can get them for a cheaper price, I say go for it. Evans was sick the first week and had a tough matchup last week, so I look for him to ramp it up going forward. Fournette is off to a slow start as well but is getting the work. He has at least 17 touches and four receptions each of the first two games.
If I'm an Antonio Brown owner, I try to trade him. I just think it is a matter of time before a suspension is thrown down, especially with new stories about him coming out nearly every day. He played last week and did pretty well, so his value isn't totally in the tank and some owners think he might be worth the risk. I'm not saying give him away for nothing but if you can get some value in return, I would dump Brown. I just don't trust that situation.
The Chiefs running back situation is really starting to concern me. Neither of those backs are doing much right now. I still like Damien Williams more, mainly because I think he gets more targets in the passing game. I just don't like the way things have played out with their running game these first two games. I would be concerned if I owned either of those guys. Plus, both are battling injury right now, which is another concern.
I'm starting to become a believer in the Ravens passing game. I'm just shocked at how much progress Lamar Jackson has made in a season. He has been lights out these first two games. I know they have come against poor defenses but you still have to give him credit for making plays. And it has to be a nightmare for opposing defenses to game plan against this unit right now. The Ravens already have a very good rushing attack, but the passing game is now becoming very dangerous. This offense is scary good.
Three passing games that have surprised me some this year and I think could be very helpful to fantasy teams the rest of the way are the Cardinals, Bengals and Redskins. These three teams are posting some big weekly passing numbers right now. And these units have some good potential going forward. None of these teams have very good rushing games, so I expect a lot of passing from all three teams the rest of the way. These might be some units to target if you need help through the air and would like to make a trade or need to pickup a player. I don't think the first two weeks are a fluke.
Emmanuel Sanders is looking like a great draft day value. He had 11 receptions last week and was targeted 13 times in the game. He has scores each of his first two games and been targeted 20 times overall. Sanders looks completely healthy, recovered from his Achilles' injury. I'm not sure Sanders can keep his current pace, but he is going to be a productive fantasy player the rest of the way. It is good to see him back to his old ways.
You have to worry about Carson Wentz a little. His receivers are dropping like flies and his start to the year hasn't gone quite as expected. He had two interceptions to one touchdown pass last week and struggled some throughout the game, especially after his starting receivers got injured. He missed on some throws he should have made. Wentz still has a high weekly ceiling, but he needs his receivers healthy and to start showing more consistency throwing the ball.
As always, don't forget to check out my weekly rankings here: Week 3 rankings.
News and Notes: The Giants finally made a move at quarterback, benching Eli Manning in favor of rookie Daniel Jones. Expect Jones to start the rest of the year for the Giants. . . . .The Lions released running back C.J. Anderson on Tuesday. The team signed running back Paul Perkins to take his roster spot. . . . .The Chargers added some depth at tight end, signing Lance Kendricks on Tuesday. He could move up the depth chart in a hurry if he picks up the offense quickly.
HOT PLAYS
Mike Evans, WR, Bucs. Evans is off to a slow start to his season. He was sick Week 1 but played and did little. He was better in Week 2, catching four passes for 61 yards on eight targets. That was a little more like it for Evans. Expect his best game of the season this week against the Giants. New York is 30th overall against the pass and allows the third most fantasy points to receivers. Evans is ready to breakout in this one.
Dak Prescott, QB, Cowboys. Prescott is off to the best start of his career. He has seven touchdowns to just one interception in two games. He is third overall in fantasy quarterback scoring, less than a point behind the great Patrick Mahomes. He is excelling in the Cowboys new offense, an offense that takes more chances down the field. Expect more success this week against the lowly Dolphins. Miami allows the most fantasy points to quarterbacks and rank 28th overall against the pass.
Nick Chubb, RB, Browns. Chubb showed his big potential last week, having 98 total yards and a score. He didn't run wild but got the work and produced for fantasy teams. The good news is Chubb has 20 or more touches each of the first two games. He is getting a lot of weekly work. He should get a workout again this week against the Rams. Los Angeles allows the sixth most fantasy points to running backs.
Mark Andrews, TE, Ravens. Andrews is first overall in fantasy tight end scoring after two games. He has 100-yards games in each of his two games. He also has touchdowns in each of those games and been targeted 17 times. All the talk of Andrews having a big second season seem to be coming true. He can continue his good play this week against the Chiefs. Kansas City allows the sixth most fantasy points to tight ends and rank 20th overall against the pass.
LeVeon Bell, RB, Jets. Bell is getting a workout for the Jets to start his season. He already has 54 touches in two games. He had 10 receptions last week, getting a ton of work in the passing game with the Jets trailing big. Bell is fifth overall in fantasy running back scoring. Expect him to get another workout this week against the Patriots. He could get a similar workload in the passing game with the Jets trailing by a lot. As long as Bell keeps catching a lot of passes, fantasy owners won't care that his yardage and touchdown numbers aren't off the charts.
COLD PLAYS
Kyler Murray, QB, Cardinals. Murray had 349-passing yards last week and has 300-yard games each of his first two games. The issue is he has just two scores in two games. He failed to score a touchdown last week. Murray also isn't doing a lot on the ground, which is a bit of a surprise. He has just 17-rushing yards in two games. Murray has another tough matchup for this week, getting the Panthers. Carolina allows the fifth fewest fantasy points to quarterbacks and are third overall against the pass. You might want to leave Murray on your bench for this one.
Damien Williams/LeSean McCoy, RB, Chiefs. Williams had nine carries for eight yards last week and also hurt his knee in the game. For the season, Williams has run the ball 22 times for 34 yards. McCoy hasn't been much better. He ran 11 times for 23 yards last week and caught there passes for no gain. McCoy hurt his ankle in the game, so both backs are hobbled some and doing little with their work. Their matchup this week is a terrible one, playing the Ravens. Baltimore is first overall against the run and have allowed the fewest fantasy points to running backs. We would just avoid both backs in this one.
Geronimo Allison, WR, Packers. Allison had a much better showing last week than his opener, finding the end zone on five targets. The problem is Allison totaled just 25 yards on his four receptions. It was good to see him score but his overall numbers weren't very impressive. He probably isn't worth plugging into your lineup just yet, especially this week against the Broncos. Denver has been solid against the pass to start the season, ranking fourth overall against the pass. The Broncos allow the second fewest fantasy points to receivers.
Any Jet receivers. The Jets are down to their third-string quarterback. New York has some usable fantasy receivers on their roster, including Jamison Crowder and Robby Anderson, but neither are worth using as long as Sam Darnold is out. These guys are just going to be too inconsistent to trust. And a matchup this week agains the Patriots is a terrible one for the passing game. New England is eighth overall against the pass and allow the sixth fewest fantasy points to receivers. Just avoid all Jets receivers at this point. They aren't worth the risk.
Latavius Murray, RB, Saints. Murray had a solid opener but really struggled last week. He ran five times for just seven yards. He isn't getting quite as many touches as expected through two games, having 14 touches. You were expecting around double-digit touches per week, but that hasn't been the case. He isn't worth using until his usage goes up, especially whites week against the Seahawks. Seattle is fourth overall agains the rush and allow the sixth fewest fantasy points to running backs.
SLEEPERS
Malcolm Brown, RB, Rams. Brown is getting his work in the Rams offense as the top backup to Toddy Gurley. He had double-digit carries and two scores in Week 1, and had 47 total yards last week. His numbers aren't flashy but consistent, making him a guy to consider as a flex play in the right matchup. And this week could be a time to play Brown. The Rams play the Browns, a team that is struggling to stop the run to start the year. Cleveland allows the fourth most fantasy points to running backs.
Deebo Samuel, WR, 49ers. Samuel was more involved in the offense Week 2, catching five passes for 87 yards and a touchdown on seven targets. He also ran the ball twice, giving him seven total touches. Samuel is an exciting talent that can lead the 49ers receivers in receptions, so last week wasn't a fluke. He should get a lot of targets again this week against the Steelers. Pittsburgh allows the fifth most fantasy points to receivers and are 29th overall against the pass.
Matthew Stafford, QB, Lions. Stafford is off to a much better start this year. He looks healthy and is producing, ranking fifth overall in fantasy quarterback scoring after two games. He has five touchdowns and thrown for at least 245 yards in both contests. He is setup for another solid game this week against the Eagles, a team that has struggled to stop the pass. Philadelphia allows the seventh most fantasy points to quarterbacks.
Frank Gore, RB, Bills. Gore has double-digit carries each of his first two games. He found the end zone last week and totaled 83 yards in the game. He is getting his work and could get even more work this week if Devin Singletary is not able to play, which is possible. This makes Gore a player to consider as a flex play. He gets the Bengals, a team that allows the most fantasy points to running backs to start the season.
Allen Robinson, WR, Bears. Robinson was kind of quiet last week but played a good Broncos defense. He was still targeted seven times in the game and caught four of those targets for 40 yards. He had a 100-yard game in the opener, so the potential is always there for Robinson to have the big week. And this week against the Redskins is a great matchup for Robinson to have success. Washington has really struggled against the pass, ranking 25th overall against the pass. The Redskins allow the most fantasy points to receivers.
High/Low Scoring Games
Each week we will take a look at some of the high and low scoring games for the coming week. In high scoring affairs, get your marginal players on those teams in your lineup to take advantage of the possible points barrage. And in the low scoring games, keep those marginal players on the bench and make sure to have your defenses involved in those contests.
High Scoring Games: Ravens/Chiefs, Giants/Bucs, Texans/Chargers, Rams/Browns.
Low Scoring Games: Titans/Jaguars.
Jeff Paur is a two-time finalist for FSWA Fantasy Football Writer of the Year and won the FSWA award for Best Fantasy Football Article on the Web in 2011. He also was the most accurate expert in 2012, winning the FSTA Fantasy Football Accuracy Award. If you have any questions for Jeff, email him at jeff@rtsports.com. Follow Jeff on Twitter @jeffpaur.