Training Camp Preview: NFC North
Fri Jul 26 9:16am ET
By JEFF PAUR
Sr Fantasy Writer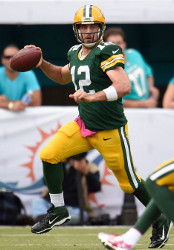 Rodgers played hurt last year
This is the sixth preview in a series of training camp previews. We will continue to release the previews throughout the week. The previews give you a quick look at each team, going over position battles and injuries to watch in camp. The season is right around the corner.
Packers
The Packers have a new coaching staff for the first time in a long time. This means the team has to learn a new offense and defense for the coming year. This will be the big theme of training camp for Green Bay. Aaron Rodgers has a new offense to learn for the first time in his entire career, so there could be a learning curve for him. Keep an eye on the team's progress during camp. There could be some bumps along the way.
Position battle: The big position battle in Packers camp is for the right to start opposite Davante Adams. The two most likely candidates are Geronimo Allison and Marquez Valdes-Scantling. The Packers have a lot of young receiver vying for playing time but these two players stand out above the rest. Many think Valdes-Scantling is the most likely to earn the job but don't discount Allison, who has produced with past chances. The winner of this job will have some fantasy value for the coming year in the Packers pass-first offense.
Injury watch: Aaron Rodgers played the entire season last year, but was hurt much of the year. He played at less than 100 percent because of a tibial plateau fracture and a sprained medial collateral ligament. It is pretty amazing he was able to play with these injuries. He is recovered from the injuries but his health is really a key to the Packers season. He played hurt last year and was limited to just seven games the previous year. Injuries have been a factor for him in recent years.
Vikings
There were high hopes for the Vikings last year with Kirk Cousins now on board as their franchise quarterback, but things didn't go quite as planned. Cousins had an up and down season and the team followed his lead with inconsistent play. Minnesota will look to right the ship this training camp. Much of the year might depend on Cousins. He will need to play more consistent football if the Vikings hope to return to the playoffs. Cousins has a new offense to learn but could be a better fit for the system, which bodes well for him. We will get our first look at Cousins and the new offense, starting in camp.
Position battle: The Vikings surprised some by using a second-round pick on tight end Irv Smith in this year's draft. Smith is a pretty complete tight end that does well as a blocker and receiver. He will look to push Kyle Rudolph for the starting job this year. Rudolph has produced for the Vikings in recent year but probably hasn't been the player the team hoped. He could lose out on playing time to the rookie this year.
Injury watch: Running back Dalvin Cook has played 15 games in two seasons. He missed time again last year after missing nearly all of his rookie year. Cook has really struggled to stay on the field to start his career. He seems to be over his hamstring injury from last year, though, and should be 100 percent for the start of the camp. The trick for Cook is now staying healthy for the entire season. We'll see if he is able to do that.
Lions
Detroit had a season to forget last year, finishing 6-10. The team is in a bit of rebuild mode after trading and letting some key players from past teams go. Some younger players will get their chance to shine this year, though, so much of this camp should focus on the progress of those young players. Can guys like Kerryon Johnson and Kenny Golladay take their games to new levels this year? The Lions sure hope that is the case, giving them a chance to shine this year.
Position battle: The Lions made some changes at tight end this offseason, signing Jesse James and drafting T.J. Hockenson. Both these guys will challenge for the right to start. James might have the edge because of his experience, but Hockenson is the future of the position for the Lions. He should be given every opportunity to start because he provides the most potential for big things. James can be a bigger asset as a blocker.
Injury watch: Quarterback Matthew Stafford played every game last season but played with a back injury much of the year. He reportedly played with broken bones in his back, which could explain his down play. Stafford didn't play at his usual level, struggling with accuracy and consistency. He should be over his back injury for the start of this year but keep an eye on him in camp to make sure he looks back to old form. Stafford could be a sneaky late pick for fantasy teams this year if he is healthy and back to his old self.
Bears
The Bears had a great season last year, going 12-4. Expectations are going to be very high for this team and with good reason. It is a pretty complete squad. The big thing to watch this training camp could be the progression of starting quarterback Mitchell Trubisky, though. He played well last year but had some consistency issues. If the Bears truly hope to be a special team, they will need Trubisky to play at a high level all season.
Position battle: The Bears will have a battle on their hands for the starting running back job. The team signed Mike Davis this offseason and drafted David Montgomery. These guys will battle it out for the right to start. Davis had a breakout season last year with the Seahawks, showing he could start and produce at a high level in the league. Montgomery is a three-down back that can carry the load. He probably has the edge to start but don't discount Davis. He just made plays when given the chance last season.
Injury watch: Tight end Trey Burton had hernia surgery this offseason. He should be ready for the start of camp but nothing is 100 percent certain right now. Keep an eye on his progress to make sure he doesn't have any setbacks. Burton can play a big role in the offense, an offense that likes to look for the tight end. He didn't have quite the season as expected last year but could turn things around this year in year two with the Bears.
Jeff Paur is a two-time finalist for FSWA Fantasy Football Writer of the Year and won the FSWA award for Best Fantasy Football Article on the Web in 2011. He also was the most accurate expert in 2012, winning the FSTA Fantasy Football Accuracy Award. If you have any questions for Jeff, email him at jeff@rtsports.com. Follow Jeff on Twitter @jeffpaur.