Broncos inform Marshall they won't pick up his option
Fri Feb 15 4:18pm ET
By ARNIE STAPLETON
AP Pro Football Writer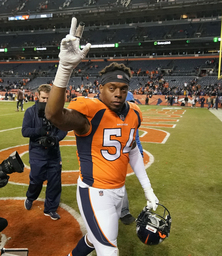 In this Dec. 30, 2018, file photo, Denver Broncos inside linebacker Brandon Marshall gestures after an NFL game against the Los Angeles Chargers, in Denver. Even though Brandon Marshall was expecting it, Friday's, Feb. 15, 2019, news that he'd probably played his last game in Denver threw him for a bit of a loop. "It's just different when it's in the news and everybody knows about it and it's not just you and your agent talking about it," Marshall said after the Broncos told his agent, Drew Rosenhause, they didn't plan to pick up Marshall's option. (AP Photo/Jack Dempsey, File)
ENGLEWOOD, Colo. (AP) Even though Brandon Marshall was expecting it, Friday's news that he'd likely played his last game in a Denver Broncos uniform threw him for a bit of a loop.
''It's just different when it's in the news and everybody knows about it and it's not just you and your agent talking about it,'' Marshall said after the Broncos told his agent, Drew Rosenhaus, that they don't plan to pick up the linebacker's option.
There's a possibility Marshall could return to Denver, but he said he's expecting to find interest on the open market when free agency opens March 13, even after limping through two injury-riddled seasons in the last three years.
Marshall, who was due $6.5 million next season with a cap hit of about $9 million, has been limited to 11 games in two of the last three seasons.