DeRose is the new King
Fri Jan 24 11:25am ET
By JEFF PAUR
Sr Fantasy Writer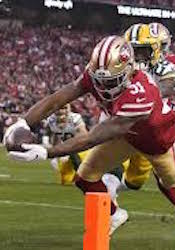 Mostert helped crown the king
RealTime Fantasy Sports is proud to announce Dave DeRose as our winner of the '19 King of the Mountain contest. Barczak was the last owner standing in our fantasy contest, winning a prize of $25,000 for his efforts.
If you aren't familiar, here is how the King of the Mountain contest works. You pick one simple lineup each week, consisting of one quarterback, one running back and one receiver/tight end. If the team you pick scores better than just the worst one-third of teams in the contest, you advance to the next week. But here is the catch, you can only pick a player for your team once during season, including the playoffs. If you are the last owner standing, you take home a $25,000 prize for winning the King of the Mountain contest.
DeRose was the big winner of this year's contest. This wasn't the first time DeRose had played King of the Mountain, but it was definitely his best showing.
"I've played this contest for many years," DeRose said. "At two entries per year, I never made it past Week 7."
A new strategy was just the thing to get DeRose to advance farther this year, though. He had to make adjustments after not fairing the best with past chances.
"I used to coach youth basketball and I'm also a high school basketball referee," DeRose said. "My philosophy with timeouts is 'you can't take them home.' Too many people leave their timeouts in the book until it's too late. In past King of the Mountain competitions, I left too many good players on the bench in an attempt to save them for later weeks. My strategy was to play 'best matchups' in at least two of the three positions and just advance to the next week."

This was a great strategy for DeRose, but it did not come without some close calls along the way. There were several weeks that had DeRose sweating it out, including Week 9.
"My team kept dropping closer to the cut line during the Monday night game (Cowboys and Giants)," DeRose said. "I kept yelling for the game to end. Needless to say, I was the first team that survived above the cut line."
That week might have been a turning point for DeRose, but at what point of the contest did he really think he had a chance to win it all. It might not be as soon as you think.
"When I survived Week 17, my chances to win officially 'got real' for me," DeRose said. "I knew that If I made it to wild card weekend, I would have a great chance. Wild card weekend brought me from the top five to the top three, and I felt destined to win. Wentz was my quarterback and he was injured early. My fate was sealed until that final play from Wilson to Metcalf."
The last week of the contest wasn't quite as nerve racking for DeRose because he had a leg up on his competition, being able to fill out a full starting lineup. His opponent wasn't quite as fortunate, missing a key part of his three-man team.
"I was pretty calm knowing I had Garoppolo and my opponent did not have a starting quarterback," DeRose said. "I felt good about Mostert as my running back and AJ Brown as my receiver. I was anxious for the Chiefs game to end to stop points from Damien Williams. I went to a bar with a friend of mine to watch the final game. We missed the first few minutes of the game. As I was pulling up in the lot, my wife texted me saying, 'Mostert just scored baby!' At that point, I felt pretty confident that I'd win."
So now that DeRose is $25,000 richer, what is he going to do with the winnings? That is the big question.
"I plan to tithe my winnings to our church and to the radio broadcast that feeds my soul," DeRose said. "I also plan to pay off some debt and use the majority of the remainder for our new house. Me, my wife Heather, and our kids Vincent and Ava are currently building a house and expected to move the first part of April. This extra money is a timely blessing."
If you want to try to dethrone the king, don't forget to sign up for King of the Mountain next season for a chance to win $25,000.
Jeff Paur is a two-time finalist for FSWA Fantasy Football Writer of the Year and won the FSWA award for Best Fantasy Football Article on the Web in 2011. He also was the most accurate expert in 2012, winning the FSTA Fantasy Football Accuracy Award. If you have any questions for Jeff, email him at jeff@rtsports.com. Follow Jeff on Twitter @jeffpaur.