Training Camp Preview: AFC North
Tue Jul 23 10:50am ET
By JEFF PAUR
Sr Fantasy Writer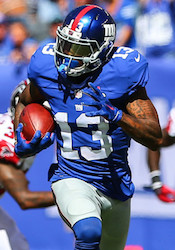 Beckham ready for fresh start
This is the second preview in a series of training camp previews. We will continue to release the previews throughout the week. The previews give you a quick look at each team, going over position battles and injuries to watch in camp. The season is right around the corner.
Steelers
The Steelers had quite the offseason, losing two of their cornerstone players (Antonio Brown and Le'Veon Bell). Those are huge shoes to fill. This team is clearly Ben Roethlisberger's now, so a lot of pressure could be on him to produce big. We'll see how he handles it all starting in training camp.
Position battle: The big battle for the Steelers this training camp will come at receiver. The No. 2 receiver job is up for grabs between James Washington and Donte Moncrief. A lot of people just think Washington is going to get the job, but nothing is certain right now. Moncrief had a strong offseason and is a talented player, so don't discount him in this battle. He has a chance to emerge as the starter opposite JuJu Smith-Schuster. This is a battle to watch in the Steelers pass-first offense.
Injury watch: Tight end Vance McDonald is primed for a big season in Pittsburgh. Jesse James is gone, leaving McDonald to handle nearly all the tight end duties for the Steelers. He can get a ton of targets in an offense that likes to use the tight end. The issue for McDonald has been staying healthy. He missed just a game last year because of injury but is yet to play a full season in his six-year NFL career. Injuries have plagued him throughout his career. He can do big things this year but needs to stay on the field.
Browns
The Browns had a huge offseason, making a lot of changes to help sustain their strong finish to last year. There is a ton of buzz surrounding this team and for good reason. Odell Beckham was acquired to take the passing game to a new level. The big thing to watch this camp might be the development of Baker Mayfield. He was good his rookie year but likely needs to take his game up a notch if the Browns hope to be a playoff contender. It will be interesting to see how he handles the pressure of it all.
Position battle: The starters at receiver are set for the Browns with Odell Beckham and Jarvis Landry handling those duties, but the No. 3 job has some competition. Rashard Higgins had that job last year but Antonio Callaway will challenge him to man the slot this year. Callaway started much of his rookie year but is out of that job now with Beckham on board. He is a talented player, though, and seems to have a good rapport with Baker Mayfield. There is a chance Callaway wins that No. 3 job this year, giving him similar playing time to his rookie year.
Injury watch:The Browns made a big splash this offseason, acquiring Odell Beckham. He is a difference maker offensively and can post huge numbers in this offseason. He has played just 16 games the last two seasons because of injury, though. He is not hurt right now, but his health is something to monitor in training camp. You don't want to see him get nicked before the start of the season.
Ravens
The Ravens won their division and made the playoffs last year but had an early exit. The team's season turned around when Lamar Jackson took over as the starter. He had a great first season, doing most of his damage on the ground. The Ravens will be a run-heavy team again, but Jackson likely needs to develop a little more as a passer if this offense wants to operate at a high level. So the big thing to watch this camp is Jackson's progress as a passer.
Position battle: Baltimore is another team that needs some answers at receiver. This is a run-first team but it still is worth noting the starting receivers. They can help fantasy teams. These jobs are wide open. Willie Snead, Jordan Lasley, Marquise Brown and Chris Moore are the likely candidates vying for a chance to start. It really is a wide open race to start. Any of these guys could emerge in camp and preseason action.
Injury watch: Tight end Hayden Hurst was a bit of a bust his rookie year. He had a stress fracture that kept him out of some action and limited him in other games. Hurst has already dealt with a hamstring injury this offseason, which is another concern. He is a very talented tight end that could have a big role in the offense, but needs to show he can stay healthy and play a full season.
Bengals
The Bengals disappointed last year, leading to the firing of long-time coach Marvin Lewis. New coach Zac Taylor is a young coach with an offensive background. He will look to get the offense moving in a new direction. Much of this camp will be adjusting to the new coaching staff after having the last one in place the last several seasons. These are the first major changes in a long time for the Bengals.
Position battle: The starting tight end spot is up for grabs in Cincinnati. Tyler Eifert had another injury-plagued season last year, giving C.J. Uzomah a chance to starting. Uzomah did well in a starting role and was re-signed to a pretty good contract this offseason. The Bengals are going to utilize the versatile player even if he doesn't start, but his value to fantasy teams is higher in a starting role. Eifert has the track record and a lot of success, but he needs to prove he is healthy and ready to take on a full workload if he hopes to start once again.
Injury watch: Star receiver A.J. Green had a toe injury last year that eventually required surgery. He played just nine games. He has missed 13 games two of the last three seasons. The Bengals need him healthy if they hope to have a turnaround season. Green also can be a difference maker for fantasy teams when healthy, which is another reason to monitor his return from toe surgery this training camp.
Jeff Paur is a two-time finalist for FSWA Fantasy Football Writer of the Year and won the FSWA award for Best Fantasy Football Article on the Web in 2011. He also was the most accurate expert in 2012, winning the FSTA Fantasy Football Accuracy Award. If you have any questions for Jeff, email him at jeff@rtsports.com. Follow Jeff on Twitter @jeffpaur.