Studs and Duds: Championship Games
Mon Jan 31 10:14am ET
By JEFF PAUR
Sr Fantasy Writer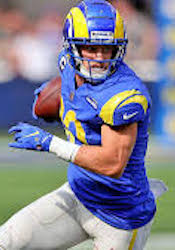 Kupp produces huge once again
Surprisingly, the games were almost as good this week as the previous week. That is pretty hard to believe, considering how epic the games were for the divisional round. They all came down to the wire once again. Plus, we had some big fantasy performances, providing plenty of points for fantasy owners. It was another fascinating week in the NFL.
Bengals 27, Chiefs 24
Fantasy Stud: Travis Kelce. His team lost but Kelce was huge in defeat. He led the way in the passing game for the Chiefs. He had 10 receptions for 95 yards and a touchdown. Kelce was great the entire playoffs, having at least 95 yards all three games and touchdowns in all those game. He finishes the year with six straight games.

Fantasy Dud: Clyde Edwards-Helaire. Edwards-Helaire was active but took a backseat to Jerick McKinnon most of the game. He had just six carries for 36 yards compared to 12 carries for McKinnon. Edwards-Helaire also caught just a pass for four yards, giving him 40 total yards in the game. It was almost a fitting end to his season, which also was a little disappointing because of injuries and inconsistency on the field. Next season might be a make or break year for Edwards-Helaire.
Game Notes: Tee Higgins hit the 100-yard mark. He had six receptions for 103 yards on 10 targets. He has 13 reception for 199 yards his last two games.
Mecole Hardman had five touches for 70 total yards and a touchdown. He had scores two straight and at least 12 fantasy points in each of those games.
Rams 20, 49ers 17
Fantasy Stud: Cooper Kupp. Kupp had another one of his monster game. He caught 11 passes fro 142 yards and two touchdowns. Kupp scored 37.2 fantasy points, giving him 30-plus points two straight games. He has eight games this season with 30-plus fantasy points. Kupp is having one of the all-time best fantasy seasons. He just keeps getting it done on a weekly basis.

Fantasy Dud: Cam Akers. Akers got a lot of touches once again but didn't do much with that work. He ran 13 times for just 48 yards and caught a pass for two yards. Akers has fewer than 60-rushing yards all three playoff games for the Rams. He does not have more than 11 fantasy points any game this year. The positive is he has at least 14 touches three straight games and looks healthy, recovered from his torn Achilles' tendon.
Game Notes: Deebo Samuel was highly productive once again, leading the 49ers in rushing and receiving. He ran seven times for 26 yards and had four receptions for 72 yards and a touchdown. Samuel had 98 total yards and a score.
Odell Beckham had his first 100-yard game of the season. He had nine receptions for 113 yards on 11 targets. He has 15 receptions for 182 yards on 19 targets his last two games.
Jeff Paur is a two-time finalist for FSWA Fantasy Football Writer of the Year and won the FSWA award for Best Fantasy Football Article on the Web in 2011. He also was the most accurate expert in 2012, winning the FSTA Fantasy Football Accuracy Award. If you have any questions for Jeff, email him at jeff@rtsports.com. Follow Jeff on Twitter @jeffpaur.