Lineup Prep: Week 10
1541597858
By JEFF PAUR
Sr Fantasy Writer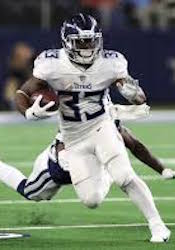 Lewis is making an impact
I know I have said this before at different points this season but it is hard to believe we are headed into Week 10. At this point, there are teams in your league that are already out of the playoff hunt. Hopefully, you aren't one of those teams. And if you are a team trying to get into to mix, now is the time to make your run. There is time left but you need to make your move now. Here is to hoping your team is setup for a playoff run.
And this week is likely the last you can make trades in many of your leagues. Don't be afraid to pull the trigger on a trade to give your team a spark. Plan ahead. Look at schedules going forward. And trade from position of strengths for your team, especially if byes aren't an issue for you anymore. There is no use having great depth if you don't really need it anymore. Take advantage of that depth to improve your starting lineup.
Now for my random thoughts for the week. . . . .
Jared Goff continues to impress me. I know they lost on the road last week to the Saints, but Goff played a good game. He was just nine yards shy of 400 and had three touchdowns compared to one interception. Goff really made some great throws in that game and continues to have a great grasp of that explosive offense. He is seventh overall in fantasy quarterback scoring and I wouldn't surprise if his numbers improve some the rest of the way. He is the real deal.
I know there is speculation that LeVeon Bell could finally report this week, mainly because of a cryptic Tweet he sent out. And if Bell doesn't report by Nov. 13 ahead of Week 11, he cannot play the rest of the season. I don't know what exactly will happen when Bell finally reports. James Conner is having a breakout season and clearly showing he can be an elite back in this offense. Bell likely will be eased back into action and these two could share work, similar to how the Saints use Alvin Kamara and Mark Ingram. So the return of Bell would be an obvious hit on Conner. And I don't see Bell having the value of past years, getting few touches because of Conner. This has been a tough situation for fantasy owners to deal with all year and likely won't get any easier when Bell does indeed report.
I really hope Marlon Mack can stay healthy the rest of the year. He has looked great in his return. He has back-to-back 100-yard games and that Colts offensive line is playing as well as they have in years. Mack can be a difference maker for fantasy teams down the stretch. He can do a little bit of everything and shown very well this season when serving as the No. 1 back for the Colts. The issue for Mack is health.
I'm not sure what the heck to expect from Leonard Fournette going forward. It looks like he finally returns this week, already practicing in full to start the week. He has been a huge bust for fantasy teams. He has played just two games and not topped 45-rushing yards in each game. The Jaguars are struggling as a team and could use a healthy Fournette leading the offense. Jacksonville could lean on him heavily the rest of the way, so it wouldn't surprise if he finishes the season strong and finally provides an impact for his fantasy owners.
Dalvin Cook is another back that's disappointed his fantasy owners. He had a great return to action, though, having 109 total yards in limited action last week. He gets a bye to get even healthier this week and should return to his full-time role in Week 11. Cook seems setup to have a big finish to the season. I like his chances to finally become a big-time fantasy factor. He has at least three receptions three of four games, so he is getting a lot of touches in this explosive offense. Again, health has been the issue for Cook this year.
Julio Jones owners rejoiced last week, seeing him score his first touchdown of the season. But even with just a score, Jones is sixth overall in fantasy receiver scoring. Just imagine if he was finding the end zone on a more regular basis. Jones has five 100-yard games and two double-digit reception games. It makes zero sense to me that Jones doesn't get more red-zone looks. Hopefully, that changes going forward after his score last week. Jones has the potential to lead all fantasy receivers in scoring if his touchdown totals start to increase.
It is getting a little overlooked but O.J. Howard is having a breakout season. He has touchdowns three of four games and is sixth overall in fantasy tight end scoring. Howard has double-digit fantasy points all but two games. He also has more than 50 yards all but a game. He is getting it done on a weekly basis and become a top red-zone target for the Bucs pass-first offense. Howard can be a big-time fantasy factor at tight end for years to come. He is the complete package at the position.
As always, don't forget to check out our weekly rankings: Week 10 Rankings.
News and Notes: The Lions signed receiver Bruce Ellington and re-signed running back Zach Zenner on Tuesday. The team also released running back Ameer Abdullah. . . . .The 49ers have already named Nick Mullens the starting quarterback for Week 10. He gets the start over an ailing C.J. Beathard. This isn't a big surprise with how well Mullens played in his first NFL start.
HOT PLAYS
Tyler Boyd, WR, Bengals. Boyd is having a breakout season for the Bengals. He has three 100-yard games and at least six receptions five of eight games. Boyd has become a reliable target in the passing game and looks to have a role in this offense for years to come. A.J. Green is going to miss a few weeks because of injury, leaving Boyd as the top option at receiver in this offense. He could get even more targets this week against the Saints. New Orleans allows the most fantasy points to receivers and are 31st against the pass.
Tevin Coleman, RB, Falcons. It took a little time but Coleman is finally producing well for fantasy teams in a starting role for the Falcons. He has touchdowns three straight games and enjoyed his best game of the season last week. Coleman scored twice in Week 9 and finished with 156 total yards. He should continue this strong play this week against the Browns, a team that allows the third most fantasy points to running backs.
Jarvis Landry, WR, Browns. Landry isn't having a monster season but produced well as the top target in the Browns offense. He has been getting his most work lately, though. Landry has 24 receptions his last three games. He has double-digit targets all but two games this year. Landry gets his weekly work and should get his chances again this week against the Falcons. Atlanta allows the third most fantasy points to receivers and are 29th overall against the pass.
Dion Lewis, RB, Titans. Lewis is finally playing at the level fantasy teams had hoped when they drafted him this year. He has two straight games with 20-plus fantasy points. He has more than 100 total yards each of those last two games and 10 receptions during that stretch. Lewis is getting his work and posting big overall numbers. He should continue hit hot ways this week against the Patriots, who are middle of the road against the run. The Titans could have to score a lot of points in this game, so expect Lewis to be heavily involved.
Carson Wentz, QB, Eagles. Wentz has quickly rounded into form from his knee injury. He has multiple touchdowns five straight games. He also has three 300-yard games during that stretch. He has produced big, consistent numbers on a weekly basis. Look for another big showing this week against a reeling Cowboys team. The Cowboys defense was torched by Marcus Mariota last week, which doesn't bode well for them this week against Wentz.
COLD PLAYS
T.Y. Hilton, WR, Colts. Hilton is the top receive in the Colts passing game, but his numbers haven't been super consistent in that role. He has really struggled the last two games, having just five receptions for 59 yards. He has more than 50 yards just two of six games. He might be bench material this week against the Jaguars and Jalen Ramsey. Jacksonville allows the second fewest fantasy points to receivers.
Kerryon Johnson, RB, Lions. Johnson is having a solid rookie season. He has two 100-yard games and multiple receptions all but a game. The Lions are having some struggles along the offensive line right now, though, and it is reflecting in Johnson's play. He has fewer than 40-rushing yards two straight games. Johnson might have more struggles this week against the Bears, a team that allows the third fewest fantasy points to running backs.
Tom Brady, QB, Patriots. You never want to bet against Tom Brady but you can't ignore his production lately. He has just one touchdown his last two games and one or fewer scores three of four games. The Patriots passing attack hasn't been quite as explosive this year, giving Brady fantasy numbers his owners aren't accustomed. Brady has a tough matchup again this week gains the Titans, a team that allows the fifth fewest fantasy points to quarterbacks.
Isaiah Crowell, RB, Jets. Crowell has double-digit rush attempts all but a game this year. He has gotten his chances but his overall numbers aren't very impressive. Crowell has fewer than 50-rushing yards four straight games and more than 50-rushing yards just two of nine games. He is a hard fantasy player to trust, especially with Elijah McGuire back in the mix at running back for the Jets. We would just stay away from Crowell for now - no matter the matchup.
Taylor Gabriel, WR, Bears. Gabriel had a stretch of big-time fantasy performances but really cooled lately. He has fewer than 55 yards three straight games. He has more than 55 yards just twice all year. Gabriel gets some catches and is always capable of the big game, but his production much of the year makes him a hard guy for fantasy teams to trust. He has been more mediocre than good most weeks. And a matchup against the Lions isn't a good one for Gabriel. Detroit is fourth against the pass and allow the sixth fewest fantasy points to receivers.
SLEEPERS
Frank Gore, RB, Dolphins. Gore had a season-high 20 carries last week. He didn't have a great showing despite all the work, though, finishing with 59 total yards. The good news is he is getting the work and has produced pretty well in recent weeks. He has more than 60 total yards four of five games. He has double-digit carries six straight games. If he gets that much work this week against the Packers, expect Gore to produce well. Green Bay is just 22nd against the run, allowing 119.6-rushing yards per game.
Andy Dalton, QB, Bengals. Dalton has been very consistent all year, having multiple scores six of eight games. He also has two 300-yard games, producing some big games throughout the year. He will be without A.J. Green this week, which is a concern, but we think he can still produce well against the Saints. The Bengals are likely going to need to air it out to keep up with the Saints high-powered offense. New Orleans is 31st against the pass and allow the most fantasy points to quarterbacks.
Vance McDonald, TE, Steelers. McDonald hasn't been off the charts lately, but has been getting his work. He has 13 receptions his last three games. He has three games with 60-plus yards and is always capable of the big game in this offense. McDonald has a big matchup for success in Week 10, playing the Panthers. Carolina is the worst team in the league against the tight end, allowing the most fantasy points to tight ends.
Maurice Harris, WR, Redskins. Harris had a career game last week, catching 10 passes for 124 yards. He was targeted 12 times. He has emerged as a top threat in this offense and should continue to get plenty of chances, especially with Paul Richardson now out for the season. Harris is a solid low-end No. 3 receiver and flex play in Week 10 against the Bucs. Tampa has been terrible against the pass, ranking 30th overall. The Bucs also allow the second most fantasy points to receivers.
Spencer Ware, RB, Chiefs. Ware is never a sure thing in this offense because Kareem Hunt gets a lot of work. But Ware has been getting a few more chances in recent weeks. He has more than 80 total yards two of three games. Ware had a season-high four receptions for 69 yards last week. The Chiefs could get up big this week against the Cardinals, meaning Ware could get more chances. Arizona allows the second most fantasy points to running backs.
High/Low Scoring Games
Each week we will take a look at some of the high and low scoring games for the coming week. In high scoring affairs, get your marginal players on those teams in your lineup to take advantage of the possible points barrage. And in the low scoring games, keep those marginal players on the bench and make sure to have your defenses involved in those contests.
High Scoring Games: Saints/Bengals, Falcons/Browns, Redskins/Bucs.
Low Scoring Games: Bills/Jets.
Bye: Ravens, Broncos, Texans, Vikings.
Jeff Paur is a two-time finalist for FSWA Fantasy Football Writer of the Year and won the FSWA award for Best Fantasy Football Article on the Web in 2011. He also was the most accurate expert in 2012, winning the FSTA Fantasy Football Accuracy Award. If you have any questions for Jeff, email him at jeff@rtsports.com. Follow Jeff on Twitter @jeffpaur.