Injury Status: Week 10
Thu Nov 7 8:40am ET
By JEFF PAUR
Sr Fantasy Writer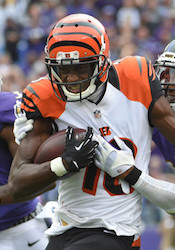 Green is iffy to play Week 10
This is going to be a tough week for fantasy teams when it comes to setting lineups. There are six teams on a bye, including a few big-time fantasy players, to go along with all the guys on this injured list. The injury list isn't crazy populated this week, but there are a decent chunk of players on the list. So good luck getting your lineups set. Hopefully, byes and injuries don't impact things for you too much.
Evan Engram, TE, Giants. Engram is out of practice to start the week because of a foot sprain. He is in a boot because of the injury, which isn't a great sign. He seems a long shot to play this week, so get other options ready. Engram has been banged up in recent weeks, marring what looked like could be a breakout season for him.
Le'Veon Bell, RB, Jets. Bell had an MRI on his knee but received good news on the injury. He is just battling a sore knee at this point. He has rested to start the week and still has a shot to play Week 10. Nothing is guaranteed, though, because Bell has struggled in recent weeks and just doesn't look like himself. We would get other options ready to be safe. It would not be a surprise if the Jets sit Bell.
Adam Thielen, WR, Vikings. Thielen was a game-time decision last week and played in the game. He aggravated his hamstring injury early in the game, though, and sat the rest of the game. The Vikings claim the injury isn't serious, though, and he didn't have a major setback. Either way, you should expect the Vikings to make sure Thielen is 100 percent before bringing him back. We would expect Thielen to miss the game this week.
Cam Newton, QB, Panthers. Newton is done for the season, getting placed on Injured Reserve because of his foot injury. This makes Kyle Allen the starter for the rest of the season for the Panthers. Newton's time in Carolina could be done after battling injuries the last few years and underperforming when on the field.
Sterling Shepard, WR, Giants. Shepard seemed to be making progress from his concussion, but had a setback late in the week last week. There is speculation he could be placed on Injured Reserve in the near future, ending his season. So don't expect him to play this week or in the near future. Things aren't looking great for Shepard right now.
A.J. Green, WR, Bengals. Green was set to finally return to the starting lineup this week, but had some sort of setback before practice Wednesday and sat out. He received treatment on the side and is considered day to day. HIs ankle injury is getting better but he'll need to get in some practice before the week is out if he hopes to play Week 10. Get other options ready once again. Green is looking risky at this point.
Jacoby Brissett, QB, Colts. Brissett was knocked from last week's game because of a sprained knee. He has not been ruled out for this week and is practicing on a limited basis. He seems to have a pretty good chance to play Week 10. We'll know more later in the week, so keep an eye on the player notes for the latest.
T.Y. Hilton, WR, Colts. Hilton remains out of practice because of a calf injury. He missed last week and hasn't been ruled out for this week, but the chances of him playing look pretty slim. He should miss another week, barring a great recovery late in the week.
Matt Ryan, QB, Falcons. Ryan has been limited in practice to start the week because of a sprained ankle. He missed the Week 8 game and had last week off because of a bye, so the all the time off should help Ryan get back on the field this week. We would expect him to be ready to go for Week 10. The Falcons should make an official announcement before the week is out, though.
David Johnson, RB, Cardinals. Johnson was close to a return last week but the short week (Thursday game) didn't help his cause to play. He has already stated that he is definitely playing this week, though. We would completely take that to the bank but things look good for Johnson to play right now. His ankle is better, and he is practicing with the team to start the week.
Alvin Kamara, RB, Saints. Kamara returned to a limited practice Wednesday but is looking good to play this week. HIs ankle injury is improving after sitting out the last game and getting the bye last week to heal up even more. Kamara seems right on track for a Week 10 return to the starting lineup.
Brandin Cooks, WR, Rams. Cooks has already been ruled out for Week 10 because of a concussion. He is expected to see a specialist because of the injury, which has kept him out the last few weeks. At this points, we aren't sure when Cooks will return to action.
O.J. Howard, TE, Bucs. Howard is back practicing in full this week after missing the last few games because of a hamstring injury. He is going to return to the starting lineup and has a prime matchup against the Cardinals, a team that struggles to stop the tight end.
Jared Cook, TE, Saints. Cook has missed has missed the last few games because of a sprained ankle. He is practicing in full to start the week and will return to the starting lineup for the Saints.
Patrick Mahomes, QB, Chiefs. Mahomes has missed the last two games because of a dislocated kneecap. The good news is he already is practicing in full this week. The Chiefs haven't named him the starter just yet, but it sure seems like he will return to action this week. He seems near 100 percent.
Jeff Paur is a two-time finalist for FSWA Fantasy Football Writer of the Year and won the FSWA award for Best Fantasy Football Article on the Web in 2011. He also was the most accurate expert in 2012, winning the FSTA Fantasy Football Accuracy Award. If you have any questions for Jeff, email him at jeff@rtsports.com. Follow Jeff on Twitter @jeffpaur.