Training Camp Preview: AFC West
Wed Jul 24 9:29pm ET
By JEFF PAUR
Sr Fantasy Writer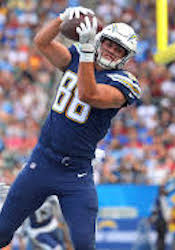 Henry returns from torn ACL
This is the fourth preview in a series of training camp previews. We will continue to release the previews throughout the week. The previews give you a quick look at each team, going over position battles and injuries to watch in camp. The season is right around the corner.
Raiders
The Raiders made a big splash this offseason, acquiring receiver Antonio Brown. He gives the team a whole new dimension at receiver and should be a big lift to the entire offense. It will be intriguing to watch how Brown influences the entire team because of his experience and success. Oakland hopes that Brown rubs off on some of his teammates, helping this team start a turnaround. We should get a better idea if that happens, watching camp and preseason action.
Position battle: The Raiders lost tight end Jared Cook this offseason, leaving a big hole at the tight end spot. Darren Waller is the odds on favorite to start but Derek Carrier and Luke Willson also will push Waller for the chance to start. None of these players have much starting experience, so the door is open for any of them to start. This will all be sorted out in camp and preseason action.
Injury watch: Oakland doesn't really have any injury situations of note, which is a good thing. One guy we might keep an eye on is Antonio Brown. He is not hurt but is 31 years old and has a ton of work under his belt. You have to wonder if he will slow down or have the injury bug hit him at this time of his career. We would keep an eye on him in camp to see how he is performing and if he is showing any signs of slowing down.
Broncos
The big thing to watch in Broncos camp is the quarterback spot. Denver continues to try to find their franchise player. Joe Flacco was brought in to stabilize the position but rookie Drew Lock is the future at the position. Is either one of these guys the answer? The Broncos sure hope so. We'll have a better understanding of the position, seeing how both these guys perform in camp and preseason games.
Position battle: Quarterback Joe Flacco is the starter in Denver but the team drafted Drew Lock to be the eventual starter in Denver. Flacco has not played at a high level in recent years, so if he shows any signs of struggle, don't be surprised if Lock pushes him for a chance to start. Lock has a swagger about him and all the tools to be a successful pro quarterback. You'll want to watch Lock's progress during camp and preseason action.
Injury watch: Tight end Jake Butt has not been able to stay healthy since entering the NFL. He has played just three games. He suffered a torn ACL last year and has now torn an ACL three different times. He has a long road back once again. Butt has some talent, though, and could push for playing time if he is able to come back healthy.
Chargers
The big issue to watch this training camp is the holdout of star running back Melvin Gordon. He is seeking a new contract and says he will holdout until he gets a new deal or is traded. This is obviously a huge situation to monitor, especially after the Le'Veon Bell fiasco of last year. The longer Gordon holds out, the scarier this gets for fantasy teams.
Position battle: Running back Austin Ekeler should be the top backup to Gordon this year, but Justin Jackson will compete for that job. Jackson did pretty well with his chances last year and will try to unseat Ekeler for the top backup job. Ekeler has a clear advantage for the job but if Jackson keeps progressing, he can continue to get chances and move up the depth chart.
Injury watch: Tight end Hunter Henry missed all of last year because of a torn ACL suffered during the spring. Henry has been pretty close to full strength the last few months, though, and should be just fine for the start of the season. But even with that said, you'll want to keep an eye on him in camp to make sure he doesn't suffer any setbacks. This is a major injury to return. Anything can happen. But if healthy, Henry has the potential to be an elite fantasy tight end.
Chiefs
The Chiefs were really close last year to making the Super Bowl but came up just short. Can the team get over the hump this year? That is the big question. The other big question is Tyreek Hill. Will his presence impact the team negatively after his off the field issues? Hill avoided suspension but you can expect the Chiefs to field many questions on the matter in camp. Will this distraction impact the team? We should know soon enough.
Position battle: Damien Williams is the starter for the Chiefs but the backup job is up for grabs. Carlos Hyde was signed to fill that role but isn't going to be handed the job. He will be pushed by rookie Darwin Thompson, who might bring more to the table than Hyde at this point. Thompson is a good runner and receiver, and seems like he could be a good fit for the offense. Hyde has the experience, though, and will get first shot at the job. He will need to show he has picked up the offense.
Injury watch: Tight end Travis Kelce had offseason ankle surgery. He is expected to be 100 percent for the start of training camp. He has not had setbacks in his recovery. Kelce is the clear No. 1 fantasy tight end, so making sure he is back to full strength is a good idea for fantasy teams. He should be fine but keep an eye on practice reports to be sure.
Jeff Paur is a two-time finalist for FSWA Fantasy Football Writer of the Year and won the FSWA award for Best Fantasy Football Article on the Web in 2011. He also was the most accurate expert in 2012, winning the FSTA Fantasy Football Accuracy Award. If you have any questions for Jeff, email him at jeff@rtsports.com. Follow Jeff on Twitter @jeffpaur.