Waivering: Week 8
Tue Oct 22 8:43am ET
By JEFF PAUR
Sr Fantasy Writer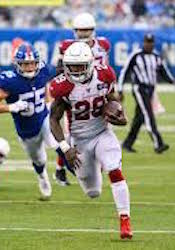 Chase Edmonds is trending up
Here is a friendly reminder. You can't expect a backup to perform like a starter, especially when that starter was a star player. There is going to be a drop off nearly every time. And we are saying this because of the injury to some star players this past week. Teams are going to be looking for a replacement, which is going to be hard. The good news is these elite players are mostly at the quarterback position, which is a little easier to replace than a starting running back when it comes to fantasy lineups. Hopefully, you can get by the next few weeks until these guys come back.
QUARTERBACKS
Ryan Tannehill, Titans. Tannehill had an impressive first start of the season for the Titans. He hit the 300-yard mark and scored two touchdowns. He missed on just six passes the entire games. He moved the offense and got many player involved in the passing game. He will continue to start for the Titans and has streaming value for fantasy teams. He is capable of the big game as evident by past seasons.
Teddy Bridgewater, Saints. Bridgewater seems to be getting more comfortable in the offense every week. He was very impressive his last time out against a good Bears defense. Bridgewater threw for 281 yards and two touchdowns without an interception in Week 7. Bridgewater has thrown for 240 or more passing yards three straight games and has seven touchdowns during that stretch. Bridgewater might only get one more start before Drew Brees returns to the lineup, but that doesn't mean you should ignore him for this week if you need quarterback help.
Matt Moore, Chiefs. Patrick Mahomes is out the next few weeks, leaving Moore to run the show in this high-powered offense. You can't expect Moore to produce like Mahomes but he has some potential in this offense. Moore was 10-of-19 for 117 yards and a touchdown in relief of Mahomes last week. We wouldn't count on Moore to be a top fantasy starter but he can be worth a spot start because of injury or bye weeks.
RUNNING BACKS
Chase Edmonds, Cardinals. David Johnson was active last week but Edmonds carried the load at running back because the Cardinals didn't want to put Johnson at risk in poor field conditions. Edmonds responded with a career game, hitting the 100-yard mark while scoring three touchdowns. Edmonds has touchdowns three straight gams and 60-plus total yards all three games. He is getting a lot more consistent work in the offense even when Johnson is active and playing. His fantasy value is on the rise.
Mark Walton, Dolphins. Walton got most of the work at running back for the Dolphins last week and this could be a trend going forward with the team likely trading Kenyan Drake. Walton ran 14 times for 66 yards and caught a pass. He has 65-plus total yards two straight games. Walton isn't the most dynamic back but any starter has fantasy value. He will get his touches and has some flex appeal.
Ty Johnson, Lions. Johnson is set to start for the Lions with Kerryon Johnson injured. Johnson hasn't gotten a whole to of work to date, but has obvious potential in a starting role. He has some upside as a flex option for fantasy teams while starting, making him a top add at the running back spot for this coming week.
WIDE RECEIVERS
Alex Erickson, Bengals. Erickson is starting to get more and more chances in the Bengals offense, serving as the slot receiver for the team. He had his first 100-yard game last week, catching eight passes for 137 yards. He has 12 receptions his last two games and been targeted 20 times in those two games. He has some reception potential in his current role with the team.
Mohamed Sanu, Patriots. Sanu was traded to the Patriots, adding some much needed quality depth to the receiver corps for New England. It isn't certain the role Sanu will play for the Patriots, but he could end up getting a lot of work once he gets up to speed with the offense. Sanu is definitely worth a look for fantasy teams that need receiver help.
Zach Pascal, Colts. Pascal continues to emerge in the Colts offense, having his best game last week. He had six receptions for 106 yards and two touchdowns. Pascal has 50-plus yards three of his past four games. His role should continue to increase in this offense. The Colts really like his size and athletic ability.
Danny Amendola, Lions. Amendola had his second 100-yard game of the season last week, catching eight passes for 105 yards on 11 targets. He is up and down in this offense but is capable of the big game. If you want to take a chance on him in the right matchup, go for it.
Kenny Stills, Texans. Stills returned from his hamstring injury last week and had his best game of the season, catching four passes for 105 yards. This was his first 100-yard game of the year. Stills has 85-plus yards two of five games. Stills could have an even bigger role in the weeks ahead with Will Fuller hurt. Stills is our top receiver waiver wire target for the week.
Preston Williams, Dolphins. Williams had a season high in receptions (six) and yards (82) in Week 7. He has really emerged as a reliable target in the offense, having at least four receptions four of six games. And he looks like a better option with Ryan Fitzpatrick starting for the Dolphins.
Devante Parker, Dolphins. Parker found the end zone again last week, giving him scores in three straight games. He had a season-high 10 targets in Week 7. Parker is looking like a better fantasy option these days, finding the end zone while also getting some catches and yards. He has 50-plus yards three of four games and at least three receptions all of those games.
TIGHT ENDS
Eric Ebron, Colts. Ebron scored a touchdown last week and had a season high in yards with 70. He has touchdowns three of his last five games. Enron remains kind of a touchdown dependent player but that doesn't mean you should shy away from him. He has been dropped in some leagues, being available in 31 percent of leagues.
Irv Smith, Vikings. Smith had a career high five receptions last week and tied a high with 60 yards. He had double-digit fantasy points for the first time all season in Week 7. Kyle Rudolph is still around, but it seems a matter of time before Smith emerges as the top pass-catching tight end in this offense. Smith just brings a lot more to the table, making him worth a speculative add for fantasy teams.
Jimmy Graham, Packers. Graham has been a disappointment much of the season, not living up to some preseason hype. He has shown well at times, though. He scored his third touchdown of the season last week and topped 60 yards for the second time this season. Graham can produce the big game in this offense, so he is worth a look if you need tight end help. Graham was dropped in some leagues, being available in 25 percent of leagues.
Jeff Paur is a two-time finalist for FSWA Fantasy Football Writer of the Year and won the FSWA award for Best Fantasy Football Article on the Web in 2011. He also was the most accurate expert in 2012, winning the FSTA Fantasy Football Accuracy Award. If you have any questions for Jeff, email him at jeff@rtsports.com. Follow Jeff on Twitter @jeffpaur.