Lineup Prep: Week 6
Wed Oct 9 9:35am ET
By JEFF PAUR
Sr Fantasy Writer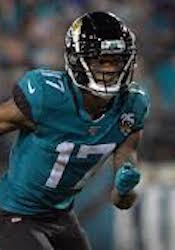 Chark has become must start
This week starts the week with more than two teams on a bye. It gets even harder to set lineups with these byes and injuries. So my big advice is to plan ahead. If you know you are going to be needing a receiver or defense the next week or the week after that, start looking at options that could help. It is better to plan ahead in advance than wait until the week of to fill that lineup out. Be a proactive owner. Don't sit back.

With that said, here are my random thoughts for the week. . . . .
I'm not ready to release Baker Mayfield just yet but he is not going in my starting lineup until he starts to do something on the field. He is a mess right now. Mayfield is not progressing like most expected, taking a step back from his play late last year. He just isn't making quick decisions and retreating in the pocket way too much. The fantasy industry, including myself, really missed on this guy this year. He has been a huge bust.
Christian McCaffrey is just unbelievable. I know. Great analysis, right? Well, he is as fun to watch as any player in the game. And he is about 26 fantasy points from the next rated back, sitting firmly in first place in fantasy running back scoring. He has been getting a lot of work, which is a concern, but he held up last year. Here is to hoping he can hold up once again. He is on his way to one of the best fantasy seasons of all time for a running back.
For at least one week, it seems the Chargers are going to go with a pretty even timeshare at running back with Austin Ekeler and Melvin Gordon. Gordon will get more work running the ball while Ekeler will be used more in passing situations. This probably is a bigger blow to Gordon's fantasy value, getting fewer chances to catch the ball. Ekeler might not keep his current pace as a fantasy back, but he can still be at least a top No. 2 back in his current role. He is going to catch a lot of passes.
Aaron Rodgers failed to score a touchdown last week and now ranks below Marcus Mariota in the fantasy quarterback rankings (19th overall). He is not having the season many expected but this could be the norm for him in this offense. The Packers are putting much more emphasis on the run and playing good defense. Plus, Rodgers is without his top receiver right now (Davante Adams) and the rest of the options have been very ho hum. Rodgers is still going to have a few big games this year but he might be mediocre more often than not, especially compared to past years for Rodgers.
Rookie Josh Jacobs is really starting to hit his stride. He had his first 100-yard rushing game of his career last week against a very good Bears defense. He has two straight games with 100-plus yards and topped that mark three of five games. Jacobs is getting a ton of weekly work and has five receptions the last two games compared to just one catch his first three. This all adds up to Jacobs being a low-end No. 1 fantasy back with big-time future at the position.
His fantasy numbers aren't off the charts just yet but I'm super impressed by Colts running back Marlon Mack. He is a very impressive back. He runs with power but also has the patience to wait for the hole to open. He looks like an elite back and is starting to perform like one. Mack ran for 132 yards last week and has two games with 100-plus rushing yards. He also runs behind a very good offensive line, which is another huge plus for Mack. I think he is setup for great things going forward.
As always, don't forget to check out my weekly rankings here: Week 6 rankings.
News and Notes: The Bills traded receiver Zay Jones to Raiders for a fifth-round draft pick in the 2021 draft. Jones could quickly move his way up the depth chart with his new team. . . . .The Broncos signed cornerback Coty Sensabaugh on Tuesday, adding some more depth to their secondary. . . . .The Patriots released tight end Benjamin Watson. He was just taken off the suspended list, so he will be free to sign with a new team. . . . .The Titans are making a switch at kicker. The team released kicker Cairo Santos and signed Cody Parkey to take over the kicking duties. . . . .The Chiefs signed defensive tackle Terrell McClain on Tuesday.
HOT PLAYS
Kyler Murray, QB, Cardinals. Murray hasn't posted eye popping weekly numbers his rookie year but has been very consistent. He is eighth overall in fantasy quarterback scoring, having at least 20 points every game this season. If he had a few more scores, he could be a top-five option. But right now, Murray has six total touchdowns, which is holding back his numbers. Murray is a great play this week against the Falcons, though. Atlanta allows the fifth most fantasy points to quarterbacks and allow 30 points per game. Murray is a solid No. 1 for Week 6.
Aaron Jones, RB, Packers. His huge game last week has moved him all the way up to fourth overall in fantasy running back scoring. Jones was producing pretty well even before that monster game, though. He has touchdowns four straight games and two 100-yard games this year. Jones also is becoming a bigger factor in the passing game, having 13 receptions his last two games. This really improves his fantasy value. Jones won't repeat last week but he can have a good showing against the Lions. Detroit struggles against the run, allowing the fourth most fantasy points to running backs.
Dak Prescott, QB, Cowboys. Prescott had his second 400-yard game of the season last week, getting a chance to air it out often because his team got down big. Prescott was picked off three times but threw for 463 yards and two scores. Prescott has multiple touchdowns four of five games and is fifth overall in fantasy quarterback scoring. He is setup for another big game this week against the Jets. The Jets are just 21st against the pass and allow 25 points per game.
Chris Carson. RB, Seahawks. Carson had his second straight 100-yard game of the season last week. He has at least 15 carries every game this year, getting consistent work in the offense. He is 14th overall in fantasy running back scoring but can inch up even farther with a few more scores. You have to like his chances to find he end zone this week against a Browns team that was run over by the 49ers rushing game last week. The Browns are 29th against the rush, allowing 151-rushing yards per game.
D.J. Chark, WR, Jaguars. Alright, it is time to move Chark into must-start territory for all fantasy teams. This guy just keeps posting big weekly numbers, ranking fifth overall in fantasy receiver scoring. He had a career best game last week, catching eight passes for 164 yards and two touchdowns. He has scores four of five games. Chark is setup for more good things this week against the Saints, a team that allows the seventh most fantasy points to receivers.
COLD PLAYS
Jordan Howard, RB, Eagles. Howard is showing some signs of life after a slow start. He has touchdowns three straight games and topped 100 total yards in Week 4. He has fewer than 65-rushing yards all but a game, though, and six total receptions. He is a touchdown dependent player, making him a risky weekly fantasy play. And we aren't sure he finds the end zone this week against the Vikings, a team that allows the fourth fewest fantasy points to receivers. Minnesota has allowed just one rushing touchdown all year.
Demarcus Robinson, WR, Chiefs. Robinson has been very quiet since his huge Week 2 performance against the Raiders. Robinson has fewer than 45 yards three straight games. He is capable of a huge game in this offense but his recent production is a concern for any fantasy team looking to use him right now. It is hard to justify a spot in your lineup for Robinson. The numbers don't lie. Robinson also plays the Texans this week. The Texans don't have a great pass defense but haven't been too bad defensively, allowing 22 points per game. It is probably wise to just leave Robinson on your bench.
Daniel Jones, QB, Giants. Jones has played well since entering the starting lineup for the Giants. He has led his team to wins and made the offense much better. His fantasy numbers haven't been off the charts, though. He has just one touchdown each of the last two games and failed to hit 200-passing yards last week. Jones has his toughest test of the season this week, facing the Patriots. New England allows the fewest fantasy points to quarterbacks and have yet to allow a passing touchdown. Plus, Jones will be without his top receiver, Sterling Shepard, which is another strike against using him.
Corey Davis, WR, Titans. Davis has all sorts of talent but continues to be wildly inconsistent for his fantasy owners. He has fewer than 50 yards in all but a game. He does have a 20 point fantasy performance, though, showing his big-time potential when getting the ball. The issue is Davis doesn't get the ball enough. He does not have more than six targets in any game. Until he starts getting more work, don't bother with Davis, especially this week. Davis plays the Broncos, which is a tough matchup for him. Denver allows the second fewest fantasy points to receivers and are fifth overall against the pass.
Todd Gurley, RB, Rams. You can't bench Gurley because of his huge weekly potential in this offense but you might want to temper your expectations for him. The only thing saving him right now are his touchdown totals. He has multiple scores two straight games. His other numbers are not good, though. He has more than 100 total yards just once all year, which came in Week 1. He has fewer than 65-rushing yards four straight games and more than 10 receiving yards in just one game. He has been a disappointment in an offense that has struggled to run the ball. It could be more of the same for the Rams this week against the 49ers. San Francisco has been great against the run, allowing the fewest fantasy points to running backs.
SLEEPERS
Gardner Minshew, QB, Jaguars. Minshew has been super consistent for fantasy teams since entering the starting lineup. He has multiple scores four of five games and at least 18 fantasy points every game. He had a career-high 374-passing yards last week. Minshew has a lot of confidence and seems to be getting better each week. He has legit fantasy value as a spot starter. He is worth a look this week against the Saints, a team that allows the fourth most fantasy points to quarterbacks.
DeVante Parker, WR, Dolphins. Parker is one of the few Dolphins worth considering for fantasy teams. Parker scored his first touchdown of the season his last time out and has 70 or more yards two of four games. Parker is always capable of the huge game because of his big-time ability. A matchup this week against the Redskins gives Parker a chance for one of his big games. Washington allows the third most fantasy points to receivers and are 23rd overall against the pass.
Adrian Peterson, RB, Redskins. Peterson has not been good this year, especially compared to last year in this same offense. He has yet to top 40-rushing yards in a game and has just one touchdown. He also has just three receptions. The only good news is he is getting most of the carries, having three games with double-digit carries. If he is ever going to have a big game, it will be this week against the lowly Dolphins. Miami is dead last against the run, allowing 176-rushing yards per game. This is the week to take a chance on Peterson.
Chase Edmonds, RB, Cardinals. Edmonds had his best game of the season last week, totaling 86 yards on 11 touches. It was the first time all season he had double-digit touches in a game. David Johnson had his back lock up on him during the game, though, and had to miss some time. This could be an issue moving forward, so his workload could be scaled back. This means more touches for Edmonds, a big-play back. This makes Edmonds worth a look for fantasy teams in Week 6 against the Falcons. Atlanta is 19th against the rush and allow 30 points per game.
Mohamed Sanu, WR, Falcons. Sanu scored his first touchdown of the season last week. He has at least five receptions every game this year. His numbers aren't flashy but consistent in the Falcons pass-heavy offense. You can't ignore the numbers. He is a good bye-week or injury replacement for fantasy teams. If you need a receiver this week, give Sanu a look. He plays the Cardinals, a team 24th against the pass and allowing 28 points per game.
High/Low Scoring Games
Each week we will take a look at some of the high and low scoring games for the coming week. In high scoring affairs, get your marginal players on those teams in your lineup to take advantage of the possible points barrage. And in the low scoring games, keep those marginal players on the bench and make sure to have your defenses involved in those contests.
High Scoring Games: Texans/Chiefs, 49ers/Rams, Falcons/Cardinals.
Low Scoring Games: Eagles/Vikings, Titans/Broncos.
Bye Weeks: Bills, Bears, Colts, Raiders.
Jeff Paur is a two-time finalist for FSWA Fantasy Football Writer of the Year and won the FSWA award for Best Fantasy Football Article on the Web in 2011. He also was the most accurate expert in 2012, winning the FSTA Fantasy Football Accuracy Award. If you have any questions for Jeff, email him at jeff@rtsports.com. Follow Jeff on Twitter @jeffpaur.